Heart Disease and Women
By Nancy Weshkoff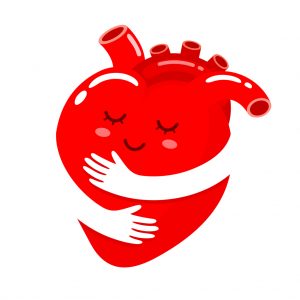 Heart health is something I take very seriously.  And while it is important to focus on heart health year round, the month of February is Heart Health Month and part of the American Heart Association's Go Red for Women Movement.  I am therefore writing this blog to discuss this very important topic.
Let's begin with these key factors about heart disease in women:
–Heart disease is the NUMBER ONE killer of women in the United States.
–If you stacked up ALL cancer-related deaths for women together (breast, lung, ovarian, liver, skin cancer, etc), all of these cancer-related deaths together would still be number two behind heart disease.
– One in three women in the United States will die every year from heart disease.  If you were sitting in a group of women and looked to your right and to your left, sadly one of you will die from heart disease.  And of this number, more than 1,800 of these women who die from heart disease will live here on Long Island in New York.
-If you have heart disease, you are at a higher risk of contracting COVID or having serious complications related to COVID.  With the spread of coronavirus, it is even more important to pay attention to your heart health.
– Did you know that you can help PREVENT yourself from becoming one of these very sad statistics by proactively taking steps to lower your risk?
While there are some things that you cannot change, such as your family history of heart disease, there are several things that doctors all agree that you CAN do to lower your risk of having a heart attack or stroke.  These include:
– Engage in moderate exercise on a regular basis.   Sitting on a couch and not moving is bad for you in so many ways.   Spending long hours in front of a computer screen without moving is not good for you.  Your body needs to move.   Yoga is extremely helpful in helping you with your fitness goals.   The postures in a yoga class will build strength and flexibility, stretch your muscles, and at the same time, the deep breathing techniques (pranayama) used in a yoga class increase the flow of blood to your heart and your organs.
– Reduce your stress levels.  This can be particularly challenging in this coronavirus period where we might find ourselves multi-tasking.  It makes it even more important to notice how you cope with stress.  Being in a "fight or flight" mode, which is how our body reacts when our stress levels are high, is putting a huge strain on your body functions – including your heart. Meditation is a wonderful tool to help you lower your blood pressure and stress levels.  Yoga classes also help you reduce your stress.   The online yoga and meditation classes at Moonflower Yoga can get you on the path to accomplishing your stress-reduction goals.  Perhaps you do not have a lot of spare time right now with multi-tasking due to the pandemic.  I would suggest that it is so important to take even 30 minutes FOR YOU which helps lower those stress levels and enables you to better cope with life's challenges.  Moonflower Yoga currently has great online yoga and meditation classes which you can do from the comfort of your home to help you lower stress and help your heart health.  The Schedule tab on the moonfloweryoga.com website lists the daily options taught by our great yoga and meditation teachers.
– Learn to be "in the present moment".  We often worry unnecessarily about things from our past that we cannot change or things in the future that MIGHT happen but have not happened yet and may never happen.   In our classes and workshops at Moonflower Yoga, we teach you ways to be more in the present moment and let go of unnecessary worries bringing you more peace and calm.
– Lower your blood pressure:  Moving more, decreasing your stress levels, and using tools such as meditation and yoga mentioned above can all help you with this.  How about learning something new?   Spending some time reading a great book or engaging in a fun activity can help lower your stress levels.  We have several great online activities that you can do from home including two fun "Clubs".  In the Moonflower Yoga Book Club, we have fun going on a journey with a new book which helps you discover something new. There is also the Moonflower Yoga Needle Arts Group where you crochet or knit (very meditative!) while enjoying each other's company.  With the Moonflower Yoga Needle Arts Group, we also donate some of our beautiful creations to various charities.  And there are great yoga workshops, as well as crafting workshops where we make beautiful jewelry.  We have online meditation classes, as well as regular guided meditation workshops.  There is also a monthly online yoga nidra evening, which is deep relaxation "yogic sleep", a wonderful way to de-stress.  One hour of yoga nidra = four hours of sleep!  These types of interesting and meditative activities can help you on the path of stress reduction, lowering your blood pressure, and having fun – all great things for your heart.
– Fighting loneliness:  In this coronavirus period, it is very important to practice social distancing to prevent the spread of the virus.  But social distancing often creates loneliness.  We need social interaction.   Online yoga, meditation, and other activities via Zoom are a great way to combat loneliness and help you feel better.  Before and after each online class, there is a Zoom Room where you can safely see and chat with fellow attendees, have a laugh, or share a story.   It makes a big difference to have this social interaction and help you feel better, thereby reducing your stress levels.
-Are you eating a healthy diet, or are you eating fast food or other unhealthy foods that are high in fat and cholesterol?  Eating unhealthy foods can clog your arteries and increase your risk for heart disease.  One fun, new online activity that we offer at Moonflower Yoga is a monthly "In the Kitchen with Bob" cooking workshop where we connect online via Zoom, and we cook healthy meals together during the workshop and then enjoy the finished product at the end of the workshop. These delicious recipes are plant-based, low in fat, and heart healthy.  And we have a lot of laughs cooking together – a great stress reducer.
As someone who has a history of heart disease in my family, I take heart disease very seriously.   My stress levels and blood pressure were very high – all red flags for being on the path to a heart attack or stroke.    Through yoga, meditation, learning to be more in the present moment, and spending time in engaging activities such as reading and needle arts, I have been able to lower my blood pressure to normal.    You, too, can lower your risk.  We hope to see you soon at a great online yoga class, meditation, or workshop at Moonflower Yoga.  With online yoga and meditation classes offered via Zoom, there is also no longer a geographic limit to Bellmore, Wantagh, Merrick, East Meadow, Freeport, Seaford, Massapequa, or other towns in Nassau County, Long Island.   We now have students joining us from states other than New York including Florida, California, Pennsylvania, Massachusetts, and Vermont. It is great to connect with new people!  All are welcome!
Please take care of yourself and reduce your risk of heart disease, or the risk of heart disease for a special woman in your life.   I hope we will see you soon for a great online yoga class, meditation, or other activity as you take positive steps to lowering the risk for heart disease!
What is Shavasana and why is it so important?
By Nancy Weshkoff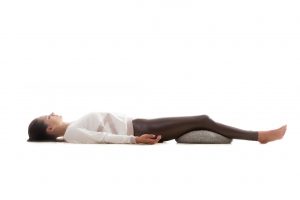 Shavasana is the final relaxation pose that is part of a yoga practice.  It is also referred to as "corpse pose".   Of all the poses that comprise your yoga practice it is the most important one.  Why is that?
Let's start by thinking about what a normal day is like for most people these days.   We are often multi-tasking.   In today's environment, you may find yourself juggling your work responsibilities with home schooling responsibilities for your children.   Have an elderly family member who is staying home bound these days?  Perhaps you are also doing shopping for that family member.  Or you are multi-tasking in a a work meeting reading and answering text messages instead of concentrating on the meeting.  Our bodies are tense from all these responsibilities, and our minds are racing a mile a minute thinking about things that need to get done.
As a yoga student for years, and later as a yoga teacher at Moonflower Yoga, I have seen it happen where a student attends a yoga class and when it is time for that final relaxation on your mat in Shavasana, the student leaves because they have so many things to do.   I am so sad when this happens.  You are missing the most important part of your practice when you skip this!
Most yoga classes begin with some breathing exercises and then move immediately into "asana", which is yoga movement.   These movements can be seated or standing.   This is also important because it enables you to release muscle tension in your body and stretch your muscles.   By focusing on alignment and working on your breath, you should find some joy in the movement of your body.
But asana is that steppingstone that opens the door to the loveliness of Shavasana.  The great yogi sages put the movement first so that you could release tightness and relax in Shavasana.  Shavasana is where you let everything go.   In a traditional Shavasana, you are reclining on the floor on your back resting on your yoga mat.   It is important that you be physically comfortable, so you can add some comfort by placing a blanket or folded towel under your head or perhaps a rolled blanket or towel under the knees.  In the cooler months, you may wish to cover part of your body with a blanket.   For some people, having the weight of a blanket can also help you feel more grounded.
Once you are in your set up, you then begin to scan your body and let everything go.  In the classes I teach, we start slowly scanning each part of the body to release muscle tension.   If anything is still tight, you can send a signal to your brain to relax that area.   Just sink into the ground and let the ground support you.   The next part is a challenging one for some people: quieting the mind.  Thoughts might pop up about things on your "to do" list.  Here is where the practice of pranayama – breathing techniques – can help.  Focus on your breath to shut off the chatter in your head.   Something as simple as saying to yourself "I breathe in, I breathe  out and relax" while performing these breathing techniques generates relaxation.   For some people, they may find it helpful to replace a negative thought or worry that is popping up in your mind with a positive mantra such as "I love myself" or "everything will be okay", etc.  Once you are settled, then spend at least one minute of Shavasana for every 10 minutes of asana movement, i.e., 50 minutes of asana movement should be at least 5 minutes of Shavasana.   If you can stay longer in Shavasana, that's great.
When you are ready to move out of Shavasana, you should do so slowly.  Bring some gentle movement back to the body, and then ever so gradually roll over to one side into a fetal position.  Take several breaths in fetal position, and when you a ready, you will slowly come into a seated position for several breaths.  Take this time to continue be in the present moment and enjoying this lovely feeling of relaxation before slowly starting to "return to the room" and end your yoga session.
By taking these several minutes of Shavasana for yourself, you are doing positive things for your mental and physical health.   It brings you relaxation and can help to balance the right and left sides of the brain.  The practice gives you a clearer perspective and helps you better cope with challenges that come your way.  You can feel so much calmer from those few minutes of Shavasana.
In the yoga classes that I teach at Moonflower Yoga, I make sure that we focus on this important part of your yoga practice.   For now, the Moonflower Yoga studio doors in Bellmore, Nassau County, Long Island, New York are closed due to the coronavirus.  Moonflower Yoga is instead offering daily online yoga classes.   Come give one of these great online yoga classes a try!  Online, remote yoga classes via Zoom offer a nice advantage for Shavasana.  Once you are ready to come out of Shavasana, you do not need to get in your car and drive in traffic back to your home, losing some of that quiet relaxation.  Instead you can continue to enjoy that relaxation from a great online yoga class in your home to give you a more peaceful remainder of your day or evening.
I hope you will join me or one of the great yoga teachers at Moonflower Yoga for a wonderful online yoga class and always remember to take time for YOU to reduce  your stress in your yoga postures including Shavasana.  Namaste!
Spring is a Time for Renewal
By Nancy Weshkoff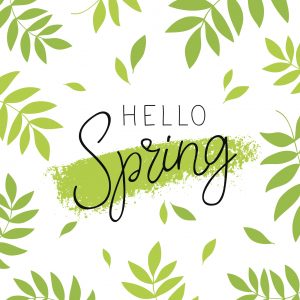 Spring is a wonderful time of year.   The plants and trees shake off remnants of winter and start to come into bloom.   We have more daylight and start to feel more alive than when it is dark before 5 PM.
And, just like the plants and trees, spring is a time of renewal for us.  Maybe you were more housebound and inactive during the winter months.  With spring's arrival it is time to dust off the cobwebs of winter and start to feel renewed and refreshed.
With the arrival of warmer weather, you start to wear thinner clothes.  Wouldn't it be great to feel toned in those lighter clothes?   A great yoga class can help you tone and stretch your muscles, as well as improve strength, flexibility, and balance.   If you are a beginner, that's not a problem at Moonflower Yoga.   We love beginners and offer beginner-level yoga classes 7 days a week.   Remember EVERYONE was a beginner at one point.  Just take that first step and you will feel amazing.   Our yoga instructors give you personal attention to help you as you begin a yoga practice.
Clearing out the cobwebs is not just about our physical body.   It is also true of our mind and thoughts.  Do you brood about things from the past, which you cannot change because the  past is over?   Do you obsess and worry about the future, which you also cannot control?   Stress is a leading cause of heart disease, and heart disease is the number one killer of women in the United States behind all cancers combined.   So what can you do to stop obsessing about past events and the future, reduce your stress levels, and work towards a healthy heart?
Having a meditation practice is a wonderful way to start taking care of your stress levels and feeling good about  yourself.  Moonflower Yoga offers several meditation classes including "Stretch and Meditate 101" on Thursdays, "Chair Body Stretch and Meditation" on Wednesdays at 6 PM, and a monthly "Less Stress" meditation on Tuesday nights.  Plus the weekly Kundalini yoga classes on Thursday and Sunday offer some meditation in the practice.   There are also great workshops on the Moonflower Yoga schedule which can help with stress reduction.   And Reiki, which is offered at Moonflower Yoga, is a great way to take care of YOU.
Come join us this spring at Moonflower Yoga and take a step towards renewal for yourself!   We are located in Bellmore, on the South Shore of Long Island in Nassau County, but we welcome students from all over Long Island including the neighboring towns of East Meadow, Merrick, Wantagh, Seaford, and Levittown.   We look forward to guiding you to a great start to your spring!
Meditation and Yoga Benefits
By Nancy Weshkoff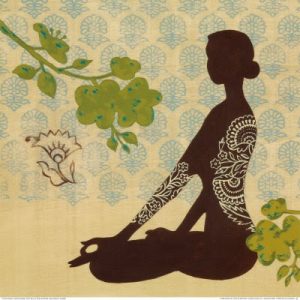 I was watching a morning news show program recently, and I was so happy to see an uplifting story about an inner-city school program.   In this school program for elementary school children, the children were taught meditation and yoga as a healthy way of coping with stress.   If a child had an anger issue with another student or teacher, the child was sent to a meditation area and would meditate quietly for several months.   The children also began their day with several minutes of simple yoga postures and breathing techniques setting a positive intention for the day.
The results were excellent.   The children learned positive ways of coping with life's stresses.  They reported feeling peaceful and calm.   And a disciplinary trip to the principal's office was no longer needed as there were no longer student infractions as previously.   These children learned skill sets that can be used throughout their life, which is terrific.
These de-stressing techniques of yoga and meditation are fabulous for people of all ages!   In the great yoga classes that we offer at Moonflower Yoga, we teach you to link your breath with movement.  So many times during the day, especially when we are under pressure and stressed, we forget to breathe deeply.   Our mind is going in a million directions, thinking about the various deadlines we need to meet, perhaps worrying about a child or an elderly parent, etc.   Shallow breathing is not good for our organs.    And all that stress leads to disease including heart disease – the number one killer of women in the US.   In our meditation classes, our teachers give you some gentle guidance to help your mind relax so that you can learn to be in the present moment and not worry about the "shoulda, coulda, woulda's" that plague us.
Come join us at Moonflower Yoga in Long Island New York's Nassau County and try one of our great yoga or meditation classes!   Like the children mentioned above, you will find a fabulous tool to help you feel better.
Calming and Healing Your Spirit
Written by Nancy Weshkoff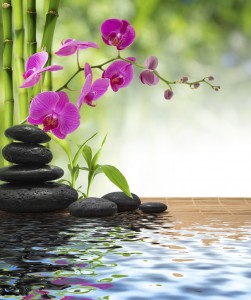 Life brings us many challenges.    The strain, tension, and stress can weigh down upon us.    It is so important that we take a break from these challenges and take care of ourselves.   Doctors all agree that stress is one of the leading causes of diseases.   You CAN do something to help relieve your stress.
Moonflower Yoga is proud to announce a new series of classes on Wednesday nights at 7:30 PM.  The new series is entitled "Calming and Healing Your Spirit".    During each one-hour class, you will learn and experience a de-stressing activity to help bring you inner peace.   In our first class on February 5th, Anthony and Mindy of Happy and Healthy Now, will lead a Reiki Healing Circle. Reiki is a fabulous way to release negative energy.   In our second class on February 12th, Chris will teach you "Tapping" (Emotional Freedom Technique), a wonderful tool that you can self-administer to help remove negative reactions to certain situations or people.    Members of our military are using "Tapping" to help them with the after-effects of combat duty.   In our third class on February 19th, Connie will lead you into a deep meditation, as you recline on the ground nestled in warm blankets, with soft candlelight, and leave your worries behind.    In our fourth class on February 26th, there will be a special evening of Moonflower Yoga's very popular Candlelight Restorative class, as you melt away stress while comfortably supported on bolsters, blankets, and pillows.    Our March classes will include a lovely Chanting class on March 19th led by Diane, with more classes to be announced shortly.
I hope you can join us for these wonderful Wednesday evening Calming and Healing Your Spirit classes at Moonflower Yoga.   Whichever class you choose, led by one of our great teachers, you will feel more relaxed and renewed from an amazing de-stressing class.   We could all use some more relaxation!!!   If you are in the area of Bellmore, Long Island, in Nassau County, New York, come give this a try.   You'll be glad that you did.
Celebrating Women
By Nancy Weshkoff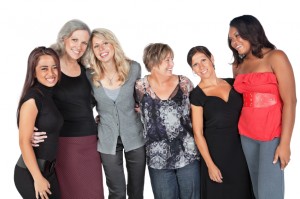 This week marked the celebration of International Women's Day.   This tradition actually started in the early 1900's as women marched for the right to vote and for better pay.    A great deal of progress has certainly been made for women since then.    In my lifetime, I can recall life before the women's movement of the 1970's.   It wasn't that long ago when jobs were classified as "help wanted male" and "help wanted female" with the female jobs often those with low pay and little chance of advancement.  
While things have improved, so much still needs to be done.   In many countries, women are treated very poorly with little equality with men.    Even here in the United States, while jobs can no longer be classified as "male" or "female", a glass ceiling exists in many companies making it very difficult for women to reach the highest positions.    I have heard comments that women need to work three times as hard as a man in order to be considered for promotion, and this is sadly often true.
I am so amazed by the women that walk in the door at the Moonflower Yoga studio in Bellmore, Long Island.    These women come from all walks of life.   They are mothers, grandmothers, and daughters.    Many are in demanding full-time positions working outside the home.   But their responsibilities do not end when they come home, as they also take care of children, elderly parents, and handle other domestic responsibilities.  
All this juggling and multi-tasking can take its toll.    It creates a great deal of stress.   Stress is not a good thing and is linked to so many diseases for women, including the number one killer of women: heart disease.
Take some time for yourself.    I often think about the message from the flight attendant before a flight begins advising what to do in case of an emergency.    An air mask will drop from the ceiling.   The attendant advises to place the mask on yourself first and then place it on a child traveling with you.   Why?  Because if you don't take care of yourself, you cannot take care of others.   Giving yourself an hour to de-stress and unwind in a great yoga class can help you feel much better.    If you are in the area of Bellmore in Nassau County, Long Island, New York, come and try a restorative yoga class or one of the other de-stressing yoga classes offered at Moonflower Yoga to make you feel better.
There has also been much attention in the news this past week on women becoming entrepreneurs.   I am proud to now be one of these.    After many years in corporate America, I decided to leave corporate life behind and forge ahead with something I truly love:  yoga.    In creating Moonflower Yoga, I wanted to have a place where people of all ages and experience levels can come and have a great yoga experience.   I am also proud that a community is building at Moonflower Yoga of women who enjoy practicing together, having some fun, sharing their life experiences, and de-stressing.     I am truly blessed to have these women at Moonflower Yoga.     I salute these amazing women and women everywhere.