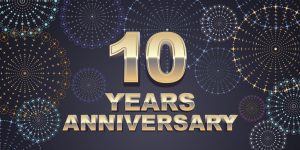 This week marks a major milestone for Moonflower Yoga – it is our 10- year anniversary!
Ten years ago, I decided to leave corporate life behind and pursue something that I loved and that made me feel great, which was yoga.   I knew that I did not want to work at a gym but instead wanted my own yoga studio.  I had a dream that I wanted to reach students who might not feel comfortable in a gym setting or large studio and would often choose to "hide" in the back of the room.
Moonflower Yoga was born with a mantra of "small class, personal attention".   Having this type of studio enabled the teachers to interact with the students and guide them more closely in their practice.  It also helped many yoga students learn, improve their practice, and discover how much they love yoga.  By having the small class size, friendships were formed, and many of those students now spend time with people they met at Moonflower Yoga.
I also knew that community was important to me, and so I launched the Moonflower Yoga Book Club where we had fun reading a book and then discussing it.  The Moonflower Yoga Book Club is still going strong today with monthly online meetings.  Later, the Moonflower Yoga Needle Arts Group was formed and the Moonflower Yoga Mah Jongg club.
I also became a Reiki Master Teacher and began offering Reiki training at Moonflower Yoga.  Reiki is a wonderful way to relax and take care of you.
We also learned something new in great workshops on a range of topics from creating art, cooking ideas, crafts, and so much more.  Lots of laughs have been shared in these workshops.  Some of these activities are now offered online such as "In the Kitchen with Bob" where we cook a meal together from our respective kitchens and then eat it together at the end of the workshop at our kitchen tables.  There is also "An Evening of Guided Meditation and Relaxation" with Bhante Sujatha, the loving kindness monk, who offers his words of wisdom from all over the world.  We have witnessed the sun rising over the mountains of Sri Lanka as Bhante taught his relaxing meditation. There is also "Yoga Nidra" with Jackie who helps you completely chill out and get ready for a good night's sleep.  There are special yoga-related workshops from Moonflower Yoga's great roster of yoga teachers where you can more deeply understand each pose to help improve your practice.
I cannot say there have been no bumps in the road.    The onset of COVID and the forced closure of the studio for in-person activities for over a year has been very difficult.   With every cloud there is a silver lining, and online classes via Zoom were formed.   The online classes enabled Moonflower Yoga to remain open, albeit virtually.    But it also did something great too which is it allowed us to connect to students who lived geographically away from the studio.   We now have students who live in Florida, Arizona, California, Pennsylvania, Massachusetts, etc., who regularly attend activities.  And some teachers who we missed because they moved out of state can once again teach for Moonflower even though they live hundreds of miles away from Long Island.    Last year, I launched "hybrid" yoga classes which are the best of both worlds: up to 4 fully-vaccinated students are attending in person at the studio while there are simultaneously students attending online via Zoom.
So what does the next year bring?   It brings a great variety of yoga and meditation classes that students can attend on a weekly basis.   It also brings special workshops and other activities.   Most importantly, it brings people together to feel physically better and stronger but also mentally by providing a de-stressing environment where you can relax and feel better.
For those of you who have never tried an activity at Moonflower Yoga, we welcome you to give it a try!  Check us out in Bellmore (Nassau County, Long Island).  If you do not live near the studio, online classes are available 7 days a week.  There is NEVER a contract to sign.   You can register for just one activity of your choosing from the Schedule tab on the moonfloweryoga.com website, following the simple registration steps, and see how you like it.
To those of you who have supported Moonflower Yoga through these 10 years, THANK YOU!!   You have helped the studio grow and created a very special community.   And to those great teachers who join me every week to teach amazing yoga classes and workshops, THANK YOU to you as well.   Dozens of students have discovered the benefits of yoga through your great yoga and meditation classes.
With much gratitude!
Namaste,
Nancy