Products
Yoga Supplies

: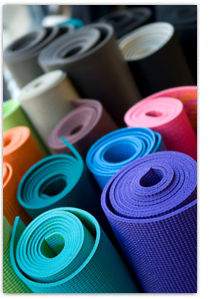 It is recommended that you have your own yoga mat. Yoga mats in a variety of fun colors and designs  can be purchased at the Moonflower Yoga studio.    We also sell warm, hypo-allergenic, machine washable yoga blankets to provide warmth and comfort during your practice.    Bolsters, zafu meditation cushions, yoga straps, mat bags for your yoga mat, eye pillows, traditional yoga blocks, and Zafuko cushions are among the other supplies also available for sale.   Check out all these great items today!

Curbside pickup at the studio is now available!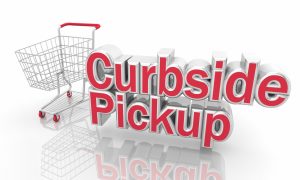 Curbside pickup at the studio is available for some items you may need for your home practice.  How about a beautiful Hugger Mugger yoga mat?  Hugger Mugger Tapas yoga mats, which Moonflower Yoga sells, were just rated one of the top 3 best yoga mats in the US (see further info below).  They are very durable and last for years if you keep it safely in your house and not in your car or garage. With each new yoga mat purchased, you will receive a FREE Moonflower Yoga mat bag to store your new mat.  We also sell yoga blocks, yoga blankets, meditation cushions, bolsters, and stretch out straps for your home practice.  Or you can purchase a lovely, relaxing Young Living essential oil.  Could you use a bottle of favorite Stress Away right now?  Lavender essential oil for relaxation?   Just let us know which items you would like to purchase, and we will arrange for a cashless online purchase and a curbside delivery to your car from the studio.  We can also ship items to you within the continental United States.
GREAT YOGA MATS FROM HUGGERMUGGER!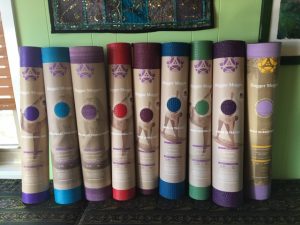 Improve your yoga practice with a new yoga mat from Hugger Mugger!  Hugger Mugger is a leading yoga supplier, and their products are made in the USA.  They have been rated one of the top 3 best yoga mats in the country.   The mats come in many lovely colors and different weights.   Some are very lightweight, yet still well-padded and sticky so you feel comfortable support while you practice your classes.   We also sell extra thick, sticky  yoga mats which are perfect for anyone with knee or back issues to give you extra comfort during your practice. Looking for a premium yoga mat?  We also sell para rubber yoga mats which provide great support for your practice.   For a limited time, as a special treat, if you purchase a new yoga mat at Moonflower Yoga, you receive a FREE Moonflower Yoga mat bag with our compliments.
Sturdy Yoga Blocks from Huggermugger in a fun purple color!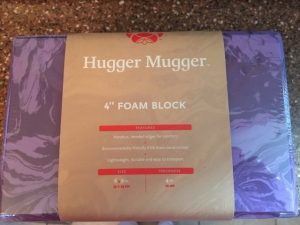 A yoga block is a great tool to have for your home practice.   It gives you support for your poses.   You can sit on the block for more comfort in seated poses.  If you have difficulty reaching the floor with your fingertips, the block can raise the floor for you as you work on improving flexibility.   If you are doing a bridge pose, a block under your seat can provide more comfort & stability.  These durable yoga blocks will last for years.  They are priced at just $18 each and are available for curbside pickup.
Rectangular yoga bolsters: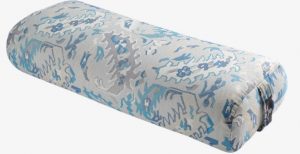 Bolsters are great to support you in several yoga poses such as shivasana relaxation pose, legs up the wall, bridge pose, back bends and side bends from the floor, child's pose, etc.  The bolsters are from Huggermugger and come in solid colors as well as prints.  The ones with the printed fabric are handmade.  The bolster will last you for many, many years.  It has a carrying handle on both sides to make it easy to transport.  In addition to prints, these bolsters come in solid colors such as purple/plum, navy, light blue, olive, mustard yellow, black, brown, and red.   If you are interested in a bolster, we can email you with all the color options and pricing.  Just let us know how we can help you.
Try this fabulous new prop for your comfort – a Zafuko  cushion

!: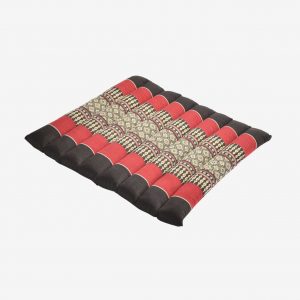 A Zafuko cushion is a soft, pliable cushion that can be rolled and flattened according to your needs. Laid flat, it can be used for poses that require soft support under your knees, elbows, forearms. Rolled, this cushion can help you avoid pain in reclining or seated positions by supporting the lumbar spine.  These beautiful cushions from Huggermugger are fair-trade with organic kapok filling, which is made from renewable plant fiber, and is naturally biodegradable and compostable.  It weighs only 1 pound and can be transported with ease.  It measures approximately 16″ x 16."  It comes in a variety of colors, and Moonflower Yoga currently has several colors in stock.  It is priced at $27 plus tax.  The Moonflower Yoga students who purchased a Zafuko cushion love their cushion. Contactless payment is available with curbside pickup.  Or if you are attending a class in person at the studio, you can purchase it at that time.
Yoga blankets for your practice or warmth from Huggermugger: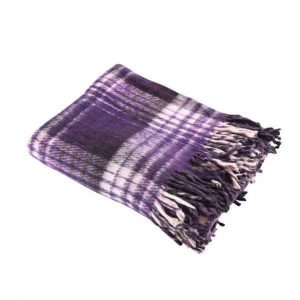 With the cold weather upon us, it is a perfect time to have a warm yoga blanket to cover your body in Shavasana (final relaxation pose) or as a blanket in your home.   These thick rectangular blankets from Huggermugger can also be used as a replacement for a bolster in certain yoga poses, as well as provide support for your knees in kneeling poses. The ones sold are the studio are hypoallergenic, with NO wool, and are machine washable.   We currently have them in black/white/gray plaid, blue/white plaid, purple/white plaid, and green/white plaid.  They should last you for many years.   If you would like to purchase one of these fabulous blankets, send an email to this email address, and we can arrange for contactless payment and curbside delivery to your parked car from the studio parking lot.
Essential oils – a great gift for you or someone special in your life: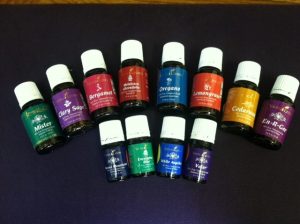 If you have attended a class or workshop at Moonflower Yoga, you have enjoyed the beautiful scent of essential oils being diffused at the studio.   These lovely essential oils have many amazing uses, including helping you feel calmer and more relaxed.   Try lavender, Stress Away (the name says it all!), Joy, peppermint, cedarwood, bergamot, or a fabulous citrus scent such as Jade Lemon, orange, tangerine, or Citrus Fresh.   Looking for a spicy scent? Try Thieves, cinnamon bark or clove. These oils and the other wonderful essential oils sold at the Moonflower Yoga studio in Bellmore, Long Island, make a fabulous and special gift.  Come and sample an essential oil at the Moonflower Yoga studio, and you are sure to find a perfect essential oil.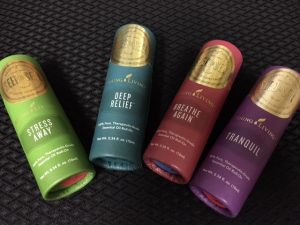 Moonflower Yoga also sells these lovely roll on sets from Young Living which make a wonderful gift.   Try Tranquil, Breathe Again, Deep Relief, or Stress Away.  They come in a beautiful glass bottle with a roll-on tip for easy application and contain your favorite essential oils.  Enjoy these for yourself or give these as a special gift!
Beautiful Aromatherapy Jewelry from Aspiring Artists of the Earth (AAOTE):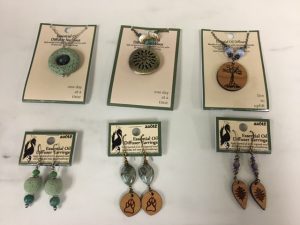 Moonflower Yoga is proud to be a distributor for beautiful AAOTE jewelry.  AAOTE makes lovely aromatherapy necklaces, bracelets, and earrings on which you can dispense your favorite essential oil and then enjoy the fragrance of essential oils on your jewelry.  You can choose from lava bead necklaces and earrings, carved wood necklaces and bracelets, and lovely medallion necklaces.   All pieces come with crystal beads.  This beautiful jewelry is available at the affordable price of $28 or less.  Stop by the Moonflower Yoga studio to purchase yours today!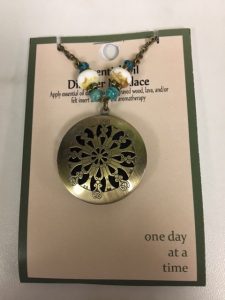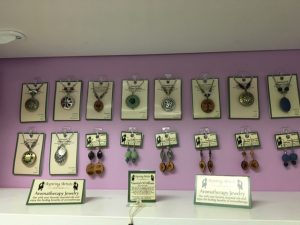 Handmade bracelets – a great gift: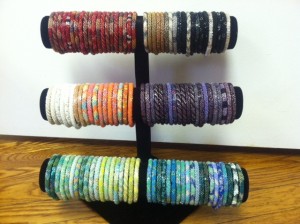 Looking for a special gift for yourself or someone in your life?  Try one of our beautiful, handmade bracelets.   Each unique bracelet is made in Nepal by a women's fair trade cooperative.  Your purchase enables the women to receive a fair income in a safe work environment.  These bracelets come in a beautiful array of colors: red, purple, green, blue, white, black & orange.  Each bracelet is $19.  Purchase 2 or more and they are just $16 each! They make a great gift!   You can purchase these lovely bracelets at the Moonflower Yoga studio in Bellmore, New York, in Long Island's Nassau County.
Unique handmade items by local artisans:
Moonflower Yoga also offers additional products for sale at the studio which are lovingly handmade by local artists. Come visit the studio to learn more about these beautiful products and to purchase a special item.
Great accessory:  Our signature, hand-embroidered Moonflower Yoga super-soft fleece hoodies!

C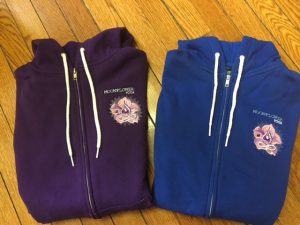 ome try one of our very soft, full zip, fleece hoodies!  Each one is hand embroidered in Bellmore, and they easily machine wash/dry.   They're perfect for a spring or autumn day when you want a comfy jacket instead of a winter coat.   They come in purple or royal blue. Stop by the Moonflower Yoga studio to pick up yours today!
 Moonflower Yoga t-shirts :
Year round logo t-shirts hand printed in Bellmore  are also available in a great variety of different styles, sizes, and colors.  All shirts are available for curbside pick up.  They can also be shipped to you for those who do not geographically live near the studio.

SUPER SOFT, LONG-SLEEVE T-SHIRTS ARE GREAT YEAR ROUND!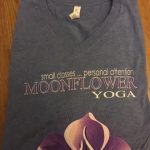 These signature, super soft t-shirts come in a light, heathered-blue shade and are in everyone's favorite tunic style.   Come pick up yours today at the Moonflower Yoga studio!
In addition to the heathered blue color, this comfy, long-sleeve tunic shirt also comes in charcoal gray-black, as well as royal blue.
Stop by the Moonflower Yoga studio to see these hoodies and t-shirts in person and to select one that is perfect for you or a special person in your life.
Enjoy Jessica's singing bowls at home: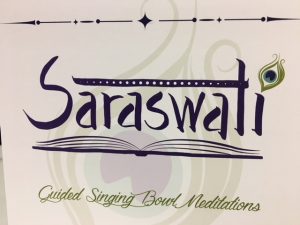 Jessica Saraswati has recorded a wonderful CD of her guided singing bowl meditations.   It is a great way to enjoy Jessica's guided singing bowls from home.  Moonflower Yoga has copies of her CD for sale.  Come purchase yours at the Moonflower Yoga studio!
Can't make it to the studio but would like to purchase a product from Moonflower Yoga?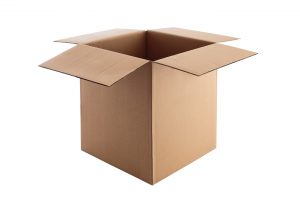 Our items make great gifts!  Moonflower Yoga can ship any of our products to you including custom t-shirts and hoodies, essential oils, handmade bracelets, and yoga supplies for your practice.  We can ship our items anywhere in the continental United States.  Just give us a call at 1 (516) 557 2206 or send an email to moonfloweryoga@optimum.net to let us know what you would like to purchase.