Monthly News
November – The start of the holiday season and a time for giving thanks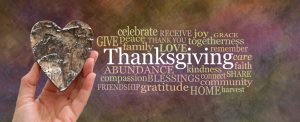 Where has the year gone?  It is hard to believe that November is here and that Thanksgiving and the holiday season are upon us.
Thanksgiving is always one of my favorite holidays.  It is not the crazy hecticness of December and shopping in crowded stores.  Instead, it is a time to reflect and be THANKFUL and GRATEFUL for the blessings in our life.
I always like to begin with a message of gratitude.  It is gratitude for living in a place where we have many comforts including easy access to food, the ocean, and medical care.  It is gratitude for having the lovely Moonflower Yoga community with its very special students who support the studio on a regular basis.  I am so appreciative of all who continue to support the studio, and I am proud of what you have accomplished in building better strength, more flexibility, and learning how to feel more peaceful when things are challenging.   For those students who join us in the studio for one of the hybrid classes, it is so nice to see your smiling faces walk through the creaky front door of the studio and enjoy a class with us in person.
I am grateful for the wonderful roster of teachers who help to round out the Moonflower Yoga schedule with the great weekly classes they teach: Jessica, Lynn, Rose, Vicky, and Rosanne.  I am also grateful to Bhante, Jackie, and Cathi who offer special meditation sessions to help you relax and better cope with life's challenges.  Thank you all for your dedication.
I am grateful for the technology, such as Zoom, that allows Moonflower Yoga to offer classes and workshops to students who do not live geographically near the studio.  It is wonderful to have students joining us from across the US including Florida, Pennsylvania, Massachusetts, Arizona, and California.  And some of Bhante's lovely meditation sessions originate in Sri Lanka, but through Zoom we are joining Bhante live from across the globe.
I am also very grateful to my husband, Bob, who is as much a part of the studio as me.  Bob continues to offer his fun, monthly  "In the Kitchen with Bob" online cooking workshops where we enjoy cooking delicious and healthy plant-based meals from our kitchen, while simultaneously you are cooking alongside us from your kitchen.   We have had lots of laughs (and some wine) as we prepare these meals together from our homes, and then all sit down at the end of the event to eat the meal together in our respective homes.   Bob is also lovingly referred to as the "IT Guy" because he jumps into the studio room and helps with any technical issues to keep the classes flowing.   He provides me moral support when things are challenging.
I am also grateful for my yoga, meditation, and Reiki practice.   When things are tough, rolling out a yoga mat or sitting quietly to meditate or do a Reiki self-healing session is what helps me cope.   Let us help you learn how these tools can help you feel better and cope too!
When things do not go as planned, I encourage you to think of 3 things during the day for which you are grateful.  It can be something simple, such as having your morning cup of coffee, a gesture from a stranger such as holding a door open for you, a sunny day, or a smile or hug from a family member, or your family pet offering a paw.   When things are challenging, it can help us reframe the day and put you on a positive path.
THANK YOU for all your support, and I wish you all a wonderful and happy Thanksgiving.
Namaste,
Nancy
Check out these spotlight classes for the month of November!

 
Relax and De-Stress with Guided Meditation with Rosanne (Mondays at 7 PM) – 30 min online class which you can attend while relaxing at home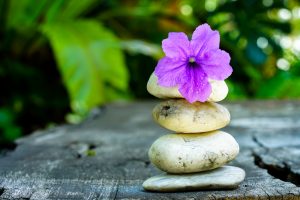 Come explore the wonders of meditation!  Doctors all recommend meditation as a tool to help you relax, de-stress, and allow you to feel better.  Meditation is available to everyone, and NO prior meditation experience is needed for this class. All are welcome to join us.
Rosanne Cassidy will lead you into a guided meditation in this lovely class which you can do from your living room while seated in your favorite chair, or reclining in your bed or on a couch, or sitting on the ground, or reclining on the floor of your home, – whichever is most comfortable for you.  If you are doing this from the floor, you may want to have a blanket, pillow, or towel nearby to use as a prop to support your head.  Sit back or lay down as you relax and listen to Rosanne's soothing voice guiding you through the meditation as she provides visualizations to help you relax.  Come join us and de-stress and prepare yourself for a restful night's sleep.
Beginner Yoga with Nancy – Sundays at 9:45 AM (60-min HYBRID yoga class)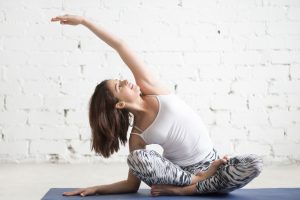 Beginner yoga is great for those who are new to yoga or would like a more basic practice. You will be guided through fundamental yoga postures combining breath with movement. The class begins with a gentle warm-up on the ground.  From there the class encompasses standing postures, including light Vinyasa flow to build some energy & release stress, and balance postures to improve your balance.  The class then returns to floor stretches on the mat, ending with quiet relaxation postures to help you de-stress and feel refreshed. It is a fabulous way to start your day!  You will gain strength, flexibility and balance.   Please have a small folded blanket or large folded towel near your mat for use during the class.  Please also have a yoga strap nearby (or you can substitute a bathrobe tie or an unused men's tie).  A yoga block is also recommended.
Make yourself a priority!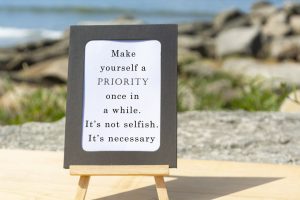 In addition to relaxation and stress reduction, yoga can help improve your physical strength, as well as tone and stretch muscles, increase flexibility, and improve balance.  There are 13 great weekly yoga or meditation classes on the Moonflower Yoga schedule from which you can choose.   All of the classes on the schedule are suitable for beginners or those seeking a slower-paced class.  Every class on the schedule is available via Zoom, except the Tuesday night Candlelight Restorative class.  Some classes, designated as 'hybrid yoga" classes, are also available for in-person attendance.   You can find further info on each class on the "Descriptions" tab above, and you can register for any activity from the "Schedule" tab above by double clicking on the activity you would like to attend and following the simple registration and payment steps.
There is NEVER a membership contract to sign at Moonflower Yoga.   You can register and purchase just one single activity.   To register for a single activity, click on the "Schedule" tab above, select your activity, and follow the simple registration and payment steps for that activity.  You will receive written confirmations for your registration and payment.  Payment is via PayPal but you do NOT need a PayPal account in order to purchase an activity. PayPal accepts ALL major credit cards, and there is NO processing fee charged to you for using PayPal for a class or workshop purchase.
Would you like to attend multiple activities in a specific calendar month?  If so, it would be great to have you attending multiple activities with us!  If you spend $100 in class purchases for the calendar month, you receive a FREE 30-minute class in that month as a thank you.  To purchase a class package, instead of registering for each individual class, simply send an email to moonfloweryoga@optimum.net advising which classes you would like to attend for the month.  We will get the paperwork started and reserve your spots for you.
There are also some great workshops available to help you de-stress and relax while learning something new, as well as our fun Moonflower Yoga Club events.  You will find further info below in the "Coming Soon" section, or you can click on the "Workshops" tab above for workshop info or the "Clubs" tab above for upcoming Club information.
We look forward to seeing you soon!
Below is a full listing of our great upcoming workshops and Club events.  Come learn something new and have fun with us from the comfort of your home!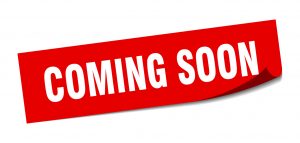 Moonflower Yoga has an amazing array of interesting workshops and events from which you choose! People from Bellmore-Merrick-Wantagh-East Meadow-Seaford and other parts of Long Island have been registering, and we hope to see you too. Below is a quick snapshot summary of these very fun activities, and you can discover more info on the "Workshops" or "Clubs" tabs. You can register for any of these great activities by selecting the activity that you would like to attend on the "Schedule" tab above and following the simple registration and payment steps.
– Yoga Nidra (Yogic Sleep and Deep Meditation) with Jackie (offered online via Zoom): Wednesday, November 29th, starting at 7:30 PM; also available Wednesday, December 27th starting at 7:30 PM:  Feeling stressed? Join us from the safety and comfort of your living room or bedroom for this relaxing evening!  Yoga Nidra, known as yogic sleep, is a deep meditation used to promote physical, mental, and emotional relaxation. You will deeply relax in a reclining position on your couch, in your bed, or on the floor, as you are led through a deep guided meditation.  You can also set your Sankalpa (heart-felt intention).  One hour of yoga nidra = 4 hours of sleep!
– Gong Meditation and Relaxation with Cathi (in-person event): Friday, December 1st starting at 7:15 PM: This session is sold out!  Stay tuned for the announcement of a January date.  This is a very special evening as you lay back and relax during Cathi's lovely sound healing event at the Moonflower Yoga studio.  NO prior experience needed.  Join us!
-The Moonflower Yoga Needle Arts Group: FREE online meeting on Saturday, December 2nd, starting at 4:30 PM:  Come join us for this fun event as we enjoy working on our various pieces (crochet, knitting, needlepoint, etc.) while catching up with the other members and sharing tips.  Newcomers are always welcome.
– Evening of Guided Meditation and Peacefulness with Bhante Sujatha (online workshop): Thursday, December 14th, starting at 7:15 PM Eastern time:  If you are feeling anxious or can't sleep, try guided meditation! Join us for a wonderful evening with Bhante Sujatha as he leads you in a guided meditation which you can do from the safety & comfort of your home.  Bhante is a 30+ year Buddhist Monk, who is singularly focused on adding more love in the world. Bhante teaches loving-kindness meditation to people around the globe for all those seeking the art of happiness and contentment. His approach to meditation is deep and simple, which he explains in a way that is practical and easy to understand. A joyful, radiant, funny and wildly energetic monk, Bhante will help you obtain peace that can only be found in deep silence.
– In the Kitchen with Bob! (a LIVE online plant-based cooking demo using Zoom):  Sunday, December 17th, 4:15 PM – 6:15 PM:  Join Moonflower Yoga owner, Nancy, and her husband, Bob, for a fun, LIVE, interactive cooking workshop from their kitchen!  We will supply you with the recipes in advance of the workshop so you can cook along with us from your own kitchen.  You'll then have a delicious meal to enjoy at the end of the workshop!  If you prefer to just watch the preparation and cooking, that's fine too.   As this is interactive, you can ask questions while cooking from your kitchen.   Have fun with us while learning something new!
–Mindful Drumming with Susan Baron, PsyD, LMT (NEW!): Our November debut session sold out!  This wonderful event will be returning in January.  Stay tuned for the announcement of a January date and join us in-person for this fabulous NEW event!  Mindful drumming is when 2 or more participants follow the facilitator who plays simple synchronized and repetitive rhythms on a hand drum. Evidence shows that when people drum together in sync, fear falls away and the rhythms ignite the brain receptors for the phenomenon of entrainment, the experience of feeling connected to one another.  Come give this a try!  We supply the drums, and you will be seated in a comfortable chair.
– The Moonflower Yoga Mah Jongg Club: You just missed a session.  It will be returning to the schedule in January; stay tuned for the January date.  Newcomers are welcome, as are experienced players willing to teach and play with newcomers.  You must have your own 2023 National Mah Jongg Society card in order to play, available from specialty stores or from the National Mah Jongg Society.
– Moonflower Yoga Book Club:   FREE online meeting via Zoom on Sunday, January 28th, starting at 4:30 PM:  As we are skipping a December discussion meeting, for this January meeting, we will be discussing two books: "The Spectacular" and "The Art Thief". Take a journey with a great book while having fun and making new friends!   All are welcome to read these books and join us. Click on the "Clubs" tab above for more info on the books.
Stay tuned!!!  We are in the process of adding several great NEW WORKSHOPS to the schedule! 
You can obtain more info on our great workshops by selecting the "Workshops" tab above.  To register for a workshop or any of our fabulous yoga or meditation classes, select the "Schedule" tab above and follow the simple registration and payment steps.  Payment is via PayPal but you do NOT need a PayPal account and there is NO PayPal fee charged to you.  You can simply purchase your spot by using any major credit card or a PayPal account if you have one.  The "FAQ" tab above provides answers to other questions that you may have.   Thank you, and we look forward to having you join us!
Curbside pickup at the studio is available!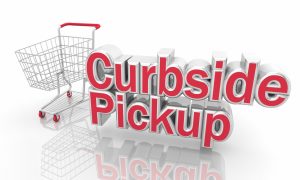 Curbside pickup at the studio is available for some items you may need for your home practice.  How about a beautiful Hugger Mugger yoga mat?  Hugger Mugger Tapas yoga mats, which Moonflower Yoga sells, were just rated one of the top 3 best yoga mats in the US.  They are very durable and last for years if you keep it safely in your house and not in your car or garage. With each new yoga mat purchased, we are currently including a FREE Moonflower Yoga mat bag to store your new mat.  We also sell yoga blocks, yoga straps, blankets, bolsters, traditional meditation cushions, and Zafuko cushions, all of which are wonderful for your home practice.  Click on the "Products" page for additional info on yoga supplies.
Or you can purchase a lovely, relaxing Young Living essential oil.  Could you use a bottle of favorite Stress Away right now?  Lavender essential oil is great for relaxation or helping with skin irritation. Citrus Fresh, Lemon, or Tangerine add a lovely clean scent to your home or try Thieves for a spicy, warm scent.  Peppermint oil is another great oil that has many uses.   Moonflower Yoga sells a wide variety of Young Living essential oils; just ask us!
We also have lovely handmade beaded bracelets, as well as AAOTE aromatherapy jewelry items.  Our super-soft signature t-shirts and hoodies are also available in a variety of sizes.
Just let us know which items you would like to purchase, and we will arrange for a cashless online purchase and a curbside delivery to your car from the studio. Purchased items can also be shipped to you within the continental US.
MONTHLY CUSTOMER APPRECIATION GIFT
We appreciate your business! Each month a special gift will be given to the customer who attends the most classes during the calendar month.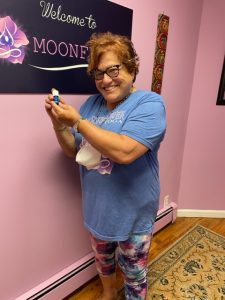 The most recent "Prize of the Month" for booking the most classes was won by Leslie. Congratulations Leslie!  Leslie won a bottle of Pan Away essential oil from Young Living.