Enjoy the total relaxation of Shavasana and why it is so important
By Nancy Weshkoff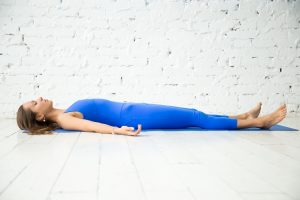 Shavasana is the final relaxation pose that is part of a yoga practice.  It is also referred to as "corpse pose".   Of all the poses that comprise your yoga practice it is the most important one.  Why is it is so important?
Let's begin by thinking about what a normal day is like for most people these days.   We are often multi-tasking.   In today's environment, you may find yourself juggling your work responsibilities with helping children with their school responsibilities.   Have a family member or friend who is home bound?  Perhaps you are also doing shopping for that person.  Are you multi-tasking in a work meeting, reading and answering text messages while trying to also concentrate on the meeting.  Our bodies are tense from all these responsibilities, and our minds are racing a mile a minute thinking about things that need to get done.
As a yoga student for many years, and later as a yoga teacher and the owner of Moonflower Yoga, I have seen it happen where a student attends a yoga class and when it is time for that final relaxation on your mat in Shavasana, the student leaves because they have so many things to do.   I am so sad when this happens.  You are missing the most important part of your practice when you skip this!
Most yoga classes begin with some breathing exercises and then move immediately into "asana", which is yoga movement.   These movements can be seated or standing.   This is also important because it enables you to release muscle tension in your body and stretch your muscles.   By focusing on alignment and working on your breath, you should find some joy in the movement of your body.
But asana (movement) is that steppingstone that opens the door to the loveliness of Shavasana.  The great yogi sages put the movement first so that you could release tightness and relax in Shavasana.  Shavasana is where you let everything go.   In a traditional Shavasana, you are reclining on the floor on your back resting on your yoga mat.   It is important that you be physically comfortable, so you can add some comfort by placing a blanket or folded towel under your head or perhaps a rolled blanket or towel under the knees.  In the cooler months, you may wish to cover part of your body with a blanket.   For some people, having the weight of a blanket can also help you feel more grounded.   If you are attending one of the great chair yoga classes offered at Moonflower Yoga, you are relaxing in the chair to enjoy your shavasana.
Once you are in your set up, you then begin to scan your body and let everything go.  In the classes I teach, we start slowly scanning each part of the body to release muscle tension.   If anything is still tight, you can send a signal to your brain to relax that area.   Just sink into the ground and let the ground support you.
The next part is a challenging one for some people: quieting the mind.  Thoughts might pop up about things on your "to do" list.  Here is where the practice of pranayama – breathing techniques – can help.  Focus on your breath to shut off the chatter in your head.   Something as simple as saying to yourself "I breathe in, I breathe out and relax" while performing these breathing techniques generates relaxation.   For some people, they may find it helpful to replace a negative thought or worry that is popping up in your mind with a positive mantra. Examples of positive mantras are "I love myself" or "everything will be okay", "I am beautiful" or simply the word "relax".  Once you are settled, then spend at least one minute of Shavasana for every 10 minutes of asana movement, i.e., 50 minutes of asana movement should be at least 5 minutes of Shavasana.   If you can stay longer in Shavasana, that's great.
When you are ready to move out of Shavasana, you should do so slowly.  Bring some gentle movement back to the body.  If you are reclining on the ground, then ever so gradually roll over to one side into a fetal position.  Take several breaths in fetal position, and when you a ready, you will slowly come into a seated position for several breaths.  Take this time to continue be in the present moment and enjoying this lovely feeling of relaxation before slowly starting to "return to the room" and end your yoga session.
By taking these several minutes of Shavasana for yourself, you are doing positive things for your mental and physical health.   It brings you relaxation and can help to balance the right and left sides of the brain.  The practice gives you a clearer perspective and helps you better cope with challenges that come your way.  You can feel so much calmer from those few minutes of Shavasana.
In the yoga classes that I teach at Moonflower Yoga, I make sure that we focus on this important part of your yoga practice.
If you cannot join us in person for one of our hybrid yoga classes at the Moonflower Yoga studio located in Bellmore, Nassau County, Long Island, New York, you can join us for our daily offering of great online yoga classes! EVERY class on the schedule is available to attend online through Zoom so you can relax at home and not worry about driving.   Attending online and relaxing at home is a great way to enjoy your yoga practice and discover that total relaxation that you receive from shavasana.   Once you are ready to come out of shavasana, you do not need to get in your car and drive in traffic back to your home, losing some of that quiet relaxation.  Instead, you can continue to enjoy that relaxation from a great online yoga class in your home to give you a more peaceful remainder of your day or evening.
I hope you will join me or one of the great yoga teachers at Moonflower Yoga for a wonderful online or hybrid beginner-level yoga class and always remember to take time for YOU to reduce your stress in your yoga postures including Shavasana.  Namaste!
Tags: beginner yoga, Bellmore, de-stressing, de-stressing yoga classes, great instructors, great online yoga classes, great yoga classes, great yoga teachers, Long Island, meditation, Moonflower Yoga, Moonflower Yoga studio, Nancy Weshkoff, Nassau County, New York, online yoga classes, remote yoga classes, Shavasana, stress reduction, what is Shavasana, Yoga, yoga classes, yoga studio, zoom classes, Zoom yoga classes, hybrid yoga classes.
Moonflower Yoga feature on News 12 Long Island: One Year Later
By Nancy Weshkoff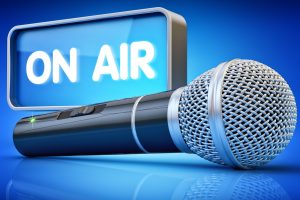 One year ago, in February 2020, Moonflower Yoga was selected by News 12 Long Island for a piece which aired about Women and Heart Health.  The piece was hosted by Shari Einhorn of News 12, and it focused on the positive benefits of yoga and meditation on heart health, particularly for women.   I was so thrilled and honored that Moonflower Yoga in Bellmore was selected for this piece amongst all the other yoga studios in Long Island, New York.
The News 12 piece featured 2 classes: one was a traditional, beginner-level yoga class.  The second one was a Chair Yoga class which I taught.   Shari joined us for the Chair Yoga class.  As a Reiki Master Teacher, I also incorporated some Reiki into the Chair Yoga class that I taught, as well as brief meditation.
The response to the piece which News 12 Long Island aired was fantastic, and it was such a great day. We were able to all be in the same room together, enjoying the practice, as well as laughing at the end and even sharing some hugs.  For those who love Bob's desserts, there was also his delicious homemade lemon lavender cake to share at the end of the filming.
If you would like to see the piece that aired on News 12 Long Island, here is the link:
http://longisland.news12.com/story/41735495/relax-and-destress-yoga-and-heart-health
We did not know at that time what lay ahead of us with the pandemic the next month.
So many of the simple things that happened that day, such as being all together in one room, not worrying about the spread of the virus, no social distancing, no mask wearing – all of these feel so alien at this point in time.
I am feeling nostalgic for that day in February when Moonflower Yoga was featured in the News 12 Long Island piece.
It is hard to imagine how much has changed in one year.   Online Zoom yoga and meditation classes are now the norm at Moonflower Yoga, as the studio doors remain temporarily closed for in-person classes.  Through Zoom, I am still able to stay connected with the Moonflower Yoga community of students, as well as the great yoga teachers who comprise the staff at the studio through daily online yoga classes via Zoom.  Moonflower Yoga was also able to switch to a live, online version of some of the great workshops, as well as the Moonflower Yoga Book Club and Moonflower  Yoga Needle Arts Group.   I am very grateful for this ability to still stay connected with the group of students and teachers who I have come to love, as well as have some fun in the online Moonflower Yoga Clubs.
I am also very grateful to Shari Einhorn of News 12 Long Island and her crew for selecting Moonflower Yoga and coming to the Moonflower Yoga studio in Bellmore to film the piece.
In addition to being grateful, perhaps, most importantly, this one-year anniversary of the News 12 piece is a reminder to appreciate every day that we have.  TODAY is the only day we can control.  As my yoga gurus before me have often emphasized, TODAY is the most important day of your life.   Enjoy and appreciate it.   Namaste.
New Year. New You!
By Nancy Weshkoff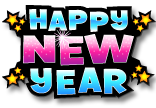 Hello 2018!   When we ring in a new year, it is a great time to start fresh with new goals and ambitions.  I am reminded of a quote from one of my favorite books "tomorrow is a brand new day with no mistakes in it".
For Moonflower Yoga, we are starting 2018 anew as well.   2018 welcomes in several great yoga teachers to the Moonflower Yoga staff.    We are pleased to have Danielle Meill, Jackie Lee, Rose Edelman, and Cathi Nashak join the Moonflower Yoga teaching team.   Each of these great yoga teachers bring their own unique style of yoga to the Moonflower Yoga studio.   You will learn ways to strengthen your body, become more flexible, improve balance, link breath with movement, and most importantly de-stress and take care of YOU.
As meditation is something that is important to learn, Moonflower Yoga has also added a great new class on the yoga class schedule: "Stretch and Meditate 101" with Lynn on Thursdays at 5 PM.  This gentle yoga class will help you de-stress from the day and then learn meditation tools to enable you to relax.
And to give the studio a great start to the new year, we have completed the facelift on the studio so it has a new design, better layout, beautiful colors on the walls, and new tapestries to help you feel relaxed as soon as you enter the doors.
It is our 2018 commitment at Moonflower Yoga to continue to offer great yoga classes with great yoga teachers where you receive personal attention and don't get lost in the crowd.  And we have made the studio a warm, friendly place in Bellmore, Long Island, on the South Shore of Nassau County, New York, where we also welcome students from the neighboring towns of Merrick, East Meadow, Seaford, Wantagh, Massapequa, and Freeport.   Moonflower Yoga is also a great place to learn something new in one of our fun workshops or in one of our clubs.  Check out the Moonflower Yoga Book Club, the Moonflower Yoga Mah Jongg Club, the Moonflower Yoga Needle Arts Group where you learn to crochet or knitting, and the new Women's Gathering.
So what are YOUR plans and goals for 2018?   First and foremost, it should be about taking care of YOU.  If you do not take care of you, you cannot take care of anyone else.   We often find excuses why we can't take some time for ourselves.   When we DO take care of ourselves good things happen.  We sleep better at night, and sleep is important to giving our bodies and minds the down time it needs to function better.   We reduce stress which lowers blood pressure.   High blood pressure can lead to so many diseases including heart disease, the number one killer of women in the US.   Just giving yourself a couple a hours a week of YOU time can make a big difference in how you feel physically as well as mentally and it can make you MORE productive as you have a clearer perspective.   Are you a beginner and feeling nervous about starting a yoga practice?  No worries – Moonflower Yoga offers beginner-level  yoga classes 7 days a week.  You'll see a full listing under the FAQ tab above.   Have problems reaching the floor?  Try Chair Yoga offered 3 times a week.
Yoga and meditation can help put you on a great path for 2018.   You can strengthen your body and de-stress while learning that important message of taking care of YOU.  Come try it!   You will be glad that you did and you will find yourself on the road to better health in 2018.  Happy new year, and we look forward to seeing you soon!
Chair Yoga
By Nancy Weshkoff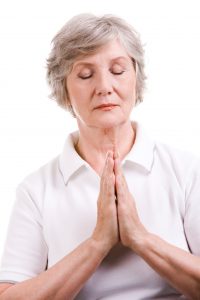 One of my favorite yoga classes to teach each week at Moonflower Yoga is Chair Yoga.    It is a special yoga class to me because it enables yoga to be available to students who would find it challenging to be part of a regular yoga class.    Chair yoga at Moonflower Yoga is not just for seniors – it is also great for women in the latter stages of pregnancy.   Do you feel stiff and tense from sitting in your office chair most of the day staring at a computer screen?  Chair yoga will teach you some stretching exercise that you can do from your office chair to alleviate muscle tension.   For people with injuries that might make it difficult to be in a regular yoga class, Chair Yoga is also a great option.
For the seniors who do attend the weekly Chair Yoga class at Moonflower Yoga, I applaud them for trying yoga for the first time in their 70's and 80's.   How cool is that!   Chair yoga provides them with fabulous stretching poses to keep their muscles flexible.   We also work on yoga poses to build strength.   Each class also consists of mantra (chanting) to quiet your mind, as well as several minutes of quiet relaxation with bolsters, blankets, and essential oils to enhance the relaxation while you meditate.   The mantras are something that everyone can use to help with stress reduction, as well as use as a tool if you are having difficulty falling asleep at night.   Meditation is something that is helpful for everyone, and meditation is recommended by leading doctors.
Chair Yoga is wonderful for people of all ages.   Come to Moonflower Yoga on Tuesday mornings and give this great yoga class a try!    Moonflower Yoga is located in the town of Bellmore, in Long Island, New York's Nassau County.   You will love this great yoga class or any of the fabulous yoga classes on the Moonflower Yoga schedule from some of the best yoga teachers on Long Island.