Chair Yoga
By Nancy Weshkoff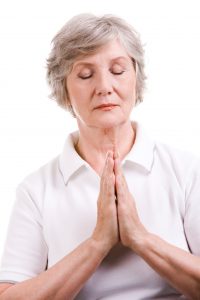 One of my favorite yoga classes to teach each week at Moonflower Yoga is Chair Yoga.    It is a special yoga class to me because it enables yoga to be available to students who would find it challenging to be part of a regular yoga class.    Chair yoga at Moonflower Yoga is not just for seniors – it is also great for women in the latter stages of pregnancy.   Do you feel stiff and tense from sitting in your office chair most of the day staring at a computer screen?  Chair yoga will teach you some stretching exercise that you can do from your office chair to alleviate muscle tension.   For people with injuries that might make it difficult to be in a regular yoga class, Chair Yoga is also a great option.
For the seniors who do attend the weekly Chair Yoga class at Moonflower Yoga, I applaud them for trying yoga for the first time in their 70's and 80's.   How cool is that!   Chair yoga provides them with fabulous stretching poses to keep their muscles flexible.   We also work on yoga poses to build strength.   Each class also consists of mantra (chanting) to quiet your mind, as well as several minutes of quiet relaxation with bolsters, blankets, and essential oils to enhance the relaxation while you meditate.   The mantras are something that everyone can use to help with stress reduction, as well as use as a tool if you are having difficulty falling asleep at night.   Meditation is something that is helpful for everyone, and meditation is recommended by leading doctors.
Chair Yoga is wonderful for people of all ages.   Come to Moonflower Yoga on Tuesday mornings and give this great yoga class a try!    Moonflower Yoga is located in the town of Bellmore, in Long Island, New York's Nassau County.   You will love this great yoga class or any of the fabulous yoga classes on the Moonflower Yoga schedule from some of the best yoga teachers on Long Island.
The Positive Benefits of Yoga on Baby Boomers and Seniors
By Nancy Weshkoff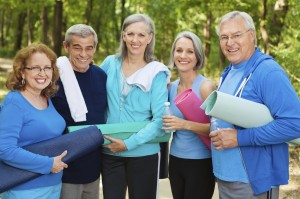 At Moonflower Yoga, in Bellmore, on Long Island's Nassau County, we have a steady group of baby boomers and seniors who attend our yoga classes.   From personal observation, I know that yoga is helping them.   They are getting stronger and more flexible, improving their balance, finding inner peace, and enjoying the comradery of being in a small-class setting with personal attention.   Plus they are meeting new people and becoming friends with fellow students.   But there is something else that yoga is helping: your brain function.
My personal observation of this improvement for baby boomers and seniors has been recently confirmed in a new study.  The University of Illinois studied 108 adults between the ages of 55 and 79 years of age.  61 of these attended hatha yoga classes – the style of yoga taught at Moonflower Yoga.   The remaining group did not attend yoga classes but did general stretching and toning exercises.
At the end of 8 weeks, the results were checked.    The participants who did yoga for 8 weeks were speedier and more accurate on tests of information recall, mental flexibility, and task switching than they were before they began taking yoga classes.    The yoga participants showed significant improvements in memory capacity, and were able to perform tasks more quickly without getting distracted.   This is very key to daily living, as we often are required to multi-task in our everyday life.   The people who oversaw the study believe that the yoga group benefitted from hatha yoga because it required focused effort as you moved through the poses, controlling the body and breathing at a steady rate.    Studies have also found that yoga provided immediate positive effects on decreasing anxiety, stress, and depression by quieting the sympathetic nervous system.
And, for the record, there was no improvement in mental capacity for the participants in this study who did not attend yoga classes.
I personally believe that yoga can help you feel better and function better at ANY age.   As this study has confirmed, it definitely helps baby boomers and seniors.
If you are the area of Bellmore, on Long Island's Nassau County, come try one of our great yoga classes at Moonflower Yoga!   Our team of very dedicated yoga teachers will pay attention to you in our small-class setting making sure that you are doing your poses correctly.  You'll gain strength, flexibility, and balance, reduce stress levels, and at the same time improve your mental capacity.  How cool is that!