The Return of the School Year
By Nancy Weshkoff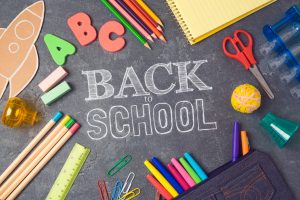 September is always a stressful month with the return of the school year.  For teachers, you are meeting your new students for the year and ascertaining how you can help them grow and learn. Similarly for students, it is beginning a new curriculum and becoming comfortable with your new teachers.  Parents need to help their children become adjusted to the new grade level.  In 2021, this stress seems to be amplified even more. The COVID pandemic has added more complexity: should there be mask mandates, vaccine mandates for those who are eligible, remote learning or in-person learning, etc.
At Moonflower Yoga, we have many schoolteachers and parents who attend classes and events.  I see the stress and worry start to build in mid-late August and continue through September and October as they try to cope with the onset of the new school year.
For the teachers, the parents, and the students, they all agree that taking even just 30 minutes to RELAX can you help feel better.  A great yoga or meditation class, available via Zoom, can help you do that.  Yoga can release muscle tension from the day.  By doing pranayama (breathing techniques), the mind and body begin to relax.  When you are relaxed, you can think more clearly and feel better, and your blood pressure can be lowered creating less stress on your heart.  Guided meditation takes your mind away from your worries and anxiety and helps you channel it in a more positive direction.   Come give a yoga or meditation class a try with a great Moonflower Yoga teacher who can help you learn ways to relax and cope!   With Zoom, you do not need to live in Bellmore, Long Island, New York to attend a class, and we  have people attending online yoga or meditation classes from neighboring Nassau County towns such as Merrick, East Meadow, Wantagh, Levittown, and Seaford, as well as out of state from Pennsylvania, Florida, Vermont, Arizona, and California.   Take 30 minutes for yourself and begin to feel better!  And have a great start to the new school year.