Calming and Healing Your Spirit
Written by Nancy Weshkoff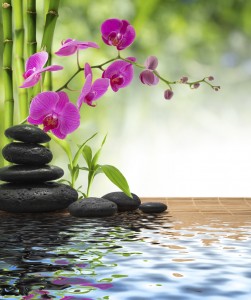 Life brings us many challenges.    The strain, tension, and stress can weigh down upon us.    It is so important that we take a break from these challenges and take care of ourselves.   Doctors all agree that stress is one of the leading causes of diseases.   You CAN do something to help relieve your stress.
Moonflower Yoga is proud to announce a new series of classes on Wednesday nights at 7:30 PM.  The new series is entitled "Calming and Healing Your Spirit".    During each one-hour class, you will learn and experience a de-stressing activity to help bring you inner peace.   In our first class on February 5th, Anthony and Mindy of Happy and Healthy Now, will lead a Reiki Healing Circle. Reiki is a fabulous way to release negative energy.   In our second class on February 12th, Chris will teach you "Tapping" (Emotional Freedom Technique), a wonderful tool that you can self-administer to help remove negative reactions to certain situations or people.    Members of our military are using "Tapping" to help them with the after-effects of combat duty.   In our third class on February 19th, Connie will lead you into a deep meditation, as you recline on the ground nestled in warm blankets, with soft candlelight, and leave your worries behind.    In our fourth class on February 26th, there will be a special evening of Moonflower Yoga's very popular Candlelight Restorative class, as you melt away stress while comfortably supported on bolsters, blankets, and pillows.    Our March classes will include a lovely Chanting class on March 19th led by Diane, with more classes to be announced shortly.
I hope you can join us for these wonderful Wednesday evening Calming and Healing Your Spirit classes at Moonflower Yoga.   Whichever class you choose, led by one of our great teachers, you will feel more relaxed and renewed from an amazing de-stressing class.   We could all use some more relaxation!!!   If you are in the area of Bellmore, Long Island, in Nassau County, New York, come give this a try.   You'll be glad that you did.