It is Moonflower Yoga's 8th anniversary!
By Nancy Weshkoff
T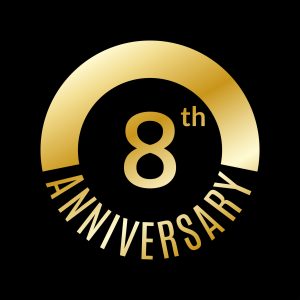 his week marks another milestone for Moonflower Yoga – it is our 8th anniversary!    When I embarked on the journey of opening a yoga studio 8 years ago in Bellmore, Long Island, New York, I was not exactly sure how things would progress.  I will be the first to admit that some things did not go as  planned.   But I am happy to say that many things did.   The vision that I had of building a community where people could come together to practice yoga and meditation but to also make friends and expand horizons through the   Moonflower Yoga Clubs such as the Moonflower Yoga Book Club, Needle Arts Group, Mah Jongg Club and Canasta Club have all happened.    And we have all had fun and learned something new in the great workshops including cooking workshops, jewelry workshops, yoga-related workshops, and much more.   Reiki became an addition to the schedule, and many people  have become trained in this calming healing system to help the practitioner learn tools for stress reduction and relaxation.  And, of course, the yoga classes which were just a handful of classes at first but have grown to a wonderful variety of daily classes.  I have personally witnessed students of all ages who were not familiar with yoga fall in love with yoga as they become stronger, more flexible, improve balance, take care of themselves, and make friends with their fellow attendees.
I could not have done all of this without the great yoga teachers who join me in offering an amazing variety of yoga and meditation classes each day.   To those who provide these great yoga classes and help students improve their practice, I thank you for your dedication!
Most importantly – THANK YOU to the people who have walked through the doors of Moonflower Yoga and now join us on a regular basis via great online Zoom classes.   Your support of Moonflower Yoga and your friendship have created a very special place.
These are challenging times for small businesses as we cope with the pandemic.   With your continued support, we can weather the storm and look forward to clearing skies in the future.   THANK YOU for 8 wonderful years!