Reflections On 2021
By Nancy Weshkoff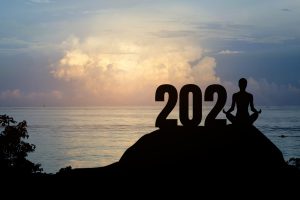 As we say goodbye to 2021, I am looking back to the year that was.   2021 was another strange year as we continued to battle coronavirus.   Coronavirus very much was a part of the year, as the year began with the studio doors closed to in-person classes to keep people safe.  The teaching schedule still offered great online yoga classes 7 days a week.
As vaccines become available and the virus numbers started to decline, it was time to return to some normalcy.  Hybrid yoga classes were formed whereby we could continue to offer great online yoga classes via Zoom, while simultaneously having the return of in-person classes for a small group of students.   It was so nice to finally reopen the studio doors to see people in person again, especially those who have been such an important part of the Moonflower Yoga community for many years.
And then came new and more contagious virus strains which are affecting not just Bellmore in Nassau County, Long Island, but many parts of the United States and the world.   Once again, the painful decision was made to close the studio doors to all in-person activities to prevent the spread of the virus and to keep the Moonflower Yoga community safe.  Great online yoga classes and workshops continue to be offered.
Through it all, I have felt a sense of gratitude.   Gratitude for the students who continue to attend online yoga and meditation classes at Moonflower Yoga, and it is always nice to see their smiling faces in the "Zoom Room" as we chat before and after each class.  I am grateful to the great yoga teachers and workshops presenters who teach their classes and workshops online as we offer a very interesting variety of activities.  I am grateful for my husband, Bob, who supports me on a daily basis and who joins in the Moonflower Yoga community with his monthly "In the Kitchen with Bob" online cooking workshop where we prepare plant-based, vegan recipes in our kitchen with attendees cooking alongside us in their homes.   I am grateful to the Moonflower Yoga community that attends the fun Moonflower Yoga Book Club and Needle Arts Groups where we have some laughs together.    I am grateful to the medical community that has discovered treatments that help combat the virus and the healthcare workers who tirelessly aid those in need.  I am grateful that we have made it through a challenging year.
As we look ahead into 2022, which begins in a few hours, we are beginning the new year similar to the one we are leaving behind.   Yet, I am hopeful that things will be better in the spring and summer.   We need to take care of ourselves and our loved ones.   It is important to take care of our physical bodies as well as our mental health.  Attending a great online yoga class can help with both goals.  And attending a meditation class or one of our special monthly offerings such as An Evening with Bhante Sujatha or the relaxing Yoga Nidra deep relaxation can bring you some inner peace.   There is no contract to sign and no recurring payments, and you can attend just one great online yoga or meditation class and start to feel better.   Come give it a try!
Thank you to everyone who has been on this journey with me.   May 2022 bring you good health, happiness and many blessings.