Reflections On 2021
By Nancy Weshkoff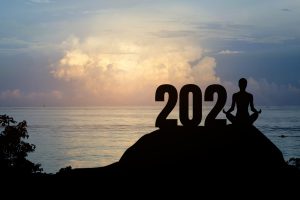 As we say goodbye to 2021, I am looking back to the year that was.   2021 was another strange year as we continued to battle coronavirus.   Coronavirus very much was a part of the year, as the year began with the studio doors closed to in-person classes to keep people safe.  The teaching schedule still offered great online yoga classes 7 days a week.
As vaccines become available and the virus numbers started to decline, it was time to return to some normalcy.  Hybrid yoga classes were formed whereby we could continue to offer great online yoga classes via Zoom, while simultaneously having the return of in-person classes for a small group of students.   It was so nice to finally reopen the studio doors to see people in person again, especially those who have been such an important part of the Moonflower Yoga community for many years.
And then came new and more contagious virus strains which are affecting not just Bellmore in Nassau County, Long Island, but many parts of the United States and the world.   Once again, the painful decision was made to close the studio doors to all in-person activities to prevent the spread of the virus and to keep the Moonflower Yoga community safe.  Great online yoga classes and workshops continue to be offered.
Through it all, I have felt a sense of gratitude.   Gratitude for the students who continue to attend online yoga and meditation classes at Moonflower Yoga, and it is always nice to see their smiling faces in the "Zoom Room" as we chat before and after each class.  I am grateful to the great yoga teachers and workshops presenters who teach their classes and workshops online as we offer a very interesting variety of activities.  I am grateful for my husband, Bob, who supports me on a daily basis and who joins in the Moonflower Yoga community with his monthly "In the Kitchen with Bob" online cooking workshop where we prepare plant-based, vegan recipes in our kitchen with attendees cooking alongside us in their homes.   I am grateful to the Moonflower Yoga community that attends the fun Moonflower Yoga Book Club and Needle Arts Groups where we have some laughs together.    I am grateful to the medical community that has discovered treatments that help combat the virus and the healthcare workers who tirelessly aid those in need.  I am grateful that we have made it through a challenging year.
As we look ahead into 2022, which begins in a few hours, we are beginning the new year similar to the one we are leaving behind.   Yet, I am hopeful that things will be better in the spring and summer.   We need to take care of ourselves and our loved ones.   It is important to take care of our physical bodies as well as our mental health.  Attending a great online yoga class can help with both goals.  And attending a meditation class or one of our special monthly offerings such as An Evening with Bhante Sujatha or the relaxing Yoga Nidra deep relaxation can bring you some inner peace.   There is no contract to sign and no recurring payments, and you can attend just one great online yoga or meditation class and start to feel better.   Come give it a try!
Thank you to everyone who has been on this journey with me.   May 2022 bring you good health, happiness and many blessings.
November: A Time for Giving Thanks
By Nancy Weshkoff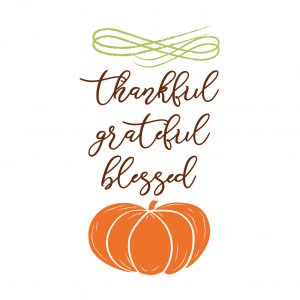 It is hard to believe that November is here and that Thanksgiving and the holiday season are not that far away.
Thanksgiving has always been a special period of time to me.  It is not the hectic period of December with its holiday shopping.  It is a time to reflect and be THANKFUL and GRATEFUL for the blessings in our life.
I would like to start with a message of gratitude to all who have supported Moonflower Yoga through the years, and especially in this crazy pandemic period in which we are now living.   I am grateful to those who continue to attend online yoga and meditation classes via Zoom, including students from out of state, as well as those living on Long Island.  THANK YOU for helping to keep the studio alive.  I am grateful for the technology that has also enabled Moonflower Yoga to introduce "hybrid yoga classes" that began this summer where we can have 4 fully-vaccinated students in the Moonflower Yoga studio in Bellmore, while simultaneously running the class through Zoom for those who are more comfortable attending remotely.    And for those who join us in the studio for the classes, it has been so nice to see your smiling faces walk through the creaky front door of the Bellmore, Long Island studio and enjoy a class with us. Thank you for walking through the Moonflower Yoga doors to practice with us!
I am grateful for the great Moonflower Yoga instructors (Theresa, Rose, Lynn, Jessica, Cathi, Vicky, Dona Dovie, and Rosanne) who share their knowledge and love of yoga and help to create a wonderful space in which students can enjoy a fabulous yoga or meditation class, whether you are a seasoned practitioner or seeking a great beginner yoga class.   They enhance the schedule so there is always an interesting class available to attend that can help you stretch, become stronger, improve your balance, and relax.  I am also grateful for the monthly workshop presenters: Bhante who leads his meditation evenings from Sri Lanka (even though it means getting up at 3 AM to be with us), Jackie Lee who leads a monthly, relaxing Yoga Nidra for deep relaxation, and Cathi who offers a lovely monthly gong relaxation at the studio.
I am also very grateful to my husband, Bob, who is as much a part of the studio as me.   During this year, Bob has led the monthly "In the Kitchen with Bob" online cooking workshops where we have fun cooking delicious and healthy plant-based meals from our kitchen, while simultaneously you are cooking alongside us from your kitchen.   We have had lots of laughs (and some yummy wine) as we prepare these meals together, and then all sit down at the end of the event to eat the meal together in our respective homes.  And with the transition to the hybrid classes, you may have heard me lovingly refer to Bob as the "IT Guy" because he jumps into the studio room and helps with any technical issues to keep the classes flowing.  He also provides me moral support when things are challenging.
I am grateful for the essential workers who are keeping things flowing in these unprecedented times.  We have nurses, teachers, and other essential workers who are part of the Moonflower Yoga community.  Thank you for working tirelessly to help others!
I am also grateful for my yoga, meditation, and Reiki practice.  When things are tough, rolling out a yoga mat or sitting quietly to meditate or do a Reiki self-healing session is what helps me cope.   It is why it is so important to me to keep the studio going in these difficult times – yoga and meditation can help you to feel better and cope too!
When things do not go as planned, I encourage you to think of 3 things during the day for which you are grateful.  It can be something simple, such as having your morning cup of coffee, a gesture from a stranger such as holding a door open for you, a sunny day, or a smile or hug from a family member, or your family pet offering a paw.  When things are challenging, it can help us re-frame the day and put you on a positive path.
THANK YOU for all your support, and I wish you all a wonderful and happy November and Thanksgiving season.  Namaste!