Spring is a Time for Renewal
By Nancy Weshkoff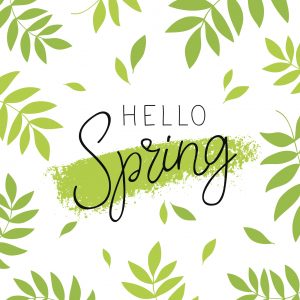 Spring is a wonderful time of year.   The plants and trees shake off remnants of winter and start to come into bloom.   We have more daylight and start to feel more alive than when it is dark before 5 PM.
And, just like the plants and trees, spring is a time of renewal for us.  Maybe you were more housebound and inactive during the winter months.  With spring's arrival it is time to dust off the cobwebs of winter and start to feel renewed and refreshed.
With the arrival of warmer weather, you start to wear thinner clothes.  Wouldn't it be great to feel toned in those lighter clothes?   A great yoga class can help you tone and stretch your muscles, as well as improve strength, flexibility, and balance.   If you are a beginner, that's not a problem at Moonflower Yoga.   We love beginners and offer beginner-level yoga classes 7 days a week.   Remember EVERYONE was a beginner at one point.  Just take that first step and you will feel amazing.   Our yoga instructors give you personal attention to help you as you begin a yoga practice.
Clearing out the cobwebs is not just about our physical body.   It is also true of our mind and thoughts.  Do you brood about things from the past, which you cannot change because the  past is over?   Do you obsess and worry about the future, which you also cannot control?   Stress is a leading cause of heart disease, and heart disease is the number one killer of women in the United States behind all cancers combined.   So what can you do to stop obsessing about past events and the future, reduce your stress levels, and work towards a healthy heart?
Having a meditation practice is a wonderful way to start taking care of your stress levels and feeling good about  yourself.  Moonflower Yoga offers several meditation classes including "Stretch and Meditate 101" on Thursdays, "Chair Body Stretch and Meditation" on Wednesdays at 6 PM, and a monthly "Less Stress" meditation on Tuesday nights.  Plus the weekly Kundalini yoga classes on Thursday and Sunday offer some meditation in the practice.   There are also great workshops on the Moonflower Yoga schedule which can help with stress reduction.   And Reiki, which is offered at Moonflower Yoga, is a great way to take care of YOU.
Come join us this spring at Moonflower Yoga and take a step towards renewal for yourself!   We are located in Bellmore, on the South Shore of Long Island in Nassau County, but we welcome students from all over Long Island including the neighboring towns of East Meadow, Merrick, Wantagh, Seaford, and Levittown.   We look forward to guiding you to a great start to your spring!