Enjoy the total relaxation of Shavasana and why it is so important
By Nancy Weshkoff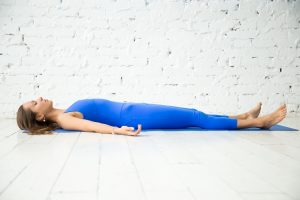 Shavasana is the final relaxation pose that is part of a yoga practice.  It is also referred to as "corpse pose".   Of all the poses that comprise your yoga practice it is the most important one.  Why is it is so important?
Let's begin by thinking about what a normal day is like for most people these days.   We are often multi-tasking.   In today's environment, you may find yourself juggling your work responsibilities with helping children with their school responsibilities.   Have a family member or friend who is home bound?  Perhaps you are also doing shopping for that person.  Are you multi-tasking in a work meeting, reading and answering text messages while trying to also concentrate on the meeting.  Our bodies are tense from all these responsibilities, and our minds are racing a mile a minute thinking about things that need to get done.
As a yoga student for many years, and later as a yoga teacher and the owner of Moonflower Yoga, I have seen it happen where a student attends a yoga class and when it is time for that final relaxation on your mat in Shavasana, the student leaves because they have so many things to do.   I am so sad when this happens.  You are missing the most important part of your practice when you skip this!
Most yoga classes begin with some breathing exercises and then move immediately into "asana", which is yoga movement.   These movements can be seated or standing.   This is also important because it enables you to release muscle tension in your body and stretch your muscles.   By focusing on alignment and working on your breath, you should find some joy in the movement of your body.
But asana (movement) is that steppingstone that opens the door to the loveliness of Shavasana.  The great yogi sages put the movement first so that you could release tightness and relax in Shavasana.  Shavasana is where you let everything go.   In a traditional Shavasana, you are reclining on the floor on your back resting on your yoga mat.   It is important that you be physically comfortable, so you can add some comfort by placing a blanket or folded towel under your head or perhaps a rolled blanket or towel under the knees.  In the cooler months, you may wish to cover part of your body with a blanket.   For some people, having the weight of a blanket can also help you feel more grounded.   If you are attending one of the great chair yoga classes offered at Moonflower Yoga, you are relaxing in the chair to enjoy your shavasana.
Once you are in your set up, you then begin to scan your body and let everything go.  In the classes I teach, we start slowly scanning each part of the body to release muscle tension.   If anything is still tight, you can send a signal to your brain to relax that area.   Just sink into the ground and let the ground support you.
The next part is a challenging one for some people: quieting the mind.  Thoughts might pop up about things on your "to do" list.  Here is where the practice of pranayama – breathing techniques – can help.  Focus on your breath to shut off the chatter in your head.   Something as simple as saying to yourself "I breathe in, I breathe out and relax" while performing these breathing techniques generates relaxation.   For some people, they may find it helpful to replace a negative thought or worry that is popping up in your mind with a positive mantra. Examples of positive mantras are "I love myself" or "everything will be okay", "I am beautiful" or simply the word "relax".  Once you are settled, then spend at least one minute of Shavasana for every 10 minutes of asana movement, i.e., 50 minutes of asana movement should be at least 5 minutes of Shavasana.   If you can stay longer in Shavasana, that's great.
When you are ready to move out of Shavasana, you should do so slowly.  Bring some gentle movement back to the body.  If you are reclining on the ground, then ever so gradually roll over to one side into a fetal position.  Take several breaths in fetal position, and when you a ready, you will slowly come into a seated position for several breaths.  Take this time to continue be in the present moment and enjoying this lovely feeling of relaxation before slowly starting to "return to the room" and end your yoga session.
By taking these several minutes of Shavasana for yourself, you are doing positive things for your mental and physical health.   It brings you relaxation and can help to balance the right and left sides of the brain.  The practice gives you a clearer perspective and helps you better cope with challenges that come your way.  You can feel so much calmer from those few minutes of Shavasana.
In the yoga classes that I teach at Moonflower Yoga, I make sure that we focus on this important part of your yoga practice.
If you cannot join us in person for one of our hybrid yoga classes at the Moonflower Yoga studio located in Bellmore, Nassau County, Long Island, New York, you can join us for our daily offering of great online yoga classes! EVERY class on the schedule is available to attend online through Zoom so you can relax at home and not worry about driving.   Attending online and relaxing at home is a great way to enjoy your yoga practice and discover that total relaxation that you receive from shavasana.   Once you are ready to come out of shavasana, you do not need to get in your car and drive in traffic back to your home, losing some of that quiet relaxation.  Instead, you can continue to enjoy that relaxation from a great online yoga class in your home to give you a more peaceful remainder of your day or evening.
I hope you will join me or one of the great yoga teachers at Moonflower Yoga for a wonderful online or hybrid beginner-level yoga class and always remember to take time for YOU to reduce your stress in your yoga postures including Shavasana.  Namaste!
Tags: beginner yoga, Bellmore, de-stressing, de-stressing yoga classes, great instructors, great online yoga classes, great yoga classes, great yoga teachers, Long Island, meditation, Moonflower Yoga, Moonflower Yoga studio, Nancy Weshkoff, Nassau County, New York, online yoga classes, remote yoga classes, Shavasana, stress reduction, what is Shavasana, Yoga, yoga classes, yoga studio, zoom classes, Zoom yoga classes, hybrid yoga classes.