Chair Yoga
By Nancy Weshkoff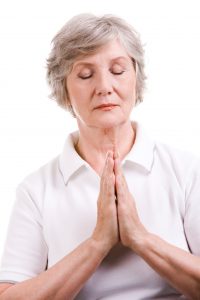 One of my favorite yoga classes to teach each week at Moonflower Yoga is Chair Yoga.    It is a special yoga class to me because it enables yoga to be available to students who would find it challenging to be part of a regular yoga class.    Chair yoga at Moonflower Yoga is not just for seniors – it is also great for women in the latter stages of pregnancy.   Do you feel stiff and tense from sitting in your office chair most of the day staring at a computer screen?  Chair yoga will teach you some stretching exercise that you can do from your office chair to alleviate muscle tension.   For people with injuries that might make it difficult to be in a regular yoga class, Chair Yoga is also a great option.
For the seniors who do attend the weekly Chair Yoga class at Moonflower Yoga, I applaud them for trying yoga for the first time in their 70's and 80's.   How cool is that!   Chair yoga provides them with fabulous stretching poses to keep their muscles flexible.   We also work on yoga poses to build strength.   Each class also consists of mantra (chanting) to quiet your mind, as well as several minutes of quiet relaxation with bolsters, blankets, and essential oils to enhance the relaxation while you meditate.   The mantras are something that everyone can use to help with stress reduction, as well as use as a tool if you are having difficulty falling asleep at night.   Meditation is something that is helpful for everyone, and meditation is recommended by leading doctors.
Chair Yoga is wonderful for people of all ages.   Come to Moonflower Yoga on Tuesday mornings and give this great yoga class a try!    Moonflower Yoga is located in the town of Bellmore, in Long Island, New York's Nassau County.   You will love this great yoga class or any of the fabulous yoga classes on the Moonflower Yoga schedule from some of the best yoga teachers on Long Island.