WHAT IS REIKI?
By Nancy Weshkoff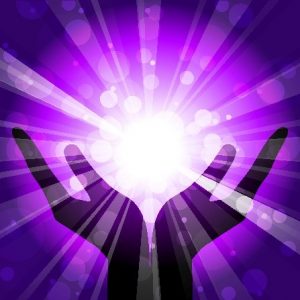 Moonflower Yoga in Bellmore, Long Island (New York)  offers Reiki training as well as Reiki Healing Circles.   Before opening Moonflower Yoga over 5 years ago, I was not familiar with Reiki.  Since then, I have taken the path to learn Reiki and practice Reiki, and am now a Reiki Master sharing Reiki with many others.  I have personally watched Reiki help many people feel better.
You may have heard about Reiki but you don't know what it is.   Reiki is a wonderful way to de-stress and help you relax.   Reducing your stress can lead to better health including lowering your blood pressure.  High blood pressure contributes to heart disease, the number one killer of women in the United States.   Practicing Reiki can help you relax and feel better.  It is being offered as an alternative therapy in many leading medical institutions.  Reiki is available to anyone to learn.   Below are some of the frequently asked questions about Reiki that we hear at the Moonflower Yoga studio.
What is Reiki?
Reiki, founded by Mikao Usui, is a Japanese technique for relaxation and stress reduction.   It is pronounced "Ray" "Key".    Reiki is being used by leading medical institutions, including major cancer treatment centers, as an alternative therapy.
Reiki works with universal life force energy – the energy in and around all living things.  When this energy is blocked, it causes an imbalance often leading to discomfort or disease.  When the energy is flowing more smoothly, we often feel better.
Here is some basic information on Reiki:
Reiki allows loving, healing energy to flow through you.
Reiki is NOT a religion. No specific religious beliefs are necessary.
Reiki is spiritual and allows you to have a deeper connection to yourself.
Reiki is open to all who would like to explore this beautiful, healing energy.
What are some of the benefits of Reiki?
Reiki can reduce your stress levels. Stress is a leading contributor to many diseases including heart disease and high blood pressure. Reducing your stress improves your health.
Reiki has helped relieve muscle tension and pain by releasing blocked energy.
Reiki can provide better sleep at night, and it is important to have adequate sleep to allow your body and mind to function properly.
There are no dangerous side effects to having a Reiki treatment.
Reiki can be used to help infants as well as seniors.
Reiki can be used on pets. Dogs and cats love Reiki treatments!
Reiki can complement other treatments you receive. Leading cancer institutions offer Reiki as an alternative therapy in addition to radiation and chemotherapy.
Reiki is easy to learn and it is self-healing.
How does Reiki work?
Reiki works by having universal life force energy flow from the person providing the treatment to the person receiving the treatment.  It Is done by having the Reiki practitioner gently lay their hands on the person receiving the treatment.  The person receiving the treatment can be seated in a chair or reclining.   Unlike other treatments, because universal life force energy is flowing, both the person receiving the treatment and the person providing the treatment both receive healing during a treatment, and the practitioner's energy is not depleted.   It is self-healing.   A session usually begins at the top of the head (where stress is often accumulated) and from there the Reiki practitioner can lay their hands gently (as needed) on the shoulders, arms, heart, abdomen, knees, and feet.
How is Reiki learned? 
Reiki is taught by a person who has been trained as a Reiki Master Teacher who provides you with attunements at each level.   There are 3 levels of Reiki:
Reiki Level One where you learn basic Reiki healing treatments for yourself and are shown techniques for helping others. You receive the first 4 attunements.
Reiki Level Two where you further learn how to work on others and are introduced to Reiki symbols which enhance your Reiki treatment. You receive 2 additional attunements.
Reiki Level Three (Master Practitioner) in which additional symbols are learned and where you receive the final 4 Reiki attunements.
Moonflower Yoga offers Reiki training on all 3 levels of Reiki.  Each training session also includes a training manual with illustrations so that you can practice Reiki at home.   See below for our next available Reiki training session or Reiki Healing Circle.
What is a Reiki Healing Circle?
A Reiki Healing Circle is a wonderful way to be introduced to Reiki.  NO prior Reiki experience is necessary, and it is open to all!   In a Reiki Healing Circle, one person in the center of the circle receives a Reiki treatment from the others around the circle.   The person in the center is often reclining on a comfortable massage table, fully clothed.    The other participants will gently place their hands on the recipient on either the top of the head, shoulders, abdomen, knees, or feet.   For those with Reiki experience, they can apply what they have learned in their Reiki training sessions to help the person receive a lovely treatment.   For those with no Reiki experience, we will show you how to do some basic positions.  Each person has an opportunity to move to the center of the circle and receive a relaxing Reiki treatment.
How can I get more information?
You will see additional information on the Reiki tab on the moonfloweryoga.com website.
I hope you will join us for a relaxing Reiki Healing Circle or take the path to become a Reiki practitioner in our Reiki training sessions at Moonflower Yoga.   If you are in the Nassau County area of Bellmore, Wantagh, Merrick, East Meadow, Seaford, Massapequa, Freeport or any area of Long Island, we would love to have you join us.  Start your new year in a positive way by taking care of YOU and learning wonderful de-stressing tools from Reiki.