Moonflower
Written by Nancy Weshkoff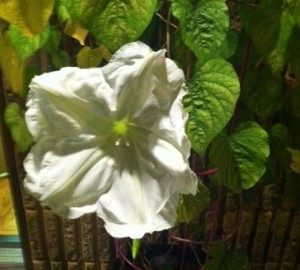 It is early October, a time when many of the summer plants have started to fade.    No so for the moonflower plant.    Each night when I leave the Moonflower Yoga studio, there is a beautiful white flower waiting for me on the front porch of the studio.    The flower comes out at night, and the flower usually lasts one day.    And the next evening there is another gorgeous flower to greet me.
Some people have asked me about the name "Moonflower Yoga".   Where did the name come from?
Well, the moonflower plant is one of my favorites.    But it also symbolizes something else.    While other summer plants start blooming early in their development, the moonflower plant is not that way.   The moonflower plant takes it time.   It grows a lot of foliage during the summer.  And then at the end of the summer when the other plants have faded, the moonflower blooms, something that is unusual for a summer plant.
In many ways, I associate with the moonflower plant.    If you don't know my background, I spent many years working in corporate America until I was suddenly downsized.   I decided to turn to the one thing that I always loved and which kept me peaceful – my yoga practice.   After graduating from my teacher training program, I decided to take a giant leap of faith and open my own yoga studio.  When considering possible names, "moonflower" seemed right to me.   The moonflower plant is a bit like me.    It took its time to develop into something strong and then blooms later in the season.     I associate with this:  I, too, grew from my years in the business world, but it is now, a bit later in life, that I am starting to bloom with having my own yoga studio that I truly love.
I hope you will come visit us at Moonflower Yoga in Bellmore, on Long Island, New York's Nassau County.    I have built a small yoga studio with great yoga teachers where we pay personal attention to you, which many of our students have come to love.   Moonflower Yoga is a friendly, warm environment which encourages you to blossom as well.   And, of course, come by and see our beautiful moonflower plant in action.   Hope to see you soon.