A Valentine's Day Reminder to Love YOURSELF!
By Nancy Weshkoff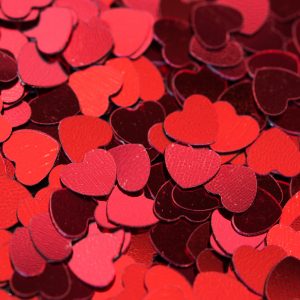 February is the month of love.  We are reminded of this with a celebration of Valentine's Day.   I love Valentine's Day and enjoy spending time with my husband celebrating our lifelong partnership.
I would also like to take this opportunity to remind everyone that it is important to love and take care of yourself.    If you cannot love yourself, it is difficult to love anyone else.
For women, we often look in the mirror and see faults: You may not like your hair color, a wrinkle that has appeared, a change in weight, etc.  Instead of focusing on the negative, focus on the POSITIVE.  If you say to yourself "I hate myself", your mind starts to believe it.   Conversely if you say something positive such as "I love myself", you start to feel better.   When I see a wrinkle appear on my face, I remind myself that it means I smiled a lot in my life.
Part of loving yourself is taking time for yourself.   As caregivers, we often help everyone else first and ourselves last.   I am reminded here of the inflight directions by flight attendants as the plane is getting ready to take off.   If an emergency occurs, and if you are travelling with a child, we are told to put the oxygen mask on yourself first, then on the child.  Why?  Because if you cannot take care of yourself you cannot take care of the child.
So how can you take a small step towards loving and taking care of yourself?   You can start with a positive affirmation.   "I love myself" is a great one, or choose something else that resonates with you such as "I am smart", "I am kind", "I am beautiful",  etc.   Repeat this to yourself several times a day.
How about scheduling an hour for YOU?    A great yoga class is a wonderful way to stretch your body, reduce muscle tension, release anxiety through  breathing techniques and meditation, and feel wonderful.   You do not need prior experience to try a yoga or meditation class at Moonflower Yoga. There are beginner-level yoga classes on the schedule 7 days a week, and our great yoga teachers will help you feel right at home as you give yourself an hour of peace and love.  Come give it a try!
If you live in the area of Bellmore in Nassau County on Long Island's south shore, we would love to have you join us for an hour of time for YOU.   It's a great way to celebrate Valentine's Day for yourself.
Love
Written by Nancy Weshkoff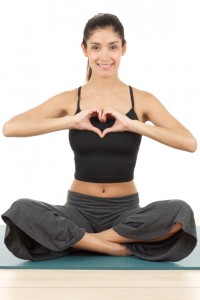 This week brings us Valentine's Day where we acknowledge the special people in our lives and share our love with them.      However before we can truly share love with someone else we need to always love ourselves first.
Loving ourselves is not so easy.   We may look in the mirror and see imperfections.    And then there could be regrets from the past: the "should haves" or "what if" moments.     What we need to realize is that NO ONE is perfect.     The pictures of super models in glamorous magazines are touched up, and even super models have imperfections.      And life is a journey.    We may do something crazy along the way but we need to forgive ourselves and move on.   You cannot change the past.
So what does this have to do with yoga?     Yoga teaches us several things to help us love ourselves more:
–         Ahimsa:  Ahimsa or kindness is paramount under the Yoga Sutras.   This means kindness to others and also kindness to yourself.    Look at the positive things in life and stop judging yourself and others in a negative way.   When you start to see things in a more positive way, self-love can grow.
 –       Being present:   As we move in a yoga class at Moonflower Yoga, we stress to our students to concentrate on the present moment.    Let go of the past.   Enjoy the present moment and what it brings.
 –       Movement:   As you practice and move in a yoga class, you become stronger and more flexible.  This creates a positive self-image.   
To everyone, I wish you a very happy Valentine's Day!    Share love with the special people in your life.   Remember to take positive steps to love yourself first.    It is when we love ourselves that we can truly share love with others.    If you're in the area of Bellmore, New York, in Long Island's Nassau County, come try a yoga class at Moonflower Yoga where we always stress the importance of love.