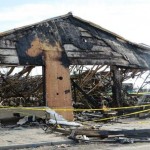 My last blog spoke about the need for kindness and for helping and supporting those in need.    I wrote that blog before the word "Sandy" became a sad part of our vocabulary here on Long Island.     In the aftermath of Sandy, that has become even more prevalent.    But first some "Sandy" thoughts:
Storms have come and gone on Long Island.   And New Yorkers tend to be a resilient bunch of people.  It is probably for this reason that it did not seem possible to have the type of destruction that happened to our beautiful area of the world.    And yet it did happen here.    Long Island, and other parts of New York, will never quite be the same.      Houses and cars were completely destroyed.   Trees that withstood hundreds of other storms tumbled to the ground in Sandy.    Long Island's amazing beaches were ravaged.   The beach boardwalks that many of us loved to walk in the summer are gone.    Roads that were miles away from the water became flooded.   And most sadly lives were lost.
When the last of the storm clouds passed, and we painfully saw the destruction Sandy had left behind, it was a sad awakening for many of us.    We tended to take for granted the things in our everyday life.   Now you may no longer have a roof over your head.   There are floods and damage all around us.   90% of Long Island lost its electricity and suddenly many were in the dark with no heat or hot water on some very cold nights.   If your car managed to survive (and many did not), there were few gas stations open with very long lines, and you may not be able to get there anyway because the road you took has been washed away or was now several feet deep in sand washed to land by the storm.    One day you have everything and the next day it is painfully gone.
Sandy taught us some painful lessons, which we are still learning every day as we recover from her fury.   Never take anything for granted.   Enjoy each moment in your life.    Be grateful, and spend more time with those you love.    TV sets and furniture can be replaced.    Lives cannot.
It has become even more important for those of us who survived this terrible storm to help those that are struggling to get their lives back.    Before Sandy, over 300,000 people on Long Island did not have enough food to each day.   Post Sandy, this number has sadly grown.    Moonflower Yoga is trying to do its part to help those in our town of Bellmore and all of Long Island to get back on their feet.   We have been collecting non-perishable food items for Long Island Cares (Harry Chapin Food Bank) and new, unwrapped toys for the US Marine Corp's Toys for Tots program so a child can receive a toy this holiday season who would normally not receive one.    Moonflower Yoga ran a "yoga-thon" on Sunday of free yoga classes in exchange for a donation to these charities.    We ask that everyone help donate to one of these wonderful organizations or the American Red Cross so that we can start healing from Sandy.