Improving Your Balance (Part 1)
Written by Nancy Weshkoff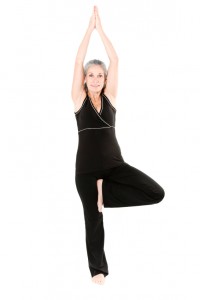 As we age, our ability to balance decreases.    This can lead to devastating consequences.    Sadly we hear the story of someone who lost their balance, fell, and had a serious injury.    In my own family, my mother fell on her way to the restroom.    The hard tile floors caused her to break a hip.  Doctors tried surgery to fix her hip but were unsuccessful.   She spent the rest of her life in a wheelchair.    I wish this was an unusual story but unfortunately it is a common one.
Yoga can definitely help you improve your balance.   I cannot think of another form of exercise where you consistently practice balance postures.     In the classes taught at Moonflower Yoga, we make sure that balance poses are incorporated in the classes.     Three of my favorite balance poses are:
–          Tree pose (Vrksana)
–          Warrior 3 (Virabhadrasana 3)
–          Sunbird (Chakravakasana)
If you are unfamiliar with these balance poses, come try a class at Moonflower Yoga in Bellmore located in Long Island's Nassau County.    Our great team of teachers will guide you through these and other balance postures.   If you are feeling unsteady, we use props to help support you while you work on improving your balance. 
It is very gratifying to see the improvement that many of the Moonflower Yoga students have made in their balance since attending a yoga class at the Moonflower Yoga studio.    When they first started, several were feeling a bit wobbly.   With practice, props, and guidance from the teachers, their balance has improved.  
If you are not practicing balance poses in your life, now is the time to start!   Having better balance can reduce your risk of serious injury from falls.   Adding yoga to your regular routine is a fabulous way to do this.    The great classes at Moonflower Yoga can help you accomplish this.     Hope to see you soon.