November: A Time for Giving Thanks
By Nancy Weshkoff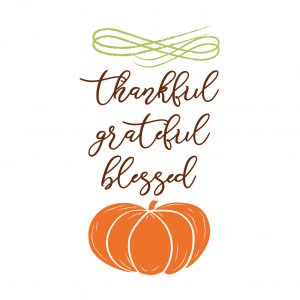 It is hard to believe that November is here and that Thanksgiving and the holiday season are not that far away.
Thanksgiving has always been a special period of time to me.  It is not the hectic period of December with its holiday shopping.  It is a time to reflect and be THANKFUL and GRATEFUL for the blessings in our life.
I would like to start with a message of gratitude to all who have supported Moonflower Yoga through the years, and especially in this crazy pandemic period in which we are now living.   I am grateful to those who continue to attend online yoga and meditation classes via Zoom, including students from out of state, as well as those living on Long Island.  THANK YOU for helping to keep the studio alive.  I am grateful for the technology that has also enabled Moonflower Yoga to introduce "hybrid yoga classes" that began this summer where we can have 4 fully-vaccinated students in the Moonflower Yoga studio in Bellmore, while simultaneously running the class through Zoom for those who are more comfortable attending remotely.    And for those who join us in the studio for the classes, it has been so nice to see your smiling faces walk through the creaky front door of the Bellmore, Long Island studio and enjoy a class with us. Thank you for walking through the Moonflower Yoga doors to practice with us!
I am grateful for the great Moonflower Yoga instructors (Theresa, Rose, Lynn, Jessica, Cathi, Vicky, Dona Dovie, and Rosanne) who share their knowledge and love of yoga and help to create a wonderful space in which students can enjoy a fabulous yoga or meditation class, whether you are a seasoned practitioner or seeking a great beginner yoga class.   They enhance the schedule so there is always an interesting class available to attend that can help you stretch, become stronger, improve your balance, and relax.  I am also grateful for the monthly workshop presenters: Bhante who leads his meditation evenings from Sri Lanka (even though it means getting up at 3 AM to be with us), Jackie Lee who leads a monthly, relaxing Yoga Nidra for deep relaxation, and Cathi who offers a lovely monthly gong relaxation at the studio.
I am also very grateful to my husband, Bob, who is as much a part of the studio as me.   During this year, Bob has led the monthly "In the Kitchen with Bob" online cooking workshops where we have fun cooking delicious and healthy plant-based meals from our kitchen, while simultaneously you are cooking alongside us from your kitchen.   We have had lots of laughs (and some yummy wine) as we prepare these meals together, and then all sit down at the end of the event to eat the meal together in our respective homes.  And with the transition to the hybrid classes, you may have heard me lovingly refer to Bob as the "IT Guy" because he jumps into the studio room and helps with any technical issues to keep the classes flowing.  He also provides me moral support when things are challenging.
I am grateful for the essential workers who are keeping things flowing in these unprecedented times.  We have nurses, teachers, and other essential workers who are part of the Moonflower Yoga community.  Thank you for working tirelessly to help others!
I am also grateful for my yoga, meditation, and Reiki practice.  When things are tough, rolling out a yoga mat or sitting quietly to meditate or do a Reiki self-healing session is what helps me cope.   It is why it is so important to me to keep the studio going in these difficult times – yoga and meditation can help you to feel better and cope too!
When things do not go as planned, I encourage you to think of 3 things during the day for which you are grateful.  It can be something simple, such as having your morning cup of coffee, a gesture from a stranger such as holding a door open for you, a sunny day, or a smile or hug from a family member, or your family pet offering a paw.  When things are challenging, it can help us re-frame the day and put you on a positive path.
THANK YOU for all your support, and I wish you all a wonderful and happy November and Thanksgiving season.  Namaste!