Workshops
Learn something new at the Moonflower Yoga workshops!!
Moonflower Yoga offers informative and motivating workshops on a variety of topics. Come join us, learn something interesting, and meet new people! 

Learn Something New and Expand Your Yoga Practice!
Yoga Workshop on Movement, Pranayama (Breathing Techniques) and Meditation presented by Adam Dobbs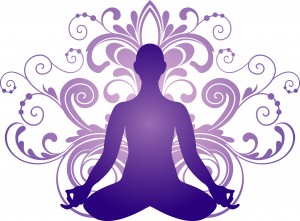 Saturday, May 3rd, 12 PM – 2 PM
In this workshop, Adam will guide us through, in progression, the three primary components of classical yogic practice.  We will begin with a gentle Vinyasa yoga sequence as a preparatory exercise so that we may sit comfortably  for an extended period.   We will move on to an experience of pranayama, a stretching and subtle control of our vital energy through breath work which helps to further purify our body and steady the mind.  The workshop will conclude in the practice of meditation, the act of effortlessly concentrating on one point.  It is the gateway to inspiration, intuition, insight, wellbeing, and regeneration.    The science of meditation is a slowing down of one's brainwaves that contributes to a healing and rejuvenation of the entire human system.
About Adam Dobbs:  In 1997, Adam completed the Residential Spiritual Lifestyle Program at Kripalu Yoga Center and later that year worked on staff at the Omega Institute of Holistic Studies.  Adam is a NYS LMT and E-RYT for 16 years.   Adams has teaching certificates in Kripalu, ISHTA, and Ashtanga yoga schools and studied under Edward Clark of Tripsichore Yoga Theatre in both the US and London.  Having maintained a daily meditation practice for the last 19 years, Adam emphasizes this in his teaching.  He was trained by Nateshvar Ken Scott in the art of Contact Yoga/Yogassage and has studied massage/bodywork extensively in his travels in Thailand, India, and China.  Adam is the creator of Asian Fusion Bodywork, a natural evolution of his experience. 
 Light refreshments will be served at the end of the workshop.
 Price:  $32 per person.
 You can reserve your space by selecting this workshop from the class schedule tab above and following the simple registration steps.   Alternatively you can register in person at the Moonflower Yoga studio.
 Supercharge Your Health to Look Your Best, Lose Weight & Feel Great!!
This engaging workshop, hosted by Jovanka Ciares, will empower you to answer a simple question: are your eating and beauty habits addictive and toxic?  You will also learn the real, natural, fool-proof practices that will keep you looking and feeling  years younger, and how to put this advice into actionable items to incorporate into your busy life.   Come join us for this fantastic and informative evening!  We will have samples of some delicious, healthy treats.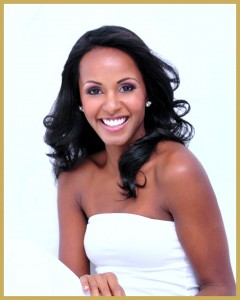 Your Presenter:   Jovanka Ciares is a tri-lingual wellness expert & nutrition coach based in NYC & LA.  With a rare talent for making weight loss fun and simple, Jovanka's approach to mind-body wellness has earned her thousands of fans the world over — and regular slots on Fox News, NPR, CBS Radio, Telemundo, The Huffington Post and MindBodyGreen.  Jovanka is the author of three books, and the creator of a transformational online program: The Clean Foods Diet Method.  She's been called a "miracle worker," a "total spitfire" and "the woman to call for a wellness smackdown."
Meet Jovanka at our workshop & sign up for her provocative wellness newsletter,  The Weekly Jolt, at JovankaCiares.com.
Date:  Friday, May 16, 2014  from 7-9 PM
Price: $32 per person or bring a friend and each pay just $29 each.
Book now!!    Seating is limited!!    You can reserve your spot at the Moonflower Yoga studio or by selecting this workshop on the class schedule tab above and following the simple steps to reserve your spot. 

Movement and Creativity Camp for Children (ages  4-10)
Your child will have imaginative fun in our movement and creativity camp!
The daily activities will include:

Yoga and creative movement to develop strength, confidence and flexibility.

Breathing techniques and calming mediation to help foster relaxation.

Imaginative arts and crafts.

Snack time – a healthy snack will be provided.
Meet the Teachers:
L

ucia Magnoli

:  Lucia  has been an elementary teacher for the past 16 years.  She loves working with children and practicing yoga! She is a Registered Yoga Teacher and lives in Bellmore.
Amanda Cappuccio:

  Amanda is an early childhood and special education teacher.  She has a passion for working with children and feels that yoga can benefit everyone.  She loves practicing yoga and is a Registered Yoga Teacher.
Choose from:
All four days: July 14, 15, 16, 17  (Mon-Thurs), 9:30 AM-12 PM, for $180 per child; OR

All four days: August 4, 5, 6, 7  (Mon-Thurs), 9:30 AM – 12 PM for $180 per child; OR

Discounted package price for all 8 days above for $340 per child; OR

One of the above dates (space permitting) for $52 per child.
Early bird special: Buy your package before May 1, 2014 and receive a gift certificate for a free adult yoga class at Moonflower Yoga.
Please visit the Moonflower Yoga Studio to purchase your package. Reserve ASAP-space is limited. 
Movement and Creativity Camp…the PERFECT summer activity for your child!
 RECENT WORKSHOPS AT MOONFLOWER YOGA ….
Tarot Cards Part One (April 2014):
We had fun on April 4th as Connie introduced the Moonflower Yoga workshop participants how to read Tarot cards.    By the end of the evening, everyone was doing their own readings and getting insightful insights.   Part Two takes place in May.     Thanks, Connie, for another interesting evening at Moonflower Yoga!
Crystals workshop (March 2014):
Amethyst, citrine, quartz, and Herkimer diamonds…these were just a few of the beautiful crystals from our Crystals workshop with Connie.   Connie explained the healing energies of crystals, and each person received a free crystal stone to keep with our compliments.   It was a great night!   A big thank you to Connie for leading another amazing workshop.
Astrology Workshop (Feb 2014):
We had another fun evening with Connie as she returned to Moonflower Yoga to present her Astrology workshop.  Each participant received their own unique birth chart which provided you with fascinating insight.   Connie also gave us an interesting background on the history of astrology.   Many thanks to Connie for her great workshop!
Aromatherapy and Essential Oils Workshop:
On Feb. 8th, Jodie Kallas of JS Goodness Gifts led a very intriguing workshop on aromatherapy & essential oils.  Jodie gave us background on the precision needed to blend oils.  It was very interesting to learn how plants can have different scents depending on where they are grown.  All participants sampled beautiful oils, learned their healing properties & received a free sample to take home. Many thanks to Jodie for this very fun workshop! Jodie has created new, beautiful gift boxes, such as "Headache Zapper", "Get Happy" & "Sweet Dreams", which contain her lovely blended oils, handmade soap & hand-blended organic teas.  These beautiful boxes can be purchased at Moonflower Yoga.

Ayurveda: The Science of Self-Healing (2014):
Many thanks to Laura Lipari for another fabulous workshop!   Laura explained the principles of Ayurveda, an ancient self-healing practice that has been successfully utilized for thousands of years.   All the participants took a test to determine their "dosha" type, which is your natural-born constitution.    Once you knew your primary dosha, Laura explained which foods and lifestyles best matched each "dosha".  All participants received informative materials for reference after the workshop.   It was a great evening! 
Goal Setting and Vision Board Workshop:
It was an inspirational January afternoon for the participants in our weekend Goal Setting and Vision Board workshop – a perfect way to start the new year!  Nancy provided the group with proven guidelines to map out how to accomplish their goals.  From there, we had a fun arts and crafts event as the participants created their personal vision board, a fabulous motivational tool.    A special thank you to Chris Senetto for helping to make the workshop a success!
Meditation and Chanting Workshop:
On Friday night, October 11th, Diane Monks led a very relaxing meditation and chanting workshop at Moonflower Yoga.   Meditation is a wonderful tool to help release stress and bring you inner peace.  Chanting in unison as a group made this meditation session even more powerful.   We are pleased that Diane will now be offering meditation on a regular basis at Moonflower Yoga beginning in late October.   Meditation will alternate with Candlelight Restorative on Tuesday nights at 7:45 PM.   Come and discover how meditation can help you!
Learning to Read Tarot Cards (Parts 1, 2, and 3):
We had three great evenings, one in October, one in November, and one in January as we learned all about Tarot Cards.  It was wonderful to have Connie return to Moonflower Yoga with another very fun event.   Connie gave us a history on the Tarot and taught us how to read the Tarot cards.   The participants then did their own readings, which were very insightful.   Many thanks to Connie for another amazing workshop!  If you are interested in reading Tarot Cards, please let us know, as we will likely revisit this workshop with Tarot Cards, Part 1.  You'll love it!

Healthier You - Plant-Based Diet workshop:
On Friday, July 12th, we had a very informative workshop led by Moonflower Yoga's Laura Lipari, who also has a degree in nutrition.  Doctors agree that moving towards a plant-based diet and eating more whole foods and grains will help you on the road to better health.   Laura gave us some wonderful information and we were all treated to some delicious recipes.  A big thank you to Laura for her fabulous workshop!
 Crystals workshop (2013):
It was an interesting evening at our crystals workshop hosted by Constance Barley on June 14th.    Many crystals were used, and participants learned about the history of various crystals and their healing power.  The workshop also encompassed a lovely meditation using crystals.   Each participant received a free amethyst crystal stone with our compliments.    Amethyst is a powerful crystal that you can carry with you to guard against negative energies.    Lots of thanks to Connie for another great night at Moonflower Yoga!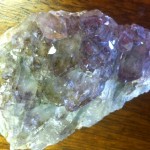 Raw amethyst
Neck and Shoulder Pain Issues workshop:
So many people suffer from neck and shoulder pain from computer work, driving in traffic, stress, injury, etc.   Moonflower Yoga was proud to host a 2-hour workshop on this topic on Saturday, May 11th, presented by Vicky Seff.     During the first half of the workshop, Vicky explained how the neck and shoulders operate and why you might be feeling discomfort.   In the second half, the participants were guided through gentle poses to help relieve their neck and shoulder pain.   All of the participants were given some easy ideas they could use on a daily basis to help them feel better.    Many thanks to Vicky for an amazing and interesting workshop!
Feng Shui workshop:
On Friday, April 12th, we had a very interesting Feng Shui workshop taught by the Rev. Constance Barley.   Connie taught us about the basic principles of Feng Shui and how removing and rearranging certain objects in our living space can creative positive energy.   It was great fun and she has helped inspire us to engage in some simple spring cleaning tasks!  
Film screening of  "LEAP OF FAITH":
On Friday, March 22nd, Moonflower Yoga hosted a screening of the film "LEAP OF FAITH' based on the amazing life of Yogacharya B.K.S. Iyengar.    The film spanned the 90 years and 70 years of teachings of  B.K.S. Iyengar's fascinating life from a sickly child on the verge of death to one of the modern fathers of yoga.    The film is a saga of courage and faith, of chance meetings on chosen paths and of perseverance in the face of insurmountable hurdles.   B.K.S. Iyengar is 93 years old and still practices yoga every day!    Proceeds from the screening were donated to the Iyengar Yoga Association of Greater New York's Brooklyn Initiative to build an Iyengar Institute in Brooklyn.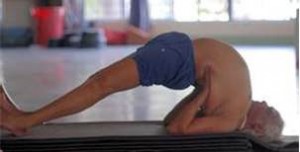 Astrology Workshop – 2013:
There was fun for all in our astrology workshop on Friday, March 15th, at Moonflower Yoga.   The Rev. Constance Barley led a fascinating two-hour workshop where participants learned about the history of astrology and how the stars and planets affect us.   Connie also prepared individual astrological birth charts for each participant, so that everyone knew exactly how the planets were aligned on the date and time of their birth, as well as other interesting astrological information unique to each person's birthday.   Many thanks, Connie, for a great evening at Moonflower Yoga!  
Back Pain Issues Workshop:
On Saturday, February 16th, Moonflower's Vicky Seff taught a fabulous workshop on back pain issues.    Vicky thoroughly explained the areas of the back and demonstrated why people suffer from back pain.   The back pain lecture was then followed by a gentle asana practice where Vicky led the participants through some stretches to help them feel better.    Thank you, Vicky, for a great workshop!

Ayurveda Workshop 2013:
Our workshop "Ayurveda: The Science of Self-Healing" hosted by Moonflower Yoga's Laura Lipari on February 1, 2013 was a big success.    All the participants learned what their inner "dosha" is and how they can adapt their food and lifestyle to match their natural "dosha" type.    Many thanks to Laura for this very informative evening.  Several participants from the workshop have indicated they feel better from adapting some of the tips learned in this workshop.