Workshops
Learn something new at the Moonflower Yoga workshops!!
Moonflower Yoga offers informative and motivating workshops on a variety of topics. Come join us, learn something interesting, and meet new people!    We are working on a great workshop program to start off the new year.    Watch this space for details on our new workshops beginning in January, 2014!
 RECENT WORKSHOPS AT MOONFLOWER YOGA ….
Meditation and Chanting Workshop:
On Friday night, October 11th, Diane Monks led a very relaxing meditation and chanting workshop at Moonflower Yoga.   Meditation is a wonderful tool to help release stress and bring you inner peace.  Chanting in unison as a group made this meditation session even more powerful.   We are pleased that Diane will now be offering meditation on a regular basis at Moonflower Yoga beginning in late October.   Meditation will alternate with Candlelight Restorative on Tuesday nights at 7:45 PM.   Come and discover how meditation can help you!
Learning to Read Tarot Cards:
We had two great evenings, one in October and one in November, as we learned all about Tarot Cards.  It was wonderful to have Connie return to Moonflower Yoga with another very fun event.   Connie gave us a history on the Tarot and taught us how to read the Tarot cards.   The participants then did their own readings, which were very insightful.   Many thanks to Connie for a wonderful two-part workshop.
Healthier You - Plant-Based Diet workshop:
On Friday, July 12th, we had a very informative workshop led by Moonflower Yoga's Laura Lipari, who also has a degree in nutrition.  Doctors agree that moving towards a plant-based diet and eating more whole foods and grains will help you on the road to better health.   Laura gave us some wonderful information and we were all treated to some delicious recipes.  A big thank you to Laura for her fabulous workshop!
 Crystals workshop:
It was an interesting evening at our crystals workshop hosted by Constance Barley on June 14th.    Many crystals were used, and participants learned about the history of various crystals and their healing power.  The workshop also encompassed a lovely meditation using crystals.   Each participant received a free amethyst crystal stone with our compliments.    Amethyst is a powerful crystal that you can carry with you to guard against negative energies.    Lots of thanks to Connie for another great night at Moonflower Yoga!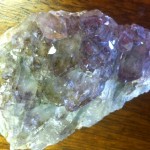 Raw amethyst
Neck and Shoulder Pain Issues workshop:
So many people suffer from neck and shoulder pain from computer work, driving in traffic, stress, injury, etc.   Moonflower Yoga was proud to host a 2-hour workshop on this topic on Saturday, May 11th, presented by Vicky Seff.     During the first half of the workshop, Vicky explained how the neck and shoulders operate and why you might be feeling discomfort.   In the second half, the participants were guided through gentle poses to help relieve their neck and shoulder pain.   All of the participants were given some easy ideas they could use on a daily basis to help them feel better.    Many thanks to Vicky for an amazing and interesting workshop!
Feng Shui workshop:
On Friday, April 12th, we had a very interesting Feng Shui workshop taught by the Rev. Constance Barley.   Connie taught us about the basic principles of Feng Shui and how removing and rearranging certain objects in our living space can creative positive energy.   It was great fun and she has helped inspire us to engage in some simple spring cleaning tasks!  
Film screening of  "LEAP OF FAITH":
On Friday, March 22nd, Moonflower Yoga hosted a screening of the film "LEAP OF FAITH' based on the amazing life of Yogacharya B.K.S. Iyengar.    The film spanned the 90 years and 70 years of teachings of  B.K.S. Iyengar's fascinating life from a sickly child on the verge of death to one of the modern fathers of yoga.    The film is a saga of courage and faith, of chance meetings on chosen paths and of perseverance in the face of insurmountable hurdles.   B.K.S. Iyengar is 93 years old and still practices yoga every day!    Proceeds from the screening were donated to the Iyengar Yoga Association of Greater New York's Brooklyn Initiative to build an Iyengar Institute in Brooklyn.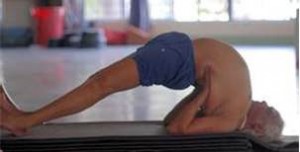 Astrology Workshop:
There was fun for all in our astrology workshop on Friday, March 15th, at Moonflower Yoga.   The Rev. Constance Barley led a fascinating two-hour workshop where participants learned about the history of astrology and how the stars and planets affect us.   Connie also prepared individual astrological birth charts for each participant, so that everyone knew exactly how the planets were aligned on the date and time of their birth, as well as other interesting astrological information unique to each person's birthday.   Many thanks, Connie, for a great evening at Moonflower Yoga!  
Back Pain Issues Workshop:
On Saturday, February 16th, Moonflower's Vicky Seff taught a fabulous workshop on back pain issues.    Vicky thoroughly explained the areas of the back and demonstrated why people suffer from back pain.   The back pain lecture was then followed by a gentle asana practice where Vicky led the participants through some stretches to help them feel better.    Thank you, Vicky, for a great workshop!

Ayurveda Workshop:
Our workshop "Ayurveda: The Science of Self-Healing" hosted by Moonflower Yoga's Laura Lipari on February 1st was a big success.    All the participants learned what their inner "dosha" is and how they can adapt their food and lifestyle to match their natural "dosha" type.    Many thanks to Laura for this very informative evening.  Several participants from the workshop have indicated they feel better from adapting some of the tips learned in this workshop.