Products
Yoga Supplies

: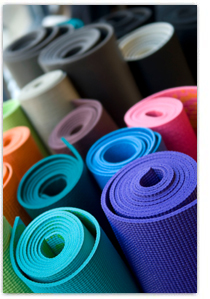 It is recommended that you have your own yoga mat. Yoga mats in a variety of fun colors and designs  can be purchased at the Moonflower Yoga studio.    We also sell hand-loomed cotton yoga blankets, each of which is unique.   Many of our students love these warm, comfortable, machine-washable yoga blankets.   Bolsters, yoga straps, and traditional yoga blocks are among the other supplies also available for sale.   Check out all these great items today!

Additional yoga supplies can be purchased from our yoga supply partner, Huggermugger.com,  by clicking here:
 NEW!!!  LOVELY HANDMADE ITEMS FROM JS GOODNESS GIFTS:
Moonflower Yoga is very pleased to sell very special and unique handmade items from JS Goodness Gifts based in Long Island.   JS Goodness Gifts founders Jodie and Sharon have lovingly put together their talents to create their beautiful Z boxes.  Each Z box offers a carefully-crafted selection of original items to enhance your well being.    The Z box may include any combination of the following items:
- Custom blended aromatherapy oils which can be rolled or sprayed on your wrists.
- Energetically-charged crystal to carry in your purse, pocket, etc.
- Custom handmade charms attached to a key chain or string on cord.
- Custom-blended hydrosols/sprays to mist your room, pillow, car, yoga mat, and more.
- Aromatherapy card with affirmation to carry with you, bring to your office, attach to a mirror, etc.  Repeat your positive affirmation daily!
- Special occasion/seasonal items.
Choose from one or more of these beautiful Z boxes which are wonderful to keep for yourself or make a perfect gift.   A portion of the proceeds from each Z box which you purchase are donated to Animal Rescue Funds.
Stop by the Moonflower Yoga studio today to purchase your unique Z box.  They make a lovely and unique holiday gift!!
Other unique handmade items by local artisans:
Moonflower Yoga also offers additional products for sale at the studio which are lovingly handmade by local artists. Come visit the studio to learn more about these beautiful products and to purchase a special item.
Moonflower Yoga fleece hoodies:
Stay warm and cozy in these very soft Moonflower Yoga fleece hoodies, perfect to keep you comfortable in the cold-weather months.   Each hoodie is hand embroidered in Bellmore.   The hoodies come in hot pink and navy.   They are machine washable.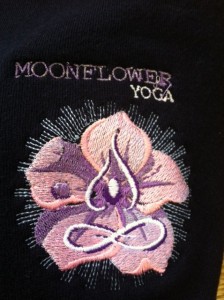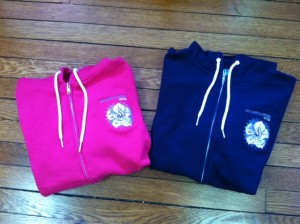 Moonflower Yoga t-shirts and tanks:
Year round logo t-shirts hand printed in Bellmore  are also available in a variety of sizes.   The crew-neck t-shirts come in rich heather purple and a lighter lilac color.  
Our popular t-shirts are available in a flattering v-neck style in two colors: light gray or white.
With the onset of winter weather, we now have our fabulous t-shirts in long sleeves in a navy color.  The shirts are in soft cotton in unisex sizes for men or women.  
If you prefer a sleeveless shirt, we have also have some very cool tank tops in a lovely periwinkle blue color:
Stop by the Moonflower Yoga studio to see these hoodies, t-shirts, and tank tops in person and to select one that is perfect for you or a special person in your life.
  Floating Lotus Gear:
Moonflower Yoga is pleased to offer unique yoga mat bags handmade on Long Island.   These bags will protect your yoga mat and come in a variety of fun colors.   The bags also have a generous outside pocket to hold your wallet, cell phone, and/or keys.   Stop by the Moonflower Yoga studio to purchase one.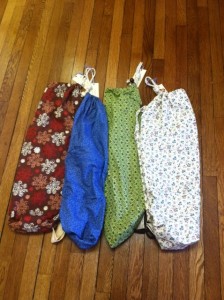 Fun and functional yoga mat bags handmade on Long Island.
Purchase a unique and fun prop: Yoga Eggs!!
Moonflower Yoga is the only yoga studio in Nassau County that offers Three Minute Eggs for sale.   Unlike traditional yoga blocks, these unique yoga eggs have a special ergonomic curvature to naturally fit the contours of the body.    For those with arthritis, these props can help protect your wrists.    Come check these out at the Moonflower Yoga studio.