Our Instructors
Nancy Weshkoff, RYT, and Owner of Moonflower Yoga Inc.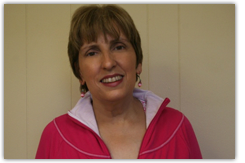 Nancy is a baby boomer who discovered yoga over 15 years ago, and it changed her life. Working at that time in a very stressful executive position in corporate America, she realized that her yoga practice enabled her to de-stress and better cope with life's challenges while building strength and flexibility. Her love affair with yoga continues every single day, and she brings that dedication to Moonflower Yoga.
Nancy built Moonflower Yoga so that everyone can enjoy yoga and work towards a healthier lifestyle. Nancy further explains Moonflower's underlying philosophy and mission: "Over the years, it has been so disheartening to me to see people, especially those who are baby boomers, be afraid to try a yoga class because they're intimidated. As a fellow baby boomer, I understand how your body is different at this point in your life and you might need a gentler practice. I wanted to create Moonflower Yoga so that people of ALL ages and fitness levels can have an enjoyable yoga practice with a wide variety of classes.  Yoga is a wonderful way to help you remain flexible, become stronger, and gain balance, and Moonflower Yoga's small-class setting enables us to pay close attention to you.  Moonflower Yoga has a team of very special teachers who are dedicated to provide you with a great yoga experience.    I've also met so many wonderful friends through my years of practice. I'd love you to come and try a class, meet new people, and have fun while getting stronger.  In addition to our great yoga classes, you can learn new things in our engaging and interesting workshops on a variety of topics held on Friday evenings or weekend afternoons.   I also launched the Moonflower Yoga Book Club which is a great way to have some lively conversation while enjoying home-baked goodies."
Nancy is a Yoga Alliance Registered Yoga Teacher and received her yoga teacher training certification at the Little Yoga House in NY. She has also studied "Yoga as Medicine" at the Kripalu Institute in Massachusetts and attends various continuing education programs.  Nancy is a member of the Long Island Yoga Association and the Bellmore Chamber of Commerce.
Vicky Seff, RYT/RCYT: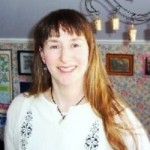 Vicky started taking formal yoga classes back in 2003 after a back injury. She first discovered yoga in the 1970′s after watching Lilias Folan on Channel 13 & trying to do poses in front of the TV.
Vicky is a mother of an eight year old and wanted to share yoga with her, and found the Yoga Ed. program; she completed her training in February, 2007. Vicky was on the Board of Directors, as well as the chairperson for the Planning Committee of the Long Island Yoga Association. She attends monthly workshops offered through LIYA to continue her studies in all aspects of yoga. Through their workshops, she has trained with such teachers as Lilias Folan, Beryl Bender Birch, Ana Brett, Ravi Singh, Charles Matkin, Gabriel Halpern, Rebecca Lerner, as well as some of the outstanding teachers throughout NY and the country. She is also a member of the International Association of Yoga Therapists and the American Physical Therapy Association.
Vicky is a RYT-200/RCYT with Yoga Alliance. She completed her yoga teacher training at the Yoga Darshana Center, and she has closely studied the teachings and principles of Iyengar yoga. Vicky is certified with the American Heart Association in CPR and the use of an AED. She is currently working towards her degree in the field of physical therapy.
 

Joseph Panico

: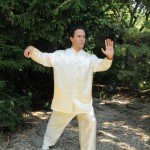 Joseph Panico has been studying martial arts for more than 15 years.   He began his Tai Chi training in 1997 at Red Dragon Kung Fu Center under Sifu Rafael Gomez, and has been studying Tai Chi and Qigong extensively with Sifu Joseph Laracuenta since 2002.   Joseph comments: "Our goal is to live a long and healthy life.  By focusing on ourselves, we get to improve the quality of our life.  And by expressing that quality outward, we get to improve the lives of others."    Joseph is also a certified instructor by the Arthritis Foundation.   He has won various awards including a US Open Martial Arts Championship in Queens, NY.  
Jeanine Talento, RYT

: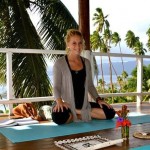 Jeanine comments as follows:  "My life mission is living and cultivating a life of balance in serving others. I was lucky enough to be introduced to the healing and life changing benefits that yoga has to offer when my journey began in 2006. I have taken a wide-array of classes and workshops on Long Island and in New York City as my passion for yoga is always growing and evolving. After graduating with a BA from Queens College, I knew it was time to get my Yoga Teacher Certification and continue to deepen my practice. I received my 200-hour certification from SchoolYoga Institute in Savusavu, Fiji and am certified in both Hatha flow and Vinyasa flow. The best piece of advice I have gotten is that even as a teacher, you are always a student. I look forward to learning from my students and always keeping a humble mind and heart. My goal is to share the gift of yoga and bring love and light into the lives of as many people as possible! I am overjoyed to be joining the Moonflower Yoga community and look forward to the next chapter of my journey with you all."
 Rev. Constance Barley:
The Rev. Constance Barley is an interfaith minister, as well as a Reiki Master teacher and healer.   She offers meditation, counseling, astrology, Tarot readings, and Feng Shui.   Connie is our most popular workshop presenter at Moonflower Yoga, and she also teaches a wonderful, guided meditation class at the studio.   Connie is a native Long Islander and spiritually considers herself lucky to be living in these exciting times.
Diane Monks: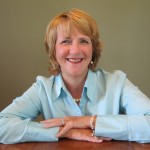 Diane Monks is an Ordained Interfaith Minister, a Spiritual Counselor & Educator as well as a Licensed Social Worker.  Diane has worked with individuals and groups since 1993 providing meditation and spirituality workshops, retreats, seminars and groups for individuals and for organizations.   Presently, Diane is in private practice in Wantagh where she specializes in Spiritual Counseling and Grief Counseling with individuals and small groups.  Diane is committed to providing professional service with a loving, compassionate presence.
Christine Senetto: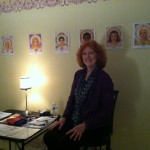 Christine brings her love of healing energies to Moonflower Yoga.   She is an advanced Reiki practitioner, a Master/Instructor of Integrated Energy Therapy (IET) (Angel Healing) & has attended numerous workshops & retreats studying tapping, the chakra system, yoga and meditation.   Christine offers a wonderful IET (Angel Healing) class on the second Wednesday of each month at Moonflower Yoga. 
Lucia Magnoli, RYT: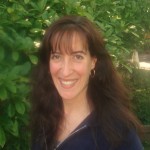 Lucia graduated from the 200-hour  teaching training  program at Yoga Darshana Center. She's had a passion for yoga for the last ten years and is now committed to teaching her love of yoga to others. She hopes to use her educational background to help others achieve positive balance through learning the importance of the mind- body connection. Lucia loves Long Island and spending time outdoors with her family. She is passionate about educating others and has over 16 years experience as an elementary teacher.   Lucia will be teaching our summer 2014 Movement and Creativity Camp for children, together with Amanda Cappuccio.    Lucia is also an alternate teacher for our adult yoga classes.

 Amanda Cappuccio, RYT: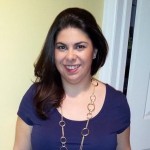 Amanda Cappuccio joins Moonflower Yoga to teach our summer 2014 Movement and Creativity Camp for children  with Lucia Magnoli.  Amanda is an early childhood and special education teacher who loves children and feels that yoga can benefit all people at any age or stage of life.  Amanda fell in love with yoga after taking her first class and knew that yoga would provide her life with peace, balance, and harmony and wants to share that gift with others.  Amanda has studied at the Yoga Darshana Center and is a Registered Yoga Teacher.
 

Alternate teachers:
 

Christine Sebor, RYT: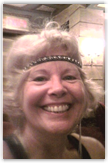 Christine is excited to teach at Moonflower Yoga and adds these comments: "I began my yogic journey over 10 years ago with fellow Long Island yogi, Patricia Morris. I discovered with the help of my very own Wizard of Oz, Baron Baptiste, that there is no place like OM. I love power vinyasa yoga. I have had the privilege and blessing of meeting many wonderful yogis in my daily yoga life practice. I continue to grow and transform through inquiry. For me, and everyone stepping out of your own comfort zone and into the world of possibility is a powerful tool for positive change. Everyone has a sweet strong greatness within. Come Join me for a class and see for yourself."
Laura Lipari, RYT: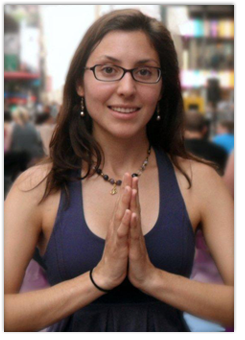 Laura discovered yoga several years ago after suffering repetitive injuries as a competitive runner in college. As a runner, she was initially drawn to power yoga for its athletic quality. Seeking to explore the more spiritual nature of yoga, she completed a Yoga Alliance 200-hour RYT program at Little Yoga House.  With training deeply rooted in the traditional ashtanga style of yoga, Laura continues to enhance her yoga practice on and off the mat by studying Pantanjali's Yoga Sutras, sankhya philosophy, and ayurveda. She has a passion for health and wellness and received her masters degree in nutrition from Hunter College.  Laura is further pursuing her love of nutrition through an internship program at Stony Brook University.  Laura has combined yoga and nutrition to strengthen not only her body but also her mind and spirit. Yoga has afforded her strength, flexibility, and a greater sense of calm and balance. She hopes to guide her students to experience these benefits through yoga and to embrace yoga as a means to self-discovery.