Monthly News
During this period of social distancing, you can join your favorite Moonflower Yoga teachers for a great online yoga, meditation, or Pilates class from the comfort of your living room!  There are 16 weekly online classes from which you can choose!

We are living in a challenging time with the coronavirus outbreak.   In order to keep our students and teachers safe, and in keeping with social distancing requirements, there are no studio classes at the Bellmore Avenue location for Moonflower Yoga until such time as it is safe to reopen the doors.
We are pleased to advise that you can still enjoy a great yoga, meditation or Pilates online class with some of your favorite Moonflower Yoga instructors by using the Zoom app!     These online classes will be 30-40 minutes in length. Join Moonflower Yoga teachers Nancy, Melinda, Jessica, Theresa, Rose, Cathi, Lynn, Vicky, or Dona Dovie for LIVE classes!   You would roll out your mat in the safety and comfort of your home, and then login to the LIVE class a few minutes before class time using the Zoom platform.  Click on the "Schedule" tab above to see a listing of the online classes.   The online classes will have the phrase "(ONLINE CLASS)" next to the class title.
Here is how these online classes will work:
– You need to download the free Zoom app.   You can download it to your computer or a mobile device, whichever you prefer.   A desktop or laptop  screen is usually easier to see because it is larger.
– The cost of a 30-40 minute online class for those people who do NOT have a Moonflower Yoga studio class package from March 2020 with unused classes will be $11 per class.  You would select the online class you would like to attend from the Schedule tab above by double clicking on the class title.  From there, just follow the simple registration and payment steps via PayPal.  You must register for this class no later than 60 minutes before class time.   After you have purchased the class, Nancy will then send you a Zoom meeting invitation link.  This invitation email is important because you will need this invitation and the hyperlink contained in the invitation in order to join the class.
– For those who had a Moonflower Yoga studio class package from March 2020 with unused classes, you will receive TWO online class credits for each 60-minute studio class credit that you had.   So, for example, if you had two March 60-minute studio class credits, this would entitle you to take 4 online classes of 30 minutes in duration. You do NOT register via PayPal.   Instead, you would decide which online class you would like to attend, and send an email to moonfloweryoga@optimum.net advising Nancy which online class you would like to attend.  You must send this email request at least 60 minutes before class time.   Nancy will then send you an online confirmation as well as a Zoom meeting invitation link for the online class you select.  When you receive these invitations, your credit is complete, and NO re-bookings or refunds are  permitted.
It is important to take care of ourselves during this challenging time.  The practice of yoga and meditation can help you do that!   We can still stay connected as the Moonflower Yoga community, even if it is remotely.   I hope you will take just 30-40 minutes FOR YOU and enjoy some steps to help you relax, stretch tight muscles, and feel better.
To see a full list of the great online yoga classes that are available, click on the "Schedule" tab above.   If you wish to see the following month's schedule, click on the right arrow key > next to "2020". 
Further info and tips on working with Zoom for the first time: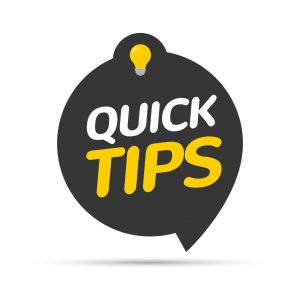 – Approximately 10-15 meetings before the scheduled class time, you should double click on the "Join Zoom Meeting" hyperlink in your Zoom email invitation.   This is an important step because it brings you into the "class room" setting.   Select "start audio" once you are in the room.   Click on anything that is red with a line through it (a microphone, a camera) to deactivate these locks so you can hear audio and see the "class room" setting.   You can deactivate these by touching that lock with your finger if you're using a mobile device or clicking on these red locks with your mouse.
– If you're using a mobile device to log into the class approximately 10-15 minutes before class time,  you may need to take the extra step of scrolling to the "show all notes" screen.  Double click on this and then select join meeting, and you're ready to join the class!   As mentioned above, you may also need to deactivate anything with a red line through it such as a microphone and a camera by touching it with your finger.
– In the period of time after you join the class and before the class begins, you will have an opportunity to chat with the other attendees, as well as the Moonflower Yoga teacher.  It is a great way to reconnect with people you have met through Moonflower Yoga!
– Once the class is ready to begin, you will be "muted out" so that only the instructor can be heard.  Just follow along and enjoy the class.  If you need to speak with the instructor during the class, you can "unmute" yourself by clicking on the red microphone with a line through it and then speaking to the instructor.
– Remember to always listen to your body and only move in a way that feels right for you.  You may wish to have a blanket or towel or pillow near  your yoga mat for use during the class.  If you have a yoga block that might be helpful for certain poses.   If you have a yoga strap, have that handy.  If you do not have a yoga strap, a bathrobe tie, an unused men's tie, or a large rolled blanket could be substituted. Moonflower Yoga also sells great Huggermugger yoga products for your home practice and curbside pickup is available.  Scroll down for further info on curbside pickup.
– At the end of the class, you can "unmute" yourself and ask questions or provide feedback.
Fall Class News!
Morning Movement and Meditation with Jessica returns to the Tuesday morning schedule in October!
Tuesday morning at 930 AM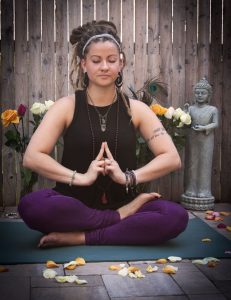 Begin your day with peace, mindfulness and bliss!  This gentle yoga class begins with a moving meditation which allows you to balance the body, calm the mind and awaken your spirit.  Slowly stretch tight muscles, loosen stiff joints, relieve stress, increase flexibility and cultivate balance. Each posture is entered into with deep reverence and awareness, all while being mindful of the breath in this soft restorative yoga flow class.  Experience the soothing sounds of Tibetan singing bowls woven into this gentle sequence.  The latter portion of the class will consist of relaxation and a brief seated meditation to bring you a sense of inner peace and get you ready for a great day ahead!
Hatha Yoga for Beginners now taught by Vicky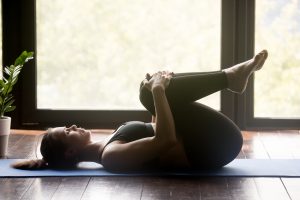 Mondays at 5:15 PM starting in October
Join Vicky for Hatha yoga; a class designed for all levels, including beginners! Vicky will guide you through a series of fundamental yoga poses to stretch your muscles; release muscle tension from the day; and improve strength, flexibility, and balance. Hatha is the traditional practice of yoga, and will prepare you for any other style of yoga you might want to try.  Please note this is not "hot" yoga.  Vicky looks forward to seeing you in class!
Chair Barre Basics with Lynn Pieroni
Wednesdays at 5:15 PM starting in October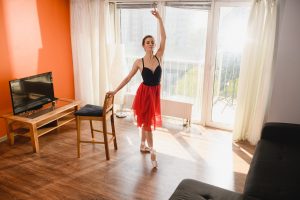 Join us for a lower body practice inspired by the principles of yoga, Pilates and ballet to lift, stretch, strengthen, sculpt, and tone. This class is designed to increase your stamina, awaken weak muscles, decrease stress and restore balance to your body/mind. Using only your own body resistance and the aid of a simple chair, the class will use a sequence of low-impact movements to correct posture, improve alignment and find extension of form.  The class begins with simple seated stretches, moves into standing exercises, and ends with a brief seated cool down meditation. Regular practice will yield results!  Together, by stretching and strengthening, breathing and balancing,  you can target and tone your way to discover the transformative and empowering effects of "contrology": the complete coordination of the body, mind, and spirit.  No special equipment or ballet attire needed – the class simply requires a sturdy chair.  Come give this great, NEW class a try!
Yin Yoga Stretch with Rose –  Our featured class for the month of October! 
Wednesdays at 10 AM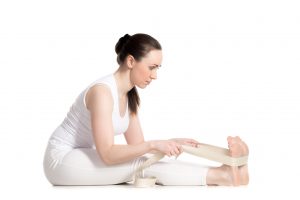 Looking for a great stretching class?   Come try this fabulous class with Rose – perfect for all fitness levels.  In this class, taught in a yin yoga style, you will do stretching postures on the ground so you can deeply relax into the posture.  This will help you increase your flexibility and strength.   It is also a wonderful way to release stress from the week and get you ready for a fabulous weekend!   Please have a pillow or folded blanket available for the class.  If you have a yoga strap, that would be helpful.  If you do not have a yoga strap, please have a bathrobe tie, an unused men's tie, or a rolled blanket.  If you have a yoga block, have this handy as well.
Curbside pickup at the studio is available!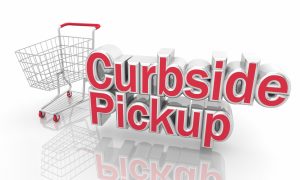 Curbside pickup at the studio is available for some items you may need for your home practice.  How about a beautiful Hugger Mugger yoga mat?  Hugger Mugger Tapas yoga mats, which Moonflower Yoga sells, were just rated one of the top 3 best yoga mats in the US.  They are very durable and last for years if you keep it safely in your house and not in your car or garage. With each new yoga mat purchased, we are currently including a FREE Moonflower Yoga mat bag to store your new mat.  We also sell yoga blocks, yoga straps, blankets, and bolsters which are wonderful for your home practice.  Or you can purchase a lovely, relaxing Young Living essential oil.  Could you use a bottle of favorite Stress Away right now?  Lavender essential oil is great for relaxation or helping with skin irritation. Citrus Fresh adds a lovely clean scent to your home.  Moonflower Yoga sells a wide variety of Young Living essential oils.  We also have lovely handmade beaded bracelets, as well as AAOTE aromatherapy jewelry items.   Just let Nancy know which items you would like to purchase, and she will arrange for a cashless online purchase and a curbside delivery to your car from the studio.
Sturdy Yoga Blocks from Huggermugger are available – now in a fun purple color

!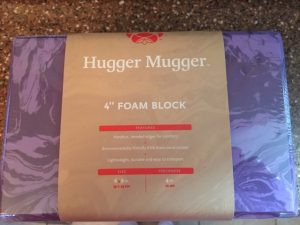 A yoga block is a great tool to have for your home practice.   It gives you support for your poses.   You can sit on the block for more comfort in seated poses.  If you have difficulty reaching the floor with your fingertips, the block can raise the floor for you as you work on improving flexibility.   If you are doing a bridge pose, a block under your seat can provide more comfort & stability.  These durable yoga blocks will last for years.  They are priced at just $18 each and are available for curbside pickup.  In addition to this purple color, it also comes in lovely marbled shades of blue.
Come learn something new and have fun in a great upcoming workshop, event or training session

!
Moonflower Yoga has an amazing array of interesting workshops and events from which you choose! People from Bellmore-Merrick-Wantagh-East Meadow-Seaford and other parts of Long Island have been registering, and we hope to see you too. Below is a quick snapshot summary of these very fun activities, and you can discover more info on the "Workshops" or "Events" tabs. You can register for any of these great activities by selecting the activity that you would like to attend on the "Schedule" tab above and following the simple registration and payment steps.!
Chakra Spring Cleanse & Energy Bracelet Workshop with Lynn Pieroni – Sunday, Oct. 25th, 1:30 PM – 3:30 PM:  Chakras are doorways into our energy body. The seven main energy wheels run from the base of the spine to the crown of the head.  Under stress they become deficient or excessive, spinning our energy out of sync.   Lynn will begin with a discussion of the chakras and their characteristics and spiritual properties. Together, virtually, you will practice postures to target and unblock each energy center, starting from the root and ending with the crown.   The price of this workshop also includes a customized chakra bracelet which Lynn will make for you.   Please click on the "Workshop" tab above to see the bracelet options.  Please note space is very limited; please book ASAP.

Yoga Nidra (Yogic Sleep and Deep Meditation) with Jackie Lee (offered online via Zoom!)

: Wednesday, October 28th, 7:30 PM – 8:30 PM:  Feeling stressed? Join Jackie Lee from the safety and comfort of your living room or bedroom for this relaxing evening!  Yoga Nidra, known as yogic sleep, is a deep meditation used to promote physical, mental, and emotional relaxation. You will deeply relax in a reclining position on your couch, in your bed, or on the floor, as you are led through a deep guided meditation.  You can also set your Sankalpa (heart-felt intention) .  One hour of yoga nidra = 4 hours of sleep!  Scroll up to see the further description above.
Staying Healthy at Home with herbalist Jovanka Ciares

:

Friday, October 30th, 7 PM  – 8:15 PM: Welcome the return of Jovanka to Moonflower Yoga with this great virtual workshop!  Jovanka will share the best approach to strengthen your immunity as your best line of protection and defense when symptoms first appear. Jovanka will also feature recipes of a powerful immunity broth and herbal blends/infusion to reduce symptoms and get you feeling better in no time.  Come join us for this very informative workshop!

In the Kitchen with Bob! (a LIVE vegan cooking demo using Zoom)

: Sunday, November 15th, 4:30 PM – 6 PM:  Join Moonflower Yoga owner, Nancy, and her husband, Bob, for a fun, LIVE, interactive cooking workshop from their kitchen!  The focus in this installment will be easy vegan dinners that you can make in less than 30 minutes.   We will supply you with the recipes in advance of the workshop so you can cook along with us from your own kitchen.  You'll then have a delicious dinner to eat when done!   If you prefer to just watch the preparation and cooking, that's fine too.   As this is interactive, you can ask questions and have fun with us.  Come join us for a yummy workshop!

An Evening of Guided Meditation with Bhante Sujatha (online

workshop): Friday, November 20th, 7:15 PM – 8:15 PM; also Friday, December 11th, 7:15 PM – 8:15 PM:  If you are feeling anxious or can't sleep, try guided meditation! Join us for a wonderful evening with Bhante Sujatha as he leads you in a guided meditation which you can do from the safety & comfort of your home.  Bhante is a 30+ year Buddhist Monk, who is singularly focused on adding more love in the world. Bhante teaches loving-kindness meditation to people around the globe for all those seeking the art of happiness and contentment. His approach to meditation is deep and simple, which he explains in a way that is practical and easy to understand. A joyful, radiant, funny and wildly energetic monk, Bhante will help you obtain peace that can only be found in deep silence. Bhante is originally from Sri Lanka and is the head monk / abbot of the Blue Lotus Buddhist Temple and Meditation Center in Woodstock, IL
Moonflower Yoga Book Club:   FREE online meeting via Zoom on Sunday, November 22nd, 4:30 PM – 6 PM: Take a journey with a great book while having fun and making new friends! For our next meeting, we will be discussing TWO books: "If I Had Your Face" and "Anxious People".   All are welcome to read these books and join us. Click on the "Clubs" tab above for more info on the books.
The Moonflower Yoga Book Needle Arts Group: FREE online meeting via Zoom on Saturday, November 28th, 4:30 PM – 5:45 PM: Come join us for our fun group!  The practice of Needle Arts which includes crochet, knitting, needlepoint & quilting are wonderful meditative and stress-reducing tools. Work on your piece, share your handiwork, and have fun chatting with the other members.  We also donate finished pieces for those who wish to do so to people in need. Our latest scarf drive will support Operation Gratitude, which sends these scarves to our brave men and women in the military.
A Gathering for Self-Realization and Meditation with Chandresh (an EXCLUSIVE series for Moonflower Yoga!): You just missed a session – Stay tuned for the online return date of this gerat series!  This is a signature meditation and workshop series by Chandresh Bhardwaj prepared exclusively for the community of Moonflower Yoga! In each workshop, Chandresh brings up topics that are relatable, urgent, and important for one's spiritual and life growth. As the seventh generation spiritual teacher, Chandresh combines the ancient wisdom traditions with modern, accessible lessons for eternal happiness. Always packed with stories, humor, and life-altering teachings, this workshop is perfect for those who are ready to bring more love, courage, and bliss in their life. Each workshop starts with a talk by Chandresh followed by guided meditation and Q&A with the students.
Tune in to hear Moonflower Yoga owner, Nancy Weshkoff, in a LIVE nationwide Business Talk Radio broadcast
Dates:  October 26th, November 2nd, and November 9th each at 12:30 PM (NOTE: The Oct 19th event has been postponed)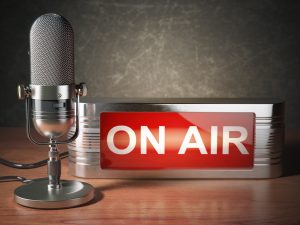 Moonflower Yoga owner, Nancy Weshkoff, will be interviewed in a national LIVE network radio broadcast with host Jill Nicolini on the 3 dates indicated above.   Nancy will be speaking about yoga and meditation and the impact of the coronavirus on our practice and on small businesses.   You will be able to access this for free by clicking on one of the links below.  Please note that the tunedin.com link does not work in the current version of Google Chrome, so you will need to select a different browser.
https://businesstalkradio1.com/studio-one/ and https://tunein.com/radio/Business-Talk-Radio-s297287/
Hope you can tune in and listen to these engaging interviews!
Moonflower Yoga is featured on News 12 Long Island!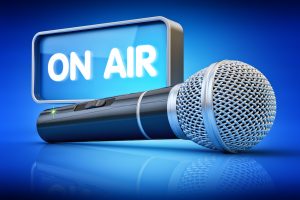 Moonflower Yoga was selected by News 12 Long Island for a story in conjunction with Heart Health Month in February.  Shari Einhorn of News 12 Long Island was at the Moonflower Yoga studio to film the piece, and we think it came out great!  We are very excited that Moonflower Yoga was the featured Long Island New York yoga studio for this important topic.  Here is the link to the News 12 Long Island piece:
http://longisland.news12.com/story/41735495/relax-and-destress-yoga-and-heart-health
October class changes:
For the month of October, all of the yoga and meditation classes on the schedule will be offered online only via Zoom.   There will be no in-person studio classes due to the coronavirus.
The 930 AM Tuesday time slot will now be taught by Jessica Saraswati as she returns to teach the class she created for Moonflower Yoga: Morning Movement and Meditation at 930 AM.  Please welcome Jessica back to the Tuesday morning schedule!  See the description of Jessica's Tuesday class above.
The Hatha Yoga for Beginners class on Mondays at 515 PM will be taught by Vicky starting in October.  Please welcome Vicky to this time slot!  Please see the fuller description above.
A NEW class is being added to the Wednesday 515 PM time slot.  Try Chair Barre Basics with Lynn Pieroni.  Scroll up to see the fuller description of this great, new class.
Upcoming November class changes:
For the upcoming month of November, all of the yoga and meditation classes on the schedule will be offered online only via Zoom.   There will be no in-person studio classes due to the coronavirus.
There will be no classes on Thanksgiving Day or Black Friday.   There are also no Wednesday evening classes the day before Thanksgiving.   Have a happy Thanksgiving!
MONTHLY CUSTOMER APPRECIATION GIFT
We appreciate your business! Each month a special gift will be given to the customer who attends the most classes during the calendar month.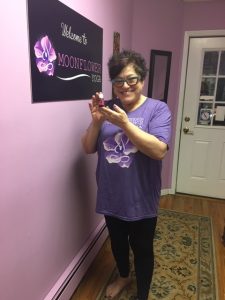 The most recent  "Prize of the Month" for booking the most classes in the month was won by Leslie. Congratulations Leslie!  Leslie won a bottle of Purification essential oil from Young Living.