Events
U.S.M.C. TOYS FOR TOTS TOY DRIVE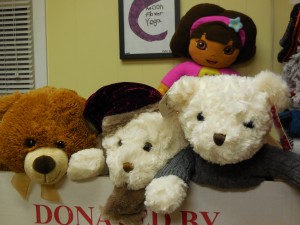 The holidays are a special, magical time for children.    Unfortunately there are families on Long Island who are struggling and cannot afford a present for the children in their lives.  As we did last year, Moonflower Yoga is collecting new, unwrapped toys for the US Marines "Toys for Tots" toy drive.    This is a wonderful program that delivers a new toy to a needy child who would not otherwise receive a present over the holiday season.   Please help us bring some holiday joy to a special child.   You can donate a new, unwrapped toy at the Moonflower Yoga studio in Bellmore, Long Island.   Your toy can join these other adorable toys at the Moonflower Yoga studio waiting to be adopted by a child in need.   Last year we donated 50 toys to this worthwhile cause and we are trying to surpass that number this year.   Toys can be donated through mid-December, 2013.  Thank you!!!!
Recent events at Moonflower Yoga:
 Food Drive to help feed 800 hungry families this Thanksgiving: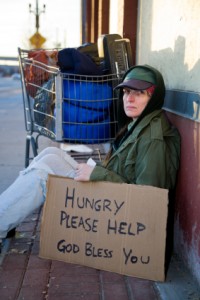 We just completed a food drive working in conjunction with Moonflower Yoga students Veronica Medina and Luther Ware.    Veronica and Luther have led food drives at their church for the last couple of years.   In 2011, their church was able to feed 400 families.   In 2012, this grew to 600 families.   For 2013, their goal was to feed 800 families this holiday season.  With the generous donations of many Moonflower Yoga students, their church was able to feed over 800 hungry families this Thanksgiving.   Many, many thanks to all who kindly donated non-perishable food items to this very worthwhile cause of helping those who are in need!!
Bellmore Family Street Festival:
It is Bellmore's biggest event of the year: the annual Bellmore Family Street Festival, which took place this year on September 21 and 22, 2013.  Moonflower Yoga had a booth at the Festival which welcomed over 100,000 visitors to Bellmore.    We had a fabulous time and met many new people.   A very special thanks to Moonflower students Lois, Veronica, Shaniya, Aaliyah, and Luther who came by to support us and help with the Festival.   Big thanks also to Moonflower teacher Vicky for assistance and to Bob Weshkoff for helping with the booth on Saturday and Sunday. 
Our one-year anniversary celebration !!
On Sunday, September 15, 2013, we celebrated a momentous occasion at Moonflower Yoga — our one-year anniversary!!   It was a lovely day with students, teachers, and guests coming to the studio to enjoy some great food and company.    Many thanks to those who shared in the day with us, and a special thanks to everyone who has helped make the studio a success!
Moonflower Yoga at the Nassau County Health and Wellness Fair:
Nassau County hosted a fabulous Health and Wellness Fair on Sunday, August 18, 2013, and Moonflower Yoga was one of the exhibitors.   Moonflower Yoga was also selected as the yoga studio to offer a yoga class / demo to the participants at the Fair.   It was great meeting lots of new people, and it was fun to teach the yoga class / demo to the participants at the Fair.    Many thanks to those who came out to support us (including Moonflower Yoga students Chris and Lois).    And a huge thanks to Moonflower Yoga's Vicky Seff for her hard work to make the Fair a success.  
"Jeeva Finds Courage" storytelling and yoga class for children:
It was a fun day on August 7th, as Lucia Magnoli read the story of "Jeeva Finds Courage" to young children.    The children learned yoga poses as part of the storytelling.   The children were also given their own special rock as part of a rock meditation.   The class ended with the children coloring a mandala.   Proceeds from this event were donated to the Make A Wish Foundation which grants wishes for seriously-ill children.   Many thanks to Lucia for leading such a great event and to the children who participated.
Yoga and picnic in Eisenhower Park:
On Saturday, June 22nd, under beautiful skies, Moonflower Yoga brought yoga outdoors to Eisenhower Park in Long Island's Nassau County.   The weather was perfect for a great yoga class taught by Moonflower Yoga's Nancy and Vicky.   The yoga class was followed by a delicious picnic with homemade goodies. 
Dr. Jillian Finker speaks at Moonflower Yoga…
As part of our ongoing effort to promote good health, Moonflower Yoga was very pleased to have Dr. Jillian Finker speak at the studio on February 28, 2013 on natural ways to feel better.   Dr. Finker is trained as a primary care doctor who is an expert in natural medicine, and has over 10 years of clinical experience compassionately guiding her patients onto the path of wellness.   Dr. Finker has been selected as the "Best Alternative Doctor on Long Island" for 2011, 2012 and 2013 by the Long Island Press.  
Dr. Finker's presentation at Moonflower Yoga was very informative and well received by the participants at the event, and we thank her for taking time from her busy schedule to speak at Moonflower Yoga.
Helping Those in Need …
At Moonflower Yoga we realize the importance of giving  back to our community.   Through the holiday season, we were a proud sponsor of two wonderful charities: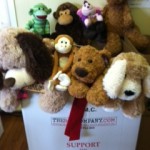 US MARINE CORP'S TOYS FOR TOTS DRIVE
  The holidays are a magical time for children. Thanks to the very generous donations of teachers and  students at Moonflower Yoga, we collected 50 toys for children in need. These toys were  delivered to children who would not normally receive a toy during the holiday season.  The town of Bellmore collected more toys than any other town in Nassau County.   Many thanks to all who made this campaign a success and who brought a smile to a child's face this holiday season!!!
LONG ISLAND CARES (HARRY CHAPIN FOOD DRIVE)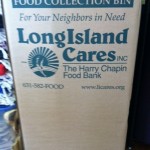 Each day on Long Island more than 300,000 people do not have enough food to eat.   In the wake of Hurricane Sandy, the need for food in our area has grown significantly.   With the support of students and teachers at Moonflower Yoga, this very large bin was filled  twice with food during the holiday season, and we collected over 100 lbs. of food and supplies for our neighbors in need.  Thank you to everyone for your generosity!!
Other recent events at Moonflower Yoga:
Moonflower Yoga's First Annual Holiday Party…

Moonflower Yoga hosted its first annual holiday party on Friday, December 21st.   A fun time was had by teachers, students, and guests.      Delicious home-baked goodies were served.
 Moonflower instructors Laura, Vicky, Nancy & Christine all dressed in red for the holiday celebration: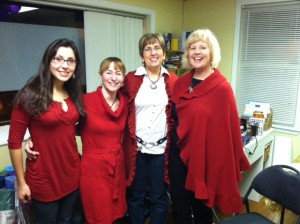 Moonflower students Madeline, Lois, and Andy at the holiday party: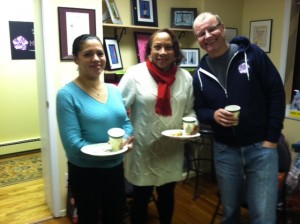 The Christmas stockings waiting for Santa's arrival: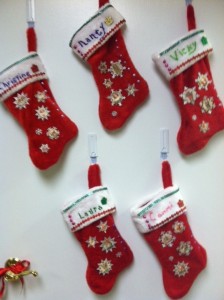 The Town of Hempstead and the Bellmore Chamber of Commerce welcome Moonflower Yoga with a ribbon-cutting ceremony…
A ribbon-cutting ceremony was held on October 5th with the Bellmore Chamber of Commerce, local leaders, members of the press, and Moonflower Yoga staff: