The Moonflower Yoga Book Club
By Nancy Weshkoff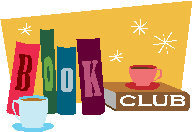 When I was very young, before the days of pre-K and television programs such as "Sesame Street", I remember sitting next to my father as he read books to me.   It was a very special time, and I learned to read before I entered school.    My love of reading grew, as it gave me an opportunity to learn something new or be taken away to an interesting place or period of time.  When my life in corporate America started to encompass so much of my time, my reading time for interesting novels or biographies diminished, as I was instead reading reports for work.   Now that my life in corporate America has come to an end and I am happily no longer reading corporate reports, I found a longing to return to something which brought me joy and pleasure: getting lost in the pages of a wonderful book.
A couple of months ago, I launched The Moonflower Yoga Book Club, and I am thoroughly enjoying it!   It is giving me an opportunity to research interesting books for the Book Club and learn something new.   Our first book was "THE PARIS WIFE", which was the story of Ernest Hemingway and his wife Hadley.   It was fascinating to learn more about Parisian life in the 1920's and the intriguing characters that were part of that culture including Gertrude Stein and F. Scott Fitzgerald.  
While I love reading the books we have selected, the Moonflower Yoga Book Club is more than that.   We have a diverse group of women who have formed the initial members of the Moonflower Yoga Book Club.   A community has formed, as we have learned a little bit about each other's lives, and we look forward to meeting and catching up on what's happening.   We have some very interesting discussions, and it is fascinating to hear each of our perspectives on the characters in the book that we just read.   What did we think about a decision that was made?   How did we feel about the characters?    Was the ending what you expected?     And while we are having a lively conversation, my husband, Bob, who loves to cook, gives us some yummy homemade desserts for snacking.    I have come to really look forward to diving into the next book and meeting with the fun ladies of the Moonflower Yoga Book Club.
How about you?   Come and join us for a very interesting afternoon or evening!   It is wonderful to form friendships and discover something new in our monthly book selection.   You can check the events section of the moonfloweryoga.com website to see what our next book is and the meeting date.   All are welcome to join.
Hope to see you soon at the next meeting of the Moonflower Yoga Book Club in Bellmore, New York, on Long Island's Nassau County.   Come have fun with us!