Small Businesses in a Coronavirus World
By Nancy Weshkoff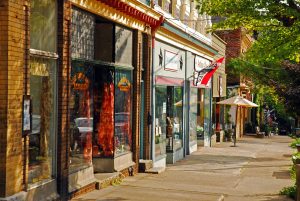 These are very difficult times for so many of us.   This is particularly true of small business owners.   Small business owners form the backbone of our local economy.   They are your local restaurants, hair salons, service stations, and businesses such as Moonflower Yoga.  They greet you when you walk in the door of their business because you are special to them.  We are the people you meet on the street when walking through your neighborhood.   We live in the community and we pay taxes in the local Nassau County, Long Island community to support the schools, parks, police, and other services.   We are the stores you see on Main Street, and we are essential to keeping our communities flourishing.
I fully support the need for social distancing in our current Covid19 world, as it is vital that we stay safe.  The health and safety of the Moonflower Yoga students and teachers is of the utmost importance to me.   While we are following these social distancing protocols, it is causing a financial hardship for many of the local businesses in the community.   We need local businesses!    The owners of the small businesses are also paying salaries to their local workers to help those workers feed their families and have shelter.   Local businesses give you the special attention that you do not get when ordering from giant online services.  When this crisis has passed, we need local businesses to still be here.   Sadly I think some of us will not survive this.
YOU can make a difference in helping to keep these local businesses still alive.   Some local restaurants are staying open for take-out orders or curbside pick-up.   Support them by ordering from them.   I order my fresh produce from a local Wantagh business that offers curbside pick up.  Service stations are still open to take care of your automotive needs.  If there is a local business that can be open during this crisis, please help them.
As for Moonflower Yoga, while the doors of the studio are not open for physical classes in the Bellmore studio space, I am still running Moonflower Yoga, and the great yoga teachers you know and love are still teaching great yoga classes for Moonflower Yoga through online class offerings via Zoom.    The people you have met at Moonflower Yoga are still around, and you can see them and speak with them in the chat area before the online classes begin.   You may be feeling isolated and alone these days, but you are not alone.   Join us remotely for a great yoga class, workshop, or Club event from the safety and comfort of your living room and connect with the people and teachers you have met through Moonflower Yoga.   Some of the "snowbirds" who are in Florida and California are joining in.  By attending a great online yoga or mediation class, you are doing 2 important things:   Firstly, you are taking care of YOU by taking steps toward stress reduction in this challenging time, as well as moving your body which might be getting less physical activity than normal as we stay indoors.    Secondly, you are helping a small business such as Moonflower Yoga, which supports the local community, survive.    Small businesses such as Moonflower Yoga need you!   Please help small businesses survive this challenging time and keep our local Long Island communities alive.  Thank you!