My Favorite Yoga Pose
By Nancy Weshkoff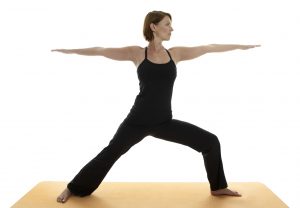 I have been practicing yoga for many years, and through those years have engaged in many different yoga poses.  Like most things in life, you find yourself enjoying some things more than others.   While I encourage students to try a wide variety of poses because this enables your body to use different muscle groups, I am indulging myself for today by settling on one pose that I always enjoy and love to do when I roll out my yoga mat.  That pose for me is Warrior 2 pose, also known as Virabhadrasana 2 in Sanskrit.
Warrior 2 helps me feel strong.  It requires concentration as you focus your Drishti (gaze) towards the outreached palm.  With the concentration on your outstretched hand, other worries disappear.  I feel powerful and strong as the strength of my physical body enables me to hold the pose and stretch.
Here are some of the overall benefits of Warrior 2:
It builds strength in your legs.
It is a great stretch for many muscles in the body.
It helps improve your balance and stability.
Tight muscles can be slowly stretched to improve flexibility.
The shoulders and upper body also are stretched.
May help with osteoporosis or sciatica issues.
Improves your stamina.
You feel good after doing it!
Do you have a favorite yoga pose?    If you are new to yoga and are not sure about Warrior 2 or other yoga poses, then come and try a great beginner-level yoga class at Moonflower Yoga with one of our great yoga teachers and discover which yoga posture makes you happiest!  There are beginner-level yoga classes available 6 days a week from which you can choose.  You do not need to live in the Bellmore, Long Island area of Nassau County to attend a class.  ALL of the yoga classes on the schedule are available via Zoom so you can try a great online yoga class from the comfort of your home.   Join us and discover YOUR favorite yoga pose too!