Moonflower Yoga's One-Year Anniversary
Written by Nancy Weshkoff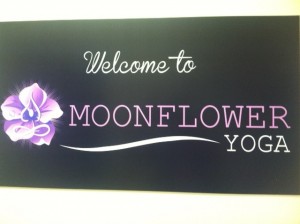 This week marks the one-year anniversary of the opening of Moonflower Yoga.   As I write this, I cannot believe how quickly the year has flown by!   
When I decided to embark on this new phase of my life a year ago, I knew it was a life-changing event.    Leaving behind my former life in corporate America and opening my own special yoga studio in Bellmore, New York, on Long Island's Nassau County was a giant leap.    I remember all the planning that went into that grand opening: hiring a great staff of teachers, building a website, ordering supplies, preparing the space, developing the class program, etc.   Yet, even as I made all these plans, I did not fully comprehend at that time what would happen over the course of the next year.
What happened over the course of Moonflower Yoga's first year is that I met some of the most amazing people in my life.    People who I never met before walked in the doors of Moonflower Yoga to try yoga for the first time.  These students come from all walks of life, with interesting and fascinating backgrounds.   I look forward to seeing them each week and catching up on what is happening in their lives.    And, of course, watching these students grow stronger and become more flexible each week is very gratifying and inspires me as a teacher.   I have also witnessed the strain on the faces of many students as they first enter the doors of Moonflower Yoga from a crazy day filled with stressful obligations.   When they leave after an hour of a renewing yoga practice, they are once again smiling and are better able to cope with life's challenges.   
I have had fun planning and designing the class program and workshops.   I am pleased with the variety of great yoga classes that we now offer at Moonflower Yoga.   I also love putting together the workshop programs which give people an opportunity to learn something new as they kick off their weekend.   In our first year, we have had some varied and interesting topics ranging from dealing with neck/shoulder pain issues, to understanding the principles of Ayurveda and your unique "dosha" type, to astrology, crystals, and Feng Shui.    I'm busy working on new workshops for Moonflower Yoga's second year.
Most of all, I feel truly blessed.    Blessed to be waking up every day to do something that I love.   Blessed to have incredible students walk in the door each day to practice yoga at Moonflower Yoga.   Blessed to have the support of an amazing husband, family, and friends who have encouraged me in my new journey.   Blessed to have a great staff of teachers who put their heart and soul to teach at Moonflower Yoga and who have helped Moonflower Yoga become a success.
I send out a big thank you to each of you who have supported Moonflower Yoga in its first year!   If you are in the area of Bellmore, in Long Island's Nassau County on Sunday, September 15, please stop by the Moonflower Yoga studio as we celebrate our one-year anniversary.    And if you haven't tried a class or fascinating workshop at Moonflower Yoga, come give us a try!   Your first class is always free.    You will gain strength, flexibility, balance, and feel better.   Check out one of fun yoga classes or workshops and join the growing community of wonderful students at Moonflower Yoga.
Onward to year two!!