Meditation
Written by Nancy Weshkoff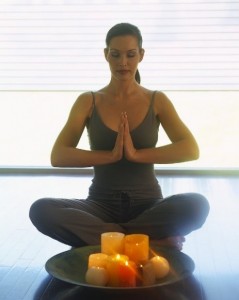 Meditation is such a wonderful tool.     It brings you a sense of calm and inner peace.   It can help tremendously with stress reduction.  And in today's crazy world of constant distractions and mega demands on our time, it is so important that we take just a few minutes to sit comfortably, breathe, and relax.
For some people, meditation is very challenging.    I was one of those people.    I just couldn't sit comfortably and quietly.    After just a couple of minutes, something would start to twitch, my mind would start to wander, and I couldn't get to a peaceful place.    Then I learned a few simple tips which I am sharing with you:
    –  When meditating, you want to be in the present moment.    This means blocking out regrets from the past or worries about the future.   I often liken our mind in meditation to turning on your television set and scanning through the channels.   In meditation, we want to focus on one channel – the present – and stick with it.   When other thoughts start to creep in, you simply acknowledge them and tell yourself that you don't need to think about those right now.   Then go back to the present.
    –   Being in the present moment does not mean that you may not hear sounds around you.  You could hear a car drive by, a bird singing, a child playing, etc.   You just acknowledge these as part of your present moment.   But if you hear a car, you don't let your mind start to think about your own car, having it serviced, etc.   You just let it go. 
     –  Your breath work is very important.   If you are having difficulty concentrating, do a simple breathing exercise.  Thich Nhat Hanh, who writes wonderful words of wisdom, offers this tip:  Sit comfortably, breathe, and repeat to yourself several times "I breathe in.  I breathe out".   This repetition helps to calm the mind and bring you to the present moment.  After just a minute or two of doing this simple breathing exercise, you will feel better.
At Moonflower Yoga, I want to introduce meditation to more people.    I know that its wonders can help people feel better and more relaxed.     With this goal in mind, we have added a great new yoga class entitled "Present Moment Meditation".    This meditation class is offered at Moonflower Yoga on alternate Tuesday evenings at 7:45 PM.   After a day filled with stress and demands, it is wonderful to give yourself an hour to feel calmer and more relaxed with a meditation class led by one of our great yoga teachers.   Meditation will also help you to sleep better when your mind is calmer, and sleep is very important to being healthy.  In our Present Moment Meditation class, you will be given other tools to help you meditate and reach this peaceful state.   If you are in the area of Bellmore, New York, in Long Island's Nassau County, come and try Moonflower Yoga's great new meditation class on Tuesday nights!  You will feel instantly better.