Helping Those in Need
Written by Nancy Weshkoff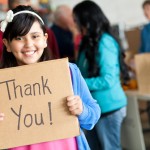 As the weather starts to turn cooler, I begin to realize that the holiday season is just around the corner.  And as the holidays approach, I am reminded of those who sadly are in need.    One of the most important things we study as yoga teachers is "ahimsa" which means to be kind.    We must be kind to ourselves but we also must be kind to others.
Moonflower Yoga is based in Bellmore, Long Island, New York.   Many think of Long Island as a wealthy area.   It is true that Long Island has some affluent towns such as the Hamptons where celebrities and high-salaried executives and professionals flock in the summer.     But not every town on Long Island is the Hamptons.
In doing some research, it came to my attention that each day over 300,000 people on Long Island do not have enough food to eat.     This is a very sad statistic.    There is something that we can do to help this situation and that is to donate some non-perishable food items to those in need.     Moonflower Yoga is committed to help our Long Island community, and this is why we are sponsoring a food drive for Long Island Cares the Harry Chapin Food Bank.     Long Island Cares needs non-perishable foods to distribute on Long Island.    But they also need things for children such as diapers, formula, baby cereal, and school supplies.    And there are cats and dogs that need food as well.   
There are children who will not know the joy of opening a toy at Christmas time.     Christmas is a magical time, and all children should receive something special to help remember the holiday.   It is with this intention in mind that Moonflower Yoga is also sponsoring the US Marine Corp's Toys for Tots program.   Under that program, unwrapped and new toys are collected and distributed by the US Marines to children in families that cannot afford to purchase holiday gifts.
If you live in the area of Bellmore, you can drop off donations at the Moonflower Yoga studio for Long Island Cares and/or the Toys for Tots program.    We have boxes at the Moonflower Yoga studio to collect the items for those in need.  You can also make donations directly by visiting the websites of these wonderful charities: www.licares.org and www.toysfortots.org.
And remember that kindness begins with just one small step.     If each person donated a small amount of food, we could drastically reduce the number of people who do not have enough food to eat.  By donating a new toy to a needy child for the holidays, you are bringing joy and a happy memory to that child and their families.     That is ahimsa in action.