Bucket Lists
By Nancy Weshkoff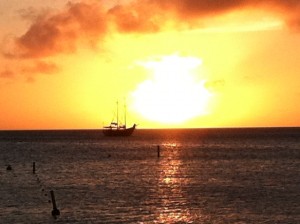 This past week, I suffered a personal loss in my life.   My Uncle Lenny, my mother's brother and the last surviving sibling from my grandparents, passed away after a long battle with cancer.    He was very special to me.  Because he lived around the corner from my parents' house, we saw him frequently.    When I entered the work force, we were both employed in lower Manhattan near the former World Trade Center site.   This gave me an opportunity to travel into New York City with Uncle Lenny and have some great talks.   Even later in my life, when Moonflower Yoga opened its doors for the first time, Uncle Lenny was there with my Aunt Betty and cousin Catherine to wish me well and offer support.
During his memorial service, many wonderful memories of Uncle Lenny were discussed amongst the crowded room of people that came to say goodbye to a special man.   He adored his children, grandchildren, and wife.     Although his life was a simple one, he lived it to the fullest.    He worked hard and was proud of his job.   He raised a great family.   When retirement came, he used it to do some projects, spend more time with his friends and family, travel whenever he could to explore something new, or do a simple challenge such as assembling a new jigsaw puzzle.   His son, Lee, said at the memorial service that his father always emphasized that you should enjoy every single day that you are given.   Uncle Lenny had no bucket list – he was happy with the life he led and cherished each new day.   And even though he battled cancer and other illnesses for a couple of years, he still retained this positive attitude.
The mention of bucket lists sparked something inside me.    Although it can be fun to dream about things to do in the future, we shouldn't ignore the present moment that is in front of us.    We all have some struggles in our daily life, and things may not go exactly the way we want them to go.   Yet there are many wonderful simple things that happen to us each day that we may be ignoring: a beautiful sunrise or sunset, a hug from someone you love, a smile on a child's face, a silly joke that someone tells you, etc.    It is all of these things – and more – that make life special.
At Moonflower Yoga in Bellmore on Long Island's Nassau County, I emphasize in my yoga classes the importance of being in the present moment and enjoying each day as it comes.     When you stop worrying so much about things that may not happen in the future, you can feel so much better.  And after having a great yoga class at Moonflower Yoga, we spend several minutes in quiet relaxation to appreciate the goodness of the present moment.
Are you feeling stressed and worrying too much about your own bucket list?   Come and join us at Moonflower Yoga to feel better, de-stress, and learn to enjoy the beauty of the present moment.   As with my Uncle Lenny, it is the culmination of many present moments that make a wonderful life.