Yoga and Posture
By Nancy Weshkoff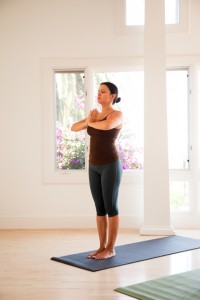 Did you know that your head can weigh approximately 8 lbs?    Your head is like a heavy bowling ball.    At the end of a long day, you may find yourself slumping over rather than standing up straight.    Plus, if you are sitting at a desk working on a computer, you may be leaning forward to view the computer screen.    And in these days of handheld devices, your head may be bent down from reading or sending messages on your handheld device.    All of these can lead to bad posture.
So what is the consequence of all of this?    You can suffer from back, neck, and other muscle or joint problems from bad posture.   It can also contribute to problems such as headaches.    And when you are slumped over you are less likely to bring good amounts of oxygen to your lungs, heart, and other organs which can contribute to other health problems.
How does yoga help?    Yoga is great for helping to correct posture issues.    We emphasize standing tall rather than slumping.    Standing postures such as Mountain Pose (Tadasana) teach you how to stabilize your core and properly align your shoulders.    In our yoga classes at Moonflower Yoga, we incorporate several great poses to help with your posture, including Mountain Pose.   Mountain Pose can also be a meditative pose where you take several deep breaths while standing tall which helps bring oxygen to your organs, as well as calming your nervous system.    Mountain Pose is just one of the fabulous yoga poses, when done properly under the guidance of one of our great yoga teachers, which can help you feel better and can work towards correcting muscle strain and bad posture.
If you would like to learn more about how to improve your posture, come and try one of the great yoga classes that we offer at Moonflower Yoga in Bellmore, on Long Island's Nassau County.   You'll feel and look better!