About Us
Moonflower Yoga is based in Bellmore, Long Island, in Nassau County, New York.   We welcome students from all areas of Long Island, including the nearby towns of Merrick, Wantagh, Seaford, Massapequa, Freeport, East Meadow, and Baldwin.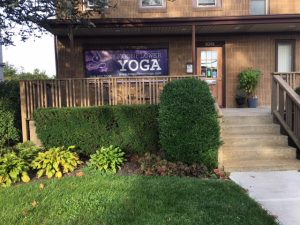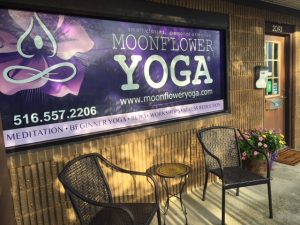 We specialize in a small-class setting to provide you with more personal attention.  Our yoga classes are semi-private in nature with a maximum of 6-8 students for most classes.  Moonflower has  great yoga teachers who have lovingly designed a very interesting mix of great yoga classes to meet all fitness levels:
Our STRESS-BUSTER  series of classes on Tuesday nights at 730 PM are designed to provide you with better health by reducing your risk of stress-related diseases such as high blood pressure and heart disease.  Click on the "Descriptions" tab for the current month's schedule.

KUNDALINI YOGA classes combine physical exercise, breathing techniques, mantra, and meditation and are designed to promote health, creativity and spiritual awareness.
MEDITATION classes are wonderful for stress reduction, relaxation, and finding inner peace.

MOVE AND STRETCH classes burn calories while gaining strength and flexibility.  Suitable for intermediate level students with Vinyasa experience.

BEGINNER classes are designed for you to learn basic yoga poses which combine breath with movement enabling you to build strength, flexibility, and balance, as well as discover ways to help you relax and feel calmer. For a full list of beginner-level yoga classes, click on the FAQ tab above and scroll to the "I am a beginner" section.

UNWIND AND RELAX classes allow you to de-stress with light vinyasa flow combined with restorative postures.

BEGINNER STRETCH is a fabulous, overall yoga class where you will learn fundamental yoga poses.
SATURDAY FLOW classes energize you and provide an invigorating, calorie-burning workout as you start your weekend.
YOGA BASICS classes incorporate fundamental yoga poses needed to build a great yoga practice, perfect for all fitness levels.
CANDLELIGHT RESTORATIVE YOGA at the end of the day is a lovely way to let your stress go with the help of bolsters, blankets and pillows while listening to soft music in flickering candlelight.
STRETCH AND FLOW  classes are fun morning yoga classes to help you develop strength, flexibility and balance.
MORNING MEDITATION AND MOVEMENT classes are a wonderful way to start your day with gentle stretching and a moving meditation to help you feel energized for your day ahead.

STRENGTHEN AND STRETCH classes will provide you with a great overall class to stretch and strengthen your muscles while also creating energy through flowing poses.

CHAIR YOGA  is a lovely, gentle, beginner-level yoga class for those who have difficulty moving in a normal yoga class.  The poses are done seated on a chair or standing (if possible) using a chair for support.

GENTLE YOGA STRETCH helps you de-stress at the end of the day with stretching poses to release muscle tension while also helping you gain strength and flexibility.
BEGINNER YOGA FUNDAMENTALS are great for learning basic yoga poses in a gentle way.
REJUVENATE AND STRETCH is a great way to begin the day with stretching, flowing poses linking your breath with movement.
BALANCE AND TONE classes are a great way to improve your balance while also toning & stretching your body.  This is an intermediate-level class for experienced yoga students.
STRETCH INTENSE AND RESTORE classes are designed for the intermediate-level student looking for an energetic yoga class.  The class ends with a restorative posture & you'll feel great!
FRIDAY STRETCH is a fabulous Friday morning class to get you ready for a great weekend.
STRETCH AND MEDITATE 101 classes are great beginner-level classes which combine gentle stretching with guided meditation to enable you to discover the stress-reducing qualities of meditation.
WALL AND CHAIR: A SUPPORTED SEQUENCE  classes on Wednesdays are a great alternative for those who have difficulty getting to the ground in a regular yoga class, and you can receive a fabulous workout using a wall for support or a chair.
KUNDALINI MEDITATION AND GONG RELAXATION classes release the stress of your day through breathing techniques, meditation & an extended gong bath enabling you to relax while the gong therapy restores the body and mind to a state of peace.
FLOW AND LET GO! classes are a wonderful way to "let go" of your stress from the day through flowing poses and stretching followed by 15 minutes of relaxation and restorative yoga.
WORKSHOPS are offered on Friday evenings or  weekend afternoons on a variety of engaging topics. You'll meet interesting people and learn something new!  Please click on the "Workshops" tab for further information.
CORPORATE YOGA classes are a great way to reduce midday muscle stress and strain while gaining strength and flexibility.   A Moonflower Yoga instructor can travel to your local business to teach a group lunchtime corporate yoga class.  Please call us at (516) 557-2206 and let us know how we can help you.  There is also additional info on our "Corporate Yoga" tab above.

REIKI training is available at Moonflower Yoga.  Come learn the wonderful, healing qualities of Reiki and receive a Reiki certification!  Discover why leading medical institutions are now offering Reiki as an alternative therapy, and how you can relax and de-stress through Reiki.  Click on the "Reiki" tab above for additional information.
PRODUCTS: The studio sells one-of-a-kind, handmade items lovingly made by local artisans.   Many of these are hand finished here in Nassau County (Long Island) including our super soft, full-zip hoodies and our variety of signature t-shirts.   We also sell a variety of yoga supplies for your home practice including yoga mats, blocks, and straps.  And Moonflower Yoga is an authorized distributor for beautiful Young Living essential oils, which are amazing, therapeutic quality oils made from plants whose intoxicating, aromatic scent you will love.  Moonflower Yoga is also a distributor for beautiful AAOTE aromatherapy jewelry, including bracelets, necklaces and earrings.  Click on our "Products" tab for more information.
PRIVATE YOGA SESSIONS  are available at the Moonflower Yoga studio to meet specific individual needs.  We will design a private yoga class just for you!  Call us at (516) 557 2206 for more info.