About Us
Moonflower Yoga is based in Bellmore, Long Island, in Nassau County.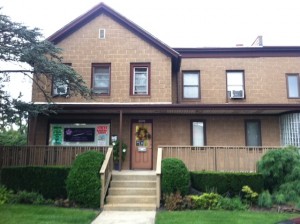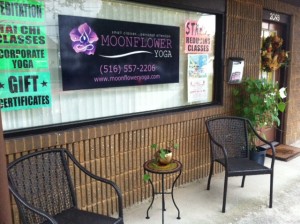 We specialize in a small-class setting to provide you with more personal attention.   Moonflower has  great yoga teachers who have lovingly designed a very interesting mix of great yoga classes to meet all fitness levels:
CALMING AND HEALING YOUR SPIRIT classes will help bring you inner peace and relaxation with a variety of different, calming classes each Wednesday evening.
MOVE AND STRETCH classes burn calories while gaining strength and flexibility.

STRESS-REDUCTION VINYASA  classes encompass energetic vinyasa flow poses and end with several minutes of various restorative postures to help you further destress. 

EASY BEGINNER classes are perfect for students who are new to yoga and would like to learn some simple yoga postures and have fun.
MEDITATION classes are wonderful for stress reduction, relaxation, and finding inner peace.

TAI CHI classes incorporate breath with slow, fluid movement & helps to reduce stress, as well as have a positive effect on arthritis, osteoperosis, fibromyalgia, cardiovascular disease, high blood pressure, and Parkinsons disease.
SUNDAY FLOW classes are a wonderful way to start your Sunday & feel fabulous all day.

BEGINNER classes are designed for you to learn basic yoga poses as well as vinyasa flow which combines breath with movement.

UNWIND AND RELAX classes allow you to destress with light vinyasa flow combined with restorative postures.

SATURDAY FLOW classes energize you and provide an invigorating workout as you start your weekend.
CANDLELIGHT RESTORATIVE YOGA at the end of the day is a lovely way to let your stress go with the help of bolsters, blankets and pillows while listening to soft music in flickering candlelight.
 STRETCH AND FLOW  classes are fun morning yoga classes to help you develop strength, flexibility and balance.
LEVEL ONE beginner classes are taught in an Iyengar style with props to help you easily move.
MORNING MEDITATION AND MOVEMENT classes are a great way to start your day with gentle stretching and a guided meditation for inner peace.

ADAPTIVE YOGA is great for anyone with balance issues or who needs an assistive device. Handicap access available.
TEEN YOGA is a fun way for teens to develop confidence, strength, and balance.
MINDFUL BREATH AND MOVEMENT classes will focus on the importance of linking breath with movement and will have a lovely optional 30-minute guided meditation at the end of the class.

EVENING STRETCH is a wonderful way to gently stretch tense muscles while gaining flexibility.
TONE AND STRETCH will help you get stronger and feel great all day.
WORKSHOPS are offered on Friday evenings or  weekend afternoons on a variety of engaging topics. You'll meet interesting people and learn something new!  Please click on the "Workshops" tab for further information.
PRIVATE YOGA SESSIONS  are available at the Moonflower Yoga studio to meet specific individual needs.  We will design a private yoga class just for you!  Call us at (516) 557 2206 for more info.
CORPORATE YOGA classes are a great way to reduce midday muscle stress and strain while gaining strength and flexibility.   A Moonflower Yoga instructor can travel to your local business to teach a group lunchtime corporate yoga class.  Please call us at (516) 557-2206 and let us know how we can help you.  There is also additional info on our "Corporate Yoga" tab above.

PRODUCTS: The studio sells one-of-a-kind, handmade items lovingly made by local artisans. We also sell a variety of yoga supplies for your home practice.   We are the only yoga studio in Nassau County (Long Island) to sell 3-minute yoga eggs.   And Moonflower Yoga is an authorized distributor for beautiful Young Living essential oils, which are amazing, therapeutic quality oils made from plants which can help you feel better in so many ways.   Click on our "Products" tab for more information.