Class Descriptions and Pricing
NEW MARCH CLASSES  and MARCH CLASS PACKAGES: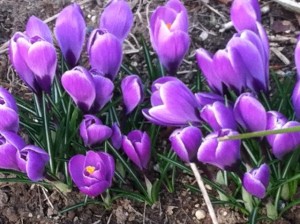 Spring is almost here!!  In less than a month on March 20th we will have the first official day of spring.    Spring bulbs are starting to sprout some green leaves.   In a short time we will be wearing lighter clothes and will want to tone our muscles and get in shape for spring.  We have many great classes on the schedule to get you ready for the warmer weather including Level One, Move and Stretch, all of our Beginner classes, Sunday Flow, Yoga Lunch Express, Stress Reduction Vinyasa Flow, Tai Chi,  and Stretch & Flow.   Give these great classes a try!!   
 In February, we launched our new "Calming and Healing Your Spirit" class series which takes place on Wednesday nights starting at 7:30 PM.  These wonderful classes have been a hit!    Each week we have a different class designed to bring you inner peace and help you cope with stress and challenging situations.   Please join us for this amazing new class series!  Here is the specific line-up for these Wednesday night classes at 7:30 PM in March, and we also have a very special meditation class on Tuesday, March 25th:
 -         Wed, March 5th:  Enjoy a Reiki Healing Circle with Anthony and Mindy.  Each participant will receive a 10-15 minute individual Reiki session.   Reiki is a wonderful way to release negative energy and help you feel renewed.  This class will also include a seated meditation.  Seating is limited to 4 people – so please reserve early!
 -         Wed., March 11th:  This is the launch of a special series of Wed. classes on Integrated Energy Therapy (IET) and Angel Healing led by Chris.  This March session is the first of a series of IET classes covering each of the 9 healing angels.  You will discover the special healing gifts that each angel brings.  IET can bring you a profound sense of peace and calm. 
  -         Wed., March 19th:  Diane will lead you in a meditative Chanting class.   Chanting helps relieve stress and refocus the mind.   It is soothing and relaxing and is lovely when done in a group session. 
 -         Tuesday, March 25th, at 7:45 PM:  Connie rejoins us for a wonderful Deep Sleep Meditation.  You will be reclining on the floor supported by bolsters and wrapped in warm blankets, as Connie leads you into an amazing deep meditation to bring you  inner peace and calm.  This class sells out quickly – book early!
 -         Wed., March 26th:  Enjoy an extra night of our very popular Candlelight Restorative class led by Nancy.  After some gentle stretches on the floor, you will spend several minutes deeply relaxing into various yoga poses with the help of blankets, bolsters, pillows, and other props to support you.  The room is lit in flickering candlelight with soft music playing.   Your stress will melt away!
 You will want to try this great new series of "Calming and Healing Your Spirit" classes to help you feel renewed and relaxed!   Reserve ASAP as space is limited and the classes are very popular. 
For the month of March, which is a long month with 31 days, we are offering THREE class packages from which you can choose:
-         Yoga Lite:          Purchase 4 classes for $64.
-         Yoga Medium:      Receive 6 classes for the price of 5:  $90.
-         Yoga Pro:           Receive 8 classes for the price of 7: $120. 
 All of the above packages offer a discount over the per-class price.   The classes purchased under the March class package must be used between March 1 and March 31, 2014, and the class package can be purchased at the Moonflower Yoga studio.   As always, you can also book an individual class online at the moonfloweryoga.com website.   A full listing of classes is listed below.   We look forward to seeing you in an upcoming class at Moonflower Yoga!                                                                                                                                                                                                                                  
                                                    CLASS DESCRIPTIONS:
 Calming and Healing Your Spirit (various) (NEW):   Check out this wonderful new variety of classes designed to bring you inner peace, stress reduction, and a positive feeling of well-being.  Each week there will be a different one-hour session to help you feel better.   These will vary from a Reiki Healing Circle (3/5), Integrated Energy Therapy (IET) – Angel Healing (3/12), Chanting (3/19),  Deep Sleep Meditation (special evening on Tuesday, 3/25, at 7:45 PM),  or Candlelight Restorative (3/26).  Whichever relaxing class you attend, you will leave feeling refreshed and renewed!  Space is limited-book early!
 Move and Stretch (Jeanine):   Come try this fabulous new class!  Jeanine will lead you through a flowing sequence of poses to build energy and strength while you burn calories.  The class will also encompass standing and seated postures to gain more flexibility and balance.  The class ends with a restorative pose to leave you refreshed.
 Yoga Lunch Express (Nancy):  Need a midday break?   Yoga Lunch Express is the answer!  In this 45-minute yoga class, taught in a beginner style, you will be guided through a series of standing and seated poses to help you stretch your muscles and relieve tension while gaining strength and flexibility.   Coming here from your place of business?   You can quickly change your attire at the studio and then return to your office feeling refreshed and rejuvenated. (Mondays from 12:30 PM – 1:15 PM).
 Tai Chi (Joseph):   Tai Chi is a Chinese exercise system incorporating breathing with slow & fluid movements.  It can reduce stress, improve balance & has been proven to have a positive effect on arthritis, osteoporosis, heart & pulmonary disease, fibromyalgia & high blood pressure.  Newsday printed a recent article citing a recommendation from the Harvard Medical School on how Tai Chi can help with your balance.   Come give this fun class a try – all fitness levels are welcome!  (Wednesday at 6 PM).
Stress Reduction Vinyasa (Nancy):   Release your stress from the day in this moving, energetic, and calorie-burning vinyasa flow class. This popular class ends restoratively to reset the body and mind & leaves you feeling refreshed & relaxed.  Some previous Vinyasa flow experience is recommended.  (Monday at 7:30 PM).
Sunday Flow (Jeanine):  Start your Sunday in a positive way!  Jeanine will combine Hatha and Vinyasa flow poses with your breath so that you can stretch and have more energy, strength and balance.    (Sunday at 9 AM). 
Candlelight Restorative (Nancy):  Recharge your batteries in this lovely class where several minutes are spent in a series of deep relaxation postures using bolsters, blankets & pillows.  The class is held in flickering candlelight with soft music & helps melt away your stress.  You will leave feeling restored & relaxed.   (Tues. Mar 4th & 18th at 7:45 PM, alternating with Meditation.  Additional special Candlelight Restorative session Wed., Mar 26th at 7:30 PM).
Meditation (Diane on 3/11 and Connie on 3/25):     Health care professionals applaud meditation for its wonderful ability to reduce stress levels. Come discover how meditation provides a profound opportunity for deep peace, personal understanding & relaxation.   Diane's guided meditation on 3/11 can be done in comfortable chairs or seated on blankets on the floor.   Connie is leading a deep sleep meditation on 3/25 where you will be reclining on the floor resting on bolsters and wrapped in warm blankets.  (Tues., Mar 11th,  for Diane and Tues., Mar 25th, for Connie, both at 7:45 PM – Alternates with Candlelight Restorative). 
Level One (Vicky):   Enjoy this Iyengar-style beginner class using props to assist you.  All fitness levels are welcome.  In each posture, precise directions will be given to each body part thereby creating a profound physical as well as mental awareness.    You will gain strength, flexibility and balance and feel great!  (Tuesday at 10 AM, Thursday at 6:45 PM).
Unwind and Relax (Nancy):    This class begins with some gentle stretches and moves into light flowing postures to release muscle tension and stress from the day.    The latter portion of the class consists of deeply-relaxing restorative poses in flickering candlelight where you will unwind on cushioned bolsters.    (Thursdays at 8 PM).
Beginner Yoga (Nancy):  Beginner yoga is great for those who are new to yoga or like a more basic practice.  After a gentle warm up, you learn flowing postures combining breath & movement, and fundamental beginner poses to build strength, flexibility & balance. All classes end with a relaxation pose. (Monday at 6 PM, Wed. at 10:30 AM, Saturday at 8:30 AM,  Sunday at 10:30 AM).
Stretch & Flow (Nancy):  Check out this fun class where you will gain flexibility, strength & balance as you stretch & move into a flowing sequence of poses.  It is a great way to start your day and feel refreshed!  (Thursday 10 AM).    
Easy Beginner  (Nancy):  If you have never taken a yoga class before, need a refresher, or prefer a very gentle practice, this is the class for you!   Basic yoga postures will be demonstrated.  We move gently and slowly enabling you to learn fundamental yoga postures.  Props are used to help you.    (Thursday at 5:30 PM).
Adaptive Yoga  (Vicky):   Adaptive yoga is perfect for anyone with balance issues or who needs an assistive device.  In this gentle Iyengar-style class, you stretch & move into various yoga postures with the assistance of props such as chairs, bolsters, blocks & blankets. Handicap access is available thru the rear parking lot.  This class has a limit of 3 students-register early! (Tues. at 11:15 AM).
Saturday Flow  (Nancy):     This fabulous Saturday morning class will energize you, build strength and flexibility, and enable you to have a great start to your day.  The class ends with a relaxing restorative pose.   (Saturday at 10 AM).
CLASS PRICES:
Your first class at Moonflower Yoga is always FREE!  You have nothing to lose and everything to gain by having a fun and free experience. Give us a try by selecting one of the great yoga classes that we have lovingly designed. Please call us at (516) 557-2206 to reserve your free class.
Individual classes are $18 per class, except Yoga Lunch Express which is $16 per class.   Click on the "Book A Class" button below or on the "Class Schedule" tab above to purchase a reservation in the class you would like to attend.  When you are ready to checkout, a PayPal screen will appear.   You do NOT need a PayPal account; any MasterCard or Visa can be used to purchase an individual class.  PayPal securely handles the financial transaction, and you will receive a written confirmation by email when your registration is completed.

Walk-ins are welcome for any remaining class spaces that are available on a first-come, first-serve basis. Our class sizes are small to provide individual attention, and we recommend that you reserve your class in advance. Most classes have a maximum booking of 6 students per class.   Some classes, such as Adaptive Yoga, have a limit of 3 students per class.   If a class is listed in solid red on the calendar tab, the class is fully booked for the day.   We do keep waiting lists for classes which are fully booked.   If the class you would like to attend is sold out, please call us at (516) 557 2206, and we will add you to the waiting list for the class and contact you if a space opens up.
Each month, we offer class packages at a discounted class price.   The class packages vary from month to month.   We list the monthly package offer on this page and we also distribute a monthly email announcing the special for the following month.   The class packages can be purchased at the Moonflower Yoga studio, and are valid for the month of the package, i.e. the October package is valid for all classes on the October schedule.  If you have any questions regarding this, just give us a call at (516) 557 2206 or stop by the Moonflower Yoga studio and we will be happy to help you.
Moonflower Yoga also offers fun and varied workshops and events where you can learn something new.   Some of our past happenings  have included feng shui, meditation, women's health issues, how to deal with neck/shoulder pain, moving towards a healthier diet, and tarot cards.   Workshop and events prices vary depending on the workshop or event. You can also purchase your workshop or event online by clicking on the class schedule tab above and completing the simple registration steps.

PRIVATE YOGA CLASSES
Private one-on-one sessions are available at the Moonflower Yoga studio.  We will design a private yoga class just for you tailored to your individual needs! Please call us at (516) 557-2206 for more information.
CORPORATE YOGA AND OFF-SITE GROUP CLASSES
We are available for corporate yoga or group yoga classes!  A Moonflower instructor can come to your nearby place of business or residence to teach a group yoga class.   Corporate yoga in the workplace is a great way to reduce stress, relieve muscle tension from the day, and promote teamwork amongst the staff. Please contact us at (516) 557-2206 and let us know how we can help you.  You can also click on our "Corporate Yoga" tab above for additional info.

MONTHLY CUSTOMER APPRECIATION GIFT
We appreciate your business! Each month a special gift will be given to the customer who purchases the most individual classes during the calendar month.  Book your class now to enter the monthly contest.   Check the Moonflower Yoga Facebook page each month to see who won the special customer appreciation gift for the month.